Our Italy Road trip Itinerary – Self drive in Italy
Our Italy itinerary is what pushed us into taking a major decision that we would be doing a Self-drive Road trip in Italy. Our Italian itinerary had an equal share of big and famous cities and the less visited yet well-known places. Though Italy has a good network of trains – It would have been difficult to travel by train to all the places marked in our Italy Road trip Itinerary.
Italian Road Trip Itinerary ideas:
After I wrote this post about 'Things to know before you self-drive in Italy', I got a lot of questions about places we traveled to in Italy on our Italy road trip. I would like to highlight that – It was not a road trip all the way. While exploring cities, we used local transport like Metro, trams and bus. When feasible, we took intercity trains. We hired a car only when we felt an absolute need of doing so.
And being avid road trippers, we enjoyed taking on Italian roads – sometimes driving in between choppy cliffs and deep blue ocean, sometimes cruising along state-of-the-art highway, sometimes creeping under tunnels that don't seem to end, sometimes stuck in weekend highway jam, sometimes slowing down in countryside roads to see the hay bales neatly rolled up, sometimes driving along the coast for hundreds of miles but never to drive for the sake of it!
With such a pleasing experience, I would recommend that everyone should do an Italy road trip at least once in a lifetime! Assisting you in your road trip adventure is your travel buddy – Hopping Miles. So, here it is –
Our Italian Road trip Itinerary!
Rome:
We flew into Rome and flew out of Rome to Bangalore, India. We spent 3 days in Rome – roaming around the city in hop-on hop-off bus and explored the World's smallest country – Vatican city too!
Vatican City:
After exploring Rome and Vatican City, we picked up a pre-booked rental car, thus flagging off our Italian road trip! Our initial plan was to drive down to Pompeii and Naples before checking into our lovely room in Sorrento in Amalfi Coast. As luck would have it, we had a major delay in receiving our Rental car and could start from Rome only in the second half of the day, so we changed our plan and drove to Sorrento with a small detour at Caserta.
Caserta:
The highlight of Caserta is definitely the 'Palace of Caserta'. This UNESCO Heritage site sprawls over 60 acres with a 5 floors and 1200 rooms!!! Apart from the place itself which is impressive, vast gardens take away all the credit of being stunning with beautifully curated plants and water fountains at regular intervals. Though Palace of Caserta was under renovation at that time we had been there – it didn't fail to amaze us!
Sorrento:
After a mesmerizing evening drive along the plunging Amalfi coastline as the sun retired for the day, we got stuck in the narrow lanes of Sorrento city. Traffic pile up due to road restrictions which come into effect after sundown. Next morning, we strolled around Sorrento town and decided to hop on to Capri Island and indulge in the unique experience of Blue Grotto! So, off we were to Capri in a high-speed ferry from Sorrento!
Capri:
Capri was a pleasant surprise. From the time the ferry approached the island, until our way back to Sorrento – Capri captivated us! Jagged cliffs rising high from the deep blue Tyrrhenian Sea underneath – in this small island off Italy's Eastern Coast. In spite of thousands of tourist inflow every day, much of Capri's natural beauty is preserved to retain its charm. The proof of which are the narrow roads just enough to pass only 1 vehicle on either side. Nature's bounty has been preserved and not given way to modernisation!
---
More on Capri and things to do here: Things to do in Capri
---
Amalfi Coast:
After a refreshing day in Capri, we were back on the road. How eager were we to drive in this piece of land! We took it easy while driving the Amalfi Coast by not rushing it. We rolled down the windows and breathed the fresh air of Amalfi Coast – sinking it all into the skin. The warm air rising from the sea blends with the fragrance of flowers slopped in every corner together with the scent of Citrus which grows here in abundance. Roads that snake all the way along the plunging coastline coupled with stunning views makes Amalfi Coast one of the scenic routes to drive in the world!
Check out my Amalfi coast video below: 
Alberobello:
After Italy surprised us with Amalfi coast drive, we had another visual treat waiting for us in Alberobello. Entire town with whitewashed houses called Trulli. The Trulli of Alberobello is a hut made of traditional Apulian drystone mainly consisting of hard limestone. The roof of Trullo is conical shape with stones stacked tightly on each other. If you fancy staying in a Trullo – you can as well do it. There are many BnBs and boutique Trullo stays in Alberobello. We stayed in a small town called Eboli before traveling to Alberobello. Pizzas here are yumm!
Bari:
The drive from Alberobello to Bari was all along Italy's south coastline. The main reason for us to drive to Bari was to return our rental car which we hired in Rome. That said, DON'T be fooled into thinking that our Italian road trip is over!
Back to Italy again for yet another road trip!
We returned the car and took an overnight ferry to Croatia. We explored Croatia, Bosnia and Herzegovina, Montenegro and Slovenia. We returned to Italy through Slovenia via road and settled down in Venice for the day!
---
You might want to read:
Heavenly Plitvice Lakes, Croatia
Fairytale town – Lake Bled, Slovenia
---
Venice:
We roamed around Venice, hopping numerous bridges in the Venice Water bus or the 'Vaporetto' with a day pass. Watching gondolas pass by, hearing barcaroles sung by gondoliers who sway the gondola from under one bridge to another – Venice was all about life and history in a water land.
Milan:
After spending time to our heart's content in Venice – It was time to move on. This time around, we did not hire a car. Remember what I had told earlier, rent a car only when necessary. As we were to stay in Milan for the next couple of days – we didn't really need a car to go around – so, we took an intercity train from Venice to Milan – Italy's fashion destination!
We went to see the 'Duomo di Milan' but ended up attending a concert!
Wandering in the streets of Milan, getting in and getting out of several metro trains – I wondered about one thing – How women are dressed up so beautifully with full makeup even at 5.30 AM! 😀
Tirano :
This wouldn't be any ordinary morning – this would be a special one. A morning that showed us a light of day like no other morning. Sun rays piercing through the plump mountains, gliding though Lake Como before hitting the glass window of the train from Milan to Tirano.
The day could be called a Train day. Our train journey started in Milan at 5.30AM in the morning and ended at 9PM the same day in Milan. Why do I call it the train day? That's because we spent the major chunk of the day in train. From Tirano, we ascended the legendary Bernina express. The rest was sequences just like dream.
Bernina Express:
Was I dreaming? Maybe, Yes – but certainly, No! As the train chugged away from Tirano, we scaled altitude by slowly climbing various bridges and passing through gloomy tunnels. Scenes distinctly vary from tiny villages puddled in lush green valley down below to glaciers melting to form electric blue lake. We alighted in St.Moritz town in Switzerland – spent 2-3 hours before getting back to Bernina Express to return to our temporary home in Milan.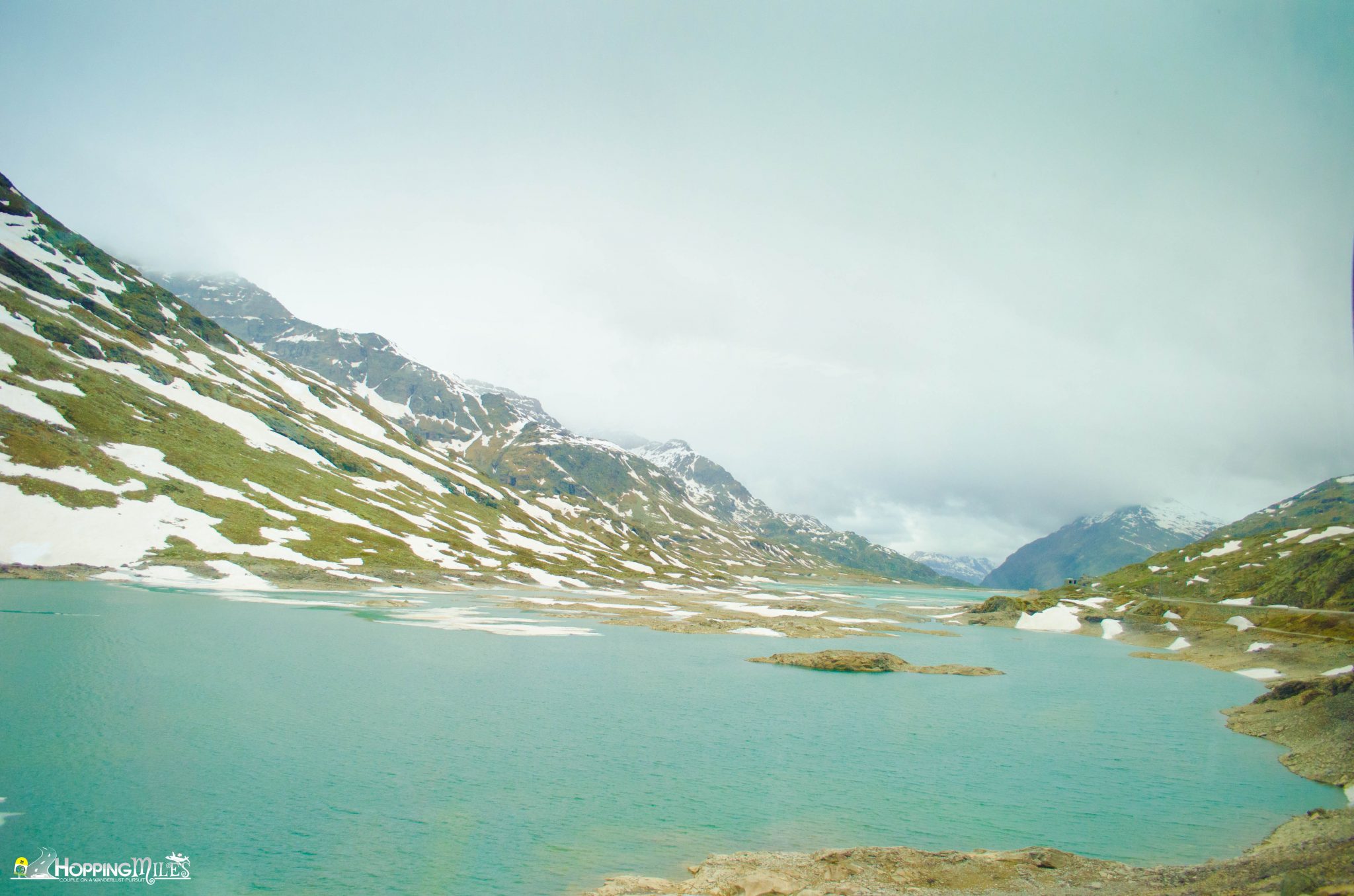 Maranello:
It was time to get back on the road. We hired a car from Milan and drove to the land of Ferrari – Maranello!
As we curved into Maranello, roaring horses welcomed us into the world of Ferrari. Rest of the day was spent in gawking at these mean machines and lusting to own one!
Read more about Maranello – Ferrari land Maranello, Italy
Tuscany:
We drove from Maranello to Pisa through Florence with vineyards for company. Driving in the Tuscany region was another dream come true.
The entire region is sprinkled with acres of vineyards brimming with grape-bearing vines. Roads rise and fall at changing intervals – giving us elated views of the landscapes filled with different coloured flowers at each interval! See the colours of views we saw from the highway – here in this post!
Pisa:
Standing tall, leaning for centuries is the 'Leaning tower of Pisa'. There is something charming about Pisa. That white tall leaning structure, the green grass around it, the blue skies – everything makes it photogenic! This wonder of the world and UNESCO Heritage site had to be visited and thus was!
We drove back to 'Leonardo da Vinci–Fiumicino Airport' in Rome and returned our rental car that showed us some surreal sights for over 2 days.
I know we have left out many other beautiful spots and cities in Italy. We knew about some but couldn't manage to do it – Florence, Siena, Naples, Pompeii, Sicily, San Marino, Gradara. Some we regret not knowing about during the planning stage like the 'The Great Dolomite Road'. But, there's always a next time!
Our Italy Road trip routes:
Italy Self drive road trip – Leg 1

Italy Self drive road trip – Leg 2
You might also want to read : 17 cities and towns not to miss in Italy!
---
Hope you have liked our itinerary and all geared up to prepare yours!
Let us know in the comment box below if you have been to the places we have been and share your experiences about that place with our readers!
---
If you have liked this post, show us some love and pat us on our backs! Like us on Facebook, follow us on Twitter and Instagram and subscribe to our Youtube channel!
---