Belum Caves Travel Guide
Not so long ago, I stumbled upon some pictures of this surreal and mysterious place – Belum caves. They were absolutely stunning. What's more? It was near Bangalore and could be done easily in a day trip! I immediately hit up Neetan with this idea of visiting Belum caves sometime very soon. So on a lovely morning on one of the long weekends and we impulsively set off to Belum caves!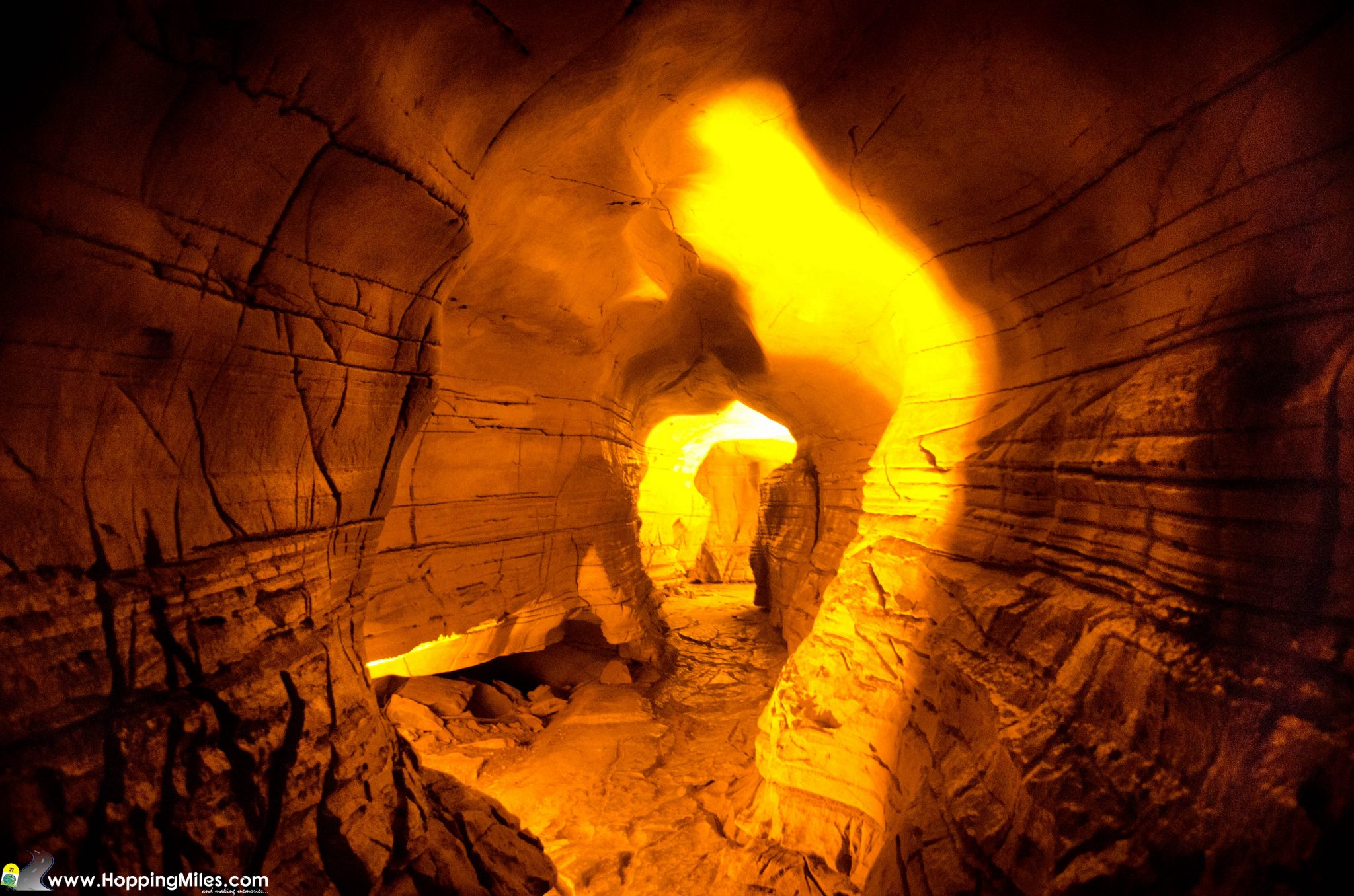 Belum Caves History:
Belum caves often called as 'Belum Guhalu' in Telugu got its name from Sanskrit word 'Bilam' meaning 'Hole'. Millions of years ago, water flowed from inside these caves, which eventually corroded the limestone present in this area – creating thin crevasses on the walls of the Belum caves.
Belum Caves are natural underground caves and is one of the largest caves in India. Famed to be the longest cave in India with approx. 3km in length out of which 1.5km is traversable by tourists – Belum Caves is a must visit destination for one who wishes to explore unique places in India.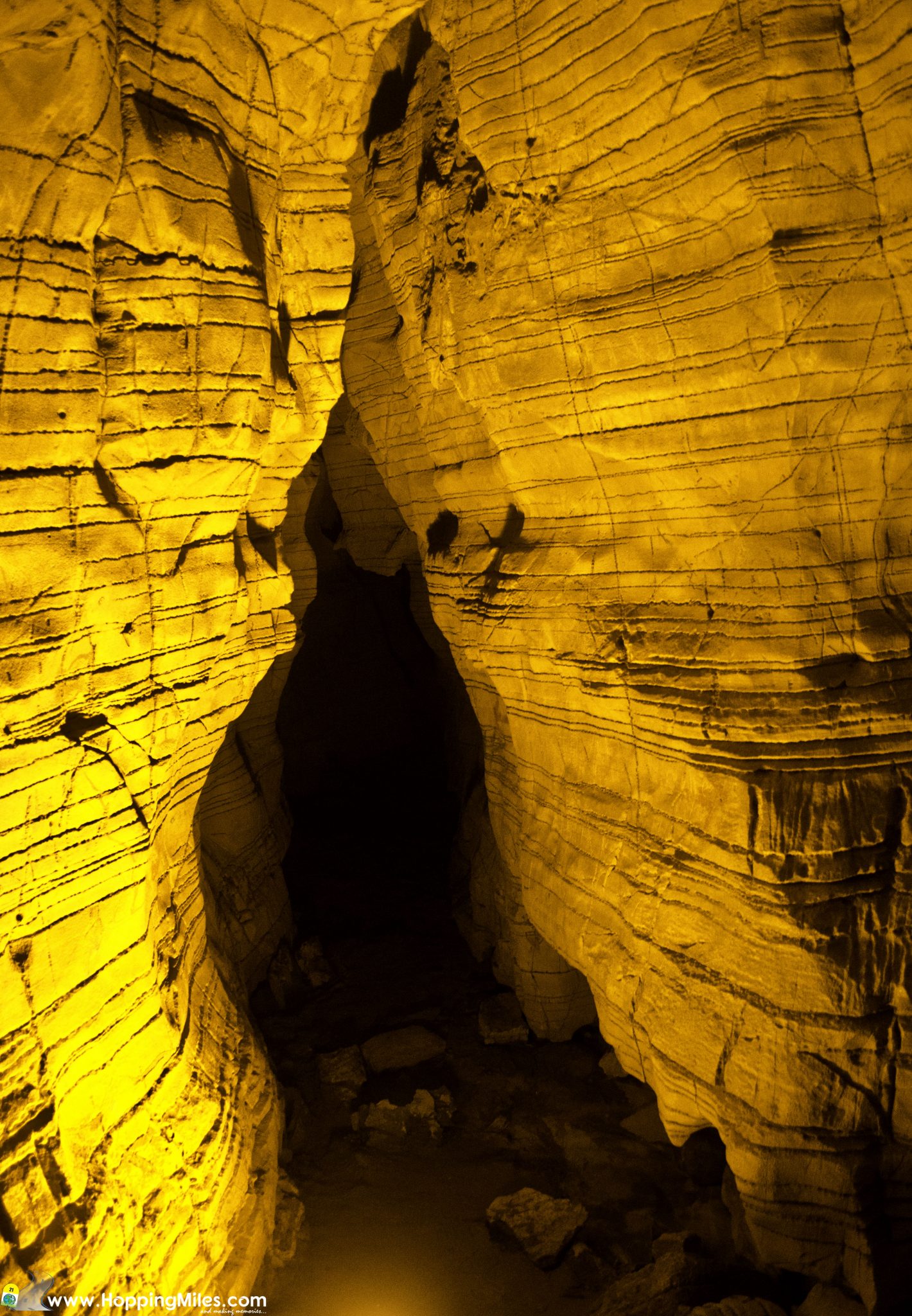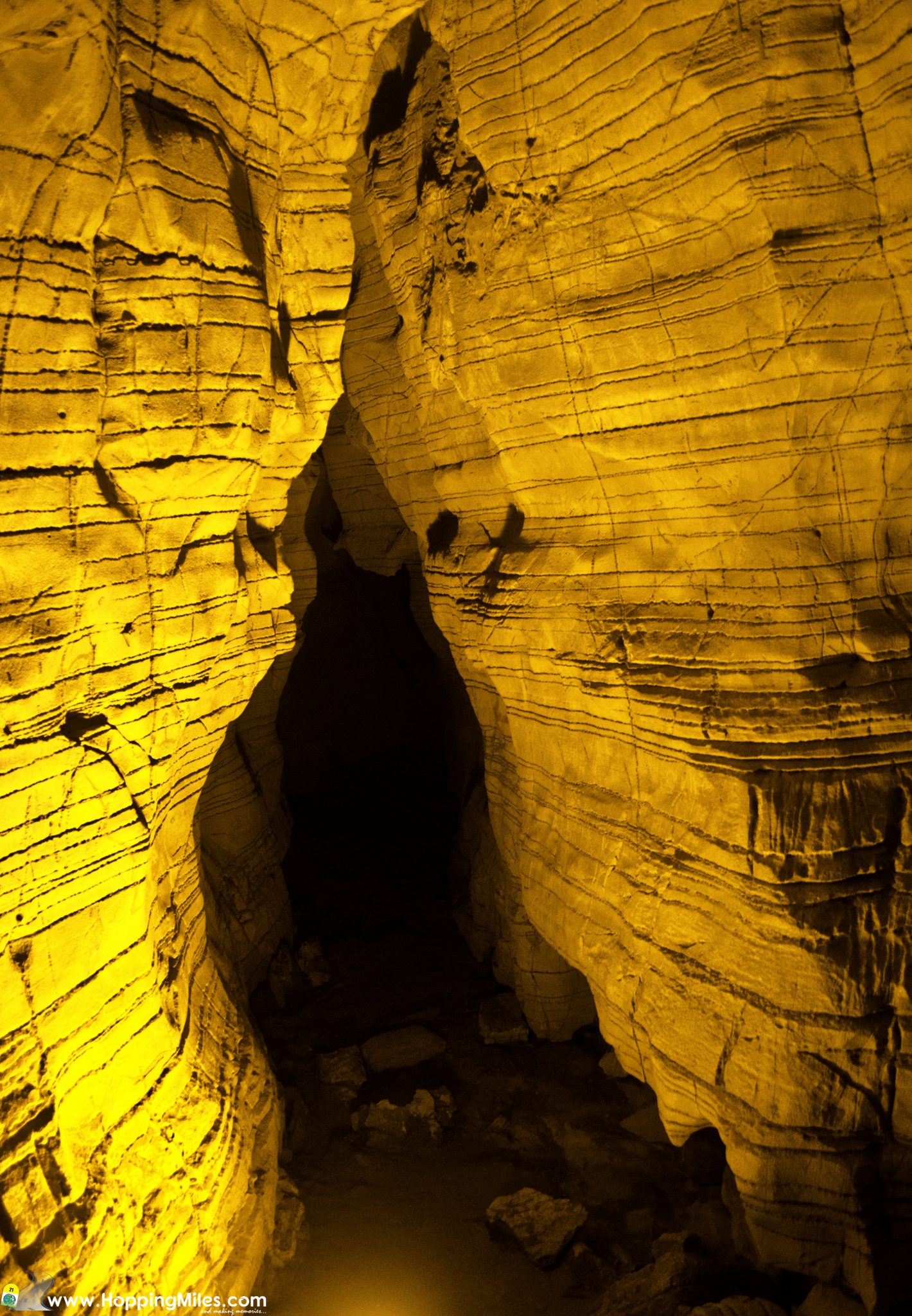 One fascinating piece of information about Belum caves is that there are evidences that prove these caves were inhabited way back in 4500 BC!!!! There were remnants of vessels of that age i.e 4500 BC that were found in Belum caves. Many Buddhist relics were also found in Belum Caves hinting the presence of Buddhists and Jains in Belum caves. But the time in which they resided here is uncertain. These artifacts are now safely housed in a museum in Anantapur.
Belum Caves were unknown to the modern world until 1884 British geologist and archaeologist Robert Bruce Foote mentioned about Belum Caves in his expeditions. After that for another century, Belum Caves were completely neglected. In 1980s Belum Caves were rediscovered but had turned into a dumping yard by the villagers. Finally, in 1988 Andhra Pradesh government declared it as protected and the development work started in 1999 and was finally opened to public in 2002. Thus allowing us mortals to witness this marvel of nature leaving us dumbfounded!
Stalagmite and Stalactite Caves in India:
Belum Caves are one of the Stalagmite and Stalactite Caves in India, composed of key element – Black limestone. Another startling fact about Belum Caves that – apart from being an underground cave above which there is a normal land where there is vegetation, Belum caves has a constant stream water flow below it!!
A proof of which is 'Patalaganga' – a perennial stream flowing down under Belum Caves – almost 150 feet below – which we can see when there is good water flow. Sadly, when we were there, the stream had dried up! 🙁
Another astonishing fact is there is a Musical Chamber where the stalactite formations in this compartment mimic musical notes when these are hit with a wooden stick or knuckles of fingers. Truly nature is the master of melody! Isn't it?
Belum Caves Photos:
Belum Caves is a photographers galore! As I had not taken the tripod with me (Huge mistake!) – I had to hold my breath to keep my hands stable as the lighting was low and the exposure time was very long almost 1 sec at some places! In normal situations, that wouldn't be a problem – but here, the humidity made me sweat a lot and holding breath every time I took a picture left me panting for fresh air. And expecting fresh air inside an underground cave is like searching for an Elephant in Antarctica! (You do get to see it – but only in Ice Age movies. There are Elephant seals in Antarctica though!! :D)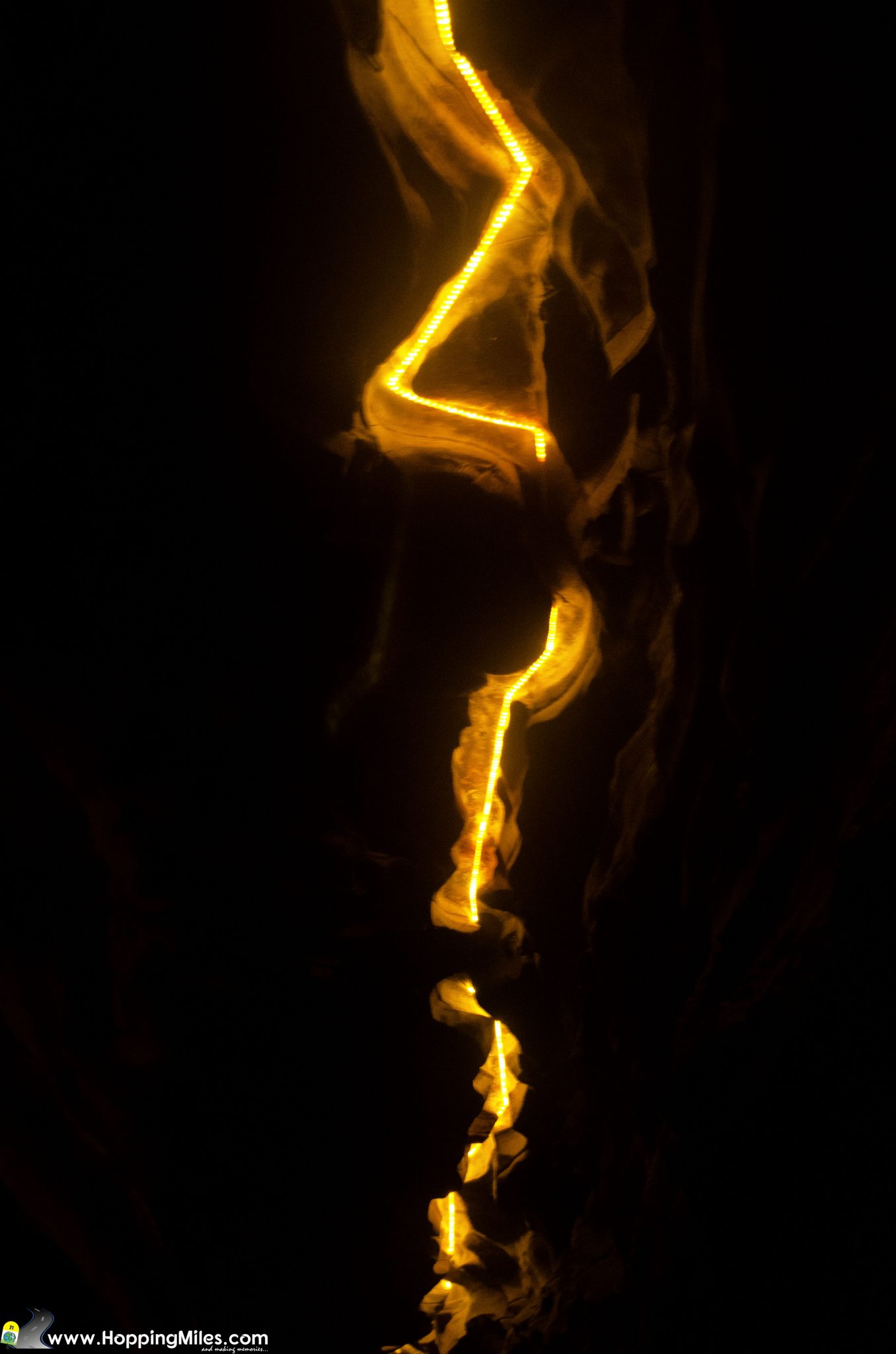 Best time to visit Belum caves:
There is no such restriction on the season to visit Belum Caves. It is an all season attraction.
But what matters is the time of the day you visit Belum Caves.
As I already mentioned, Belum Caves are underground caves. This is an obvious invitation for humidity to prevail in all glory! So, it's definite that you will be huffing and puffing, sweating all over – which I suppose will happen in whatever time you visit – only the degree in which that happens differs.
So, it is better to visit Belum Caves early in the day – before the Sun reaches its zenith! Afternoons are also manageable provided you are in best of your health! It doesn't mean that you can't enter the caves at all if you go there in afternoons – it means that you can't cover the entire length of it – you might be tempted to turn back after an hour or so. That said – for your information, it takes 1.5 – 2 hours to cover the caves completely.
Belum Caves Timings:
Belum Caves are open from 10 AM to 5.30 PM. Try reaching there when the cave opens – so that the weather is mild and come out before noon. Or visit in the evening at 4 PM when the Sun's fury has mellowed down.
Belum Caves Location Map:
The drive from Bangalore to Belum Caves is a pleasant one. The initial stretch is the NH44 which is a smooth drive and to be frank a little boring. Though highways are a boon – the views are monotonous 🙁 The views get better once we turn right towards Tadapatri.
While nearing Belum Caves, we are encounter a huge Ultratech Cement plant. Ahead on the way to Belum Caves, we can spot a lot of cut pieces of granite slabs strewn all over the sideways and sometimes dumped in heaps in empty spots. A sad state of affairs caused by mankind.
The surrounding area is filled with quarries due to the abundantly available type of Granite which is called as 'Kadapa Kallu'(Kadapa Stone) in Kannada. Kadapa is a town near Belum Caves which is famous for this particular type of Granite.
What confirms us that we have arrived at Belum caves is a huge carving 'Belum' written on the hillock – forcing us to slow down and look for the entrance of Belum caves – which is easy to spot and is on the main road.
How to reach Belum Caves?
We visited Belum Caves as a day trip from Bangalore. The distance from Bangalore to Belum Caves is around 300 km and will take 5 hours 30 mins without any breakfast break to reach Belum Caves from Bangalore. If you are comfortable driving for almost 6 hours one side and another 6 hours from Belum Caves to Bangalore then you can do a day trip like we did.
Otherwise, you can choose to stay at Anantapur for the day, visit other sightseeing places nearby (Mentioned in a section below) and then proceed your way back home!
Distance chart:
| | | |
| --- | --- | --- |
| Place | Approx. Distance | Approx. Travel time |
| Belum caves distance from Bangalore | 300 km | 5 hours 30 mins |
| Bangalore to Anantapur distance | 215 km | 3 hours 30 mins |
| Anantapur to Belum Caves distance | 90 km | 2 hours |
Bangalore to Belum Caves by Bus:
One can take an APSRTC to either Anantapur or Tadipatri. From there are many buses which ply to Belum Caves.
Bangalore to Belum Caves by Train:
There are frequent trains from Bangalore to Anantapur. And from Anantapur, you can catch a bus directly to Belum Caves. In case there are no direct buses to Belum Caves, take a bus to Tadipatri and then proceed to Belum Caves in another bus.
Hotels near Belum Caves:
There are not many options for accommodation near Belum caves. The best bet would be to stay near Anantapur. Be warned that there are no 5 stars or 4 star hotels in Anantapur. The accommodation would be basic.  Take a look at some accommodation options in Anantapur.
Places to Visit near Belum Caves
Here is a list of sight-seeing places near Belum Caves and their distances from Belum Caves
| | | |
| --- | --- | --- |
| Place | Approx. Distance | Approx. Travel time |
| Gandikota fort | 60 km | 1 hour 20 mins |
| Yaganti Temple | 45 km | 1 hour 15 mins |
| Chintala Venkataramana Swamy Temple near Tadipatri | 30 km | 45 mins |
| Gooty Fort | 65 km | 1 hour 45 mins |
---
Read more about our trip to Gandikota from Belum Caves.
---
While these are some places you can visit while near Belum Caves. I have some places to suggest which you can visit on the way – while going to Belum Caves from Bangalore.
Nandi Fort
Avalabetta
Lepakshi Temple
Puttaparthi
---
Also Read: Avalabetta, an easy day trip from Bangalore
---
Belum Caves Tickets:
The Entrance tickets to Belum Caves are priced at 50 Rupees for adults and 35 Rupees for Children between 5 to 10 years.
(The pricing is as of October 2016)
On the way back to Bangalore to Belum Caves:
We were blessed with light showers on the way back from Belum Caves to Bangalore, which continued to pour when the sun started to show up. And the marriage between sun shine and the rain was a double rainbow set against a lovely backdrop of windmills 🙂
What made it even more special was the clouds which appeared before us in the shape of Hindus auspicious symbol 'Om ॐ'. I jumped from my seat and showed Neetan this rare occurrence and by the time I grabbed my camera, it started to dissolve and this is what I could capture!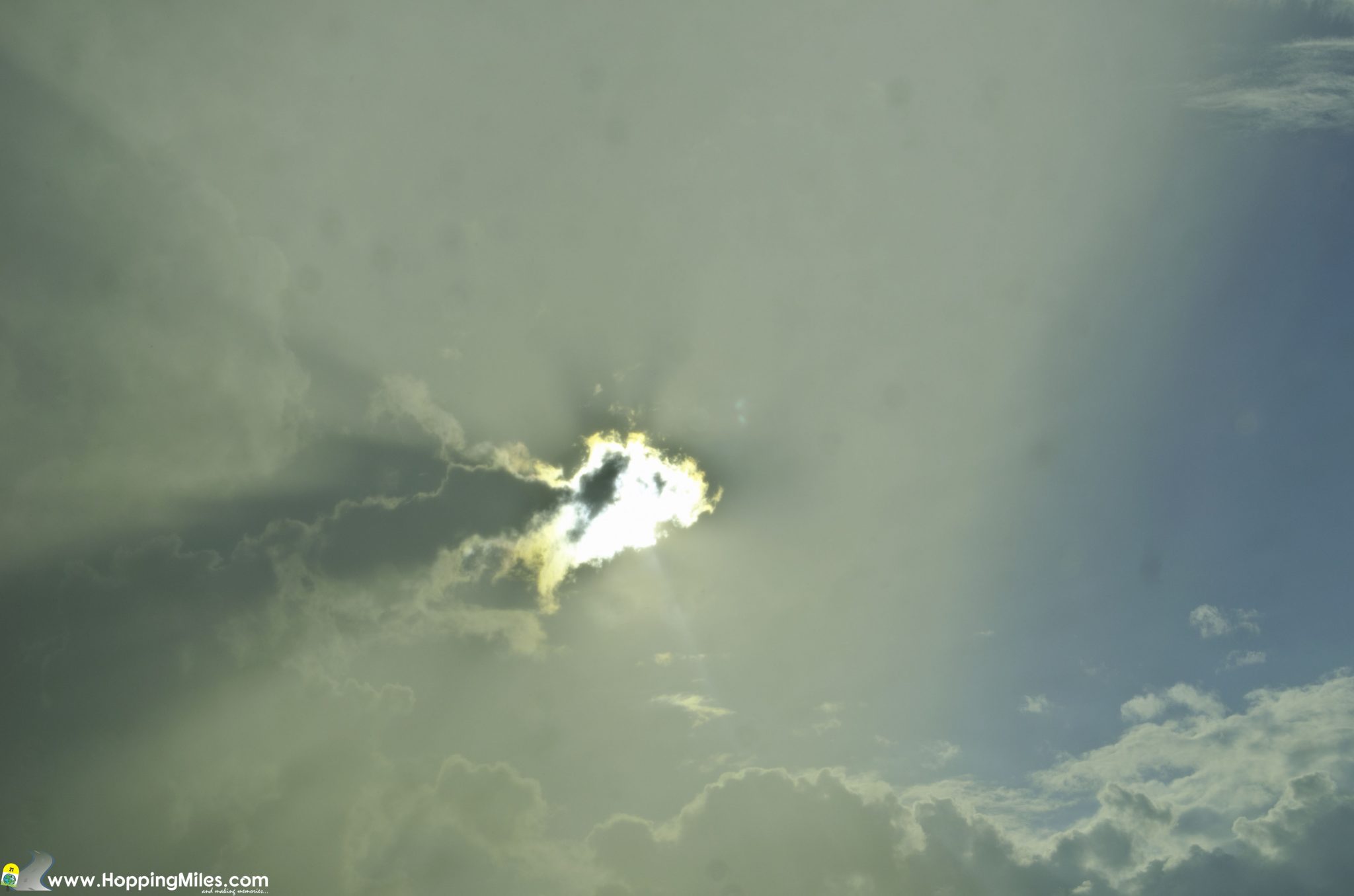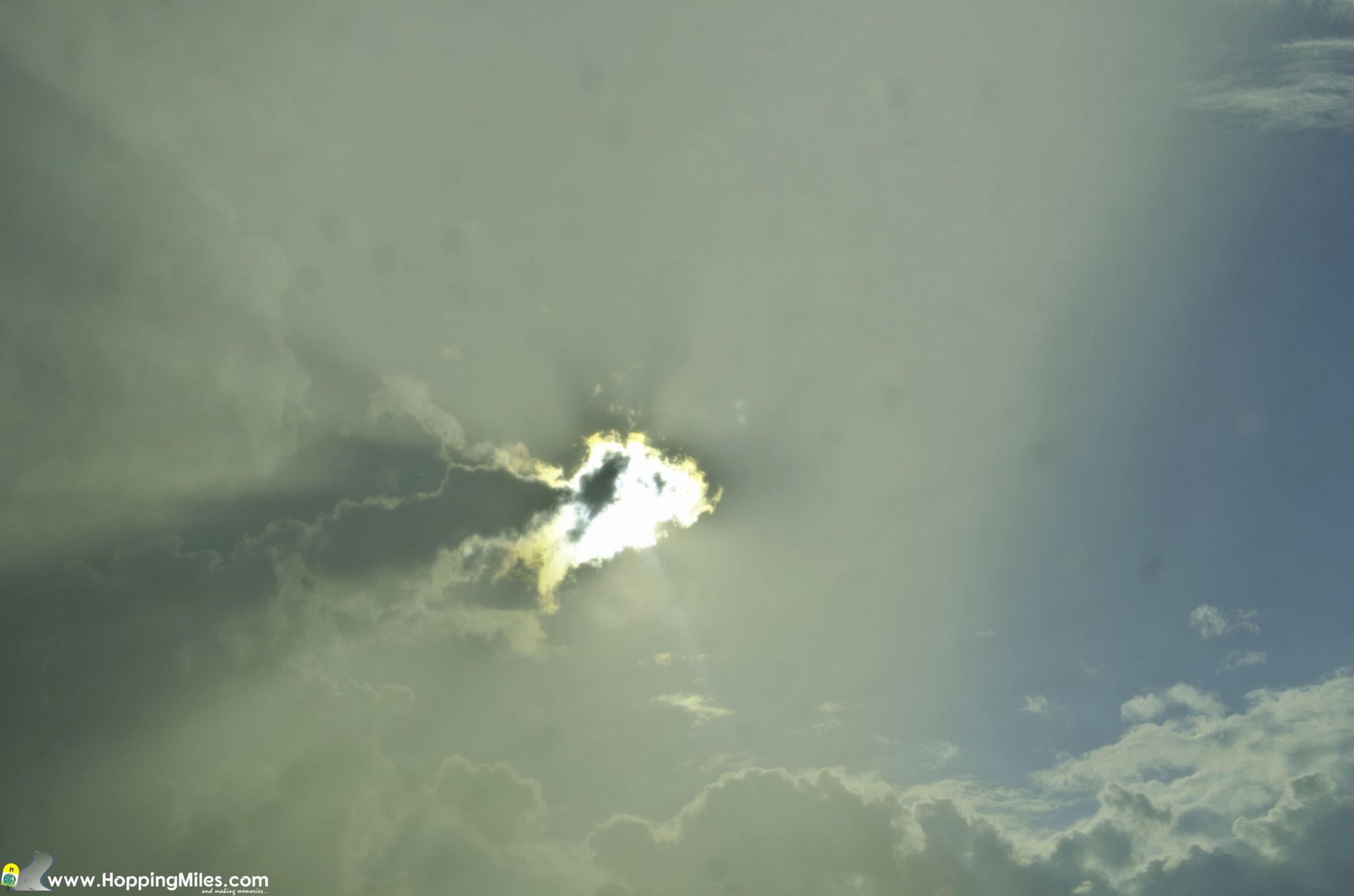 Magical! Isn't it?
Some Tips before visiting Belum Caves:
A guide is assigned to a group of people free of cost who explains you the entire history and details of Belum Caves. But, they do expect some money once the tour is over.
Carry water – All the walking and humidity often leaves you tired and keep a bottle of water handy to quench your thirst. Don't expect water taps or any other snack shops once you enter the caves – for quite obvious reasons.
You might require that all important handkerchief or a small towel that you left back in the car – more than ever than you required it anywhere else! You are sure to sweat as you go deeper inside the cave.
Washrooms are present just outside the cave – before you reach the entrance. Make sure you finish all your duties before entering the cave!! 😛
The choice of food available in the canteen near Belum Caves is not great – can't be called as a restaurant as it serves mostly snacks. We were happy to settle for an Ice cream. We had bought our meal in a small picnic kitty from home 🙂
There is a huge parking lot to park your vehicles safely at Belum Caves.
Wear comfortable shoes as there is quite some walking to do! Here are some shoes which I recommend!
A huge Buddha statue against a small hillock on which 'Belum' is carved out welcomes you to Belum Caves. So, unless you are fantasizing about Katrina Kaif or Tom Cruise – it is a landmark difficult to miss!
---
Have you been to Belum Caves? How was your experience? Share with us in the comments!
---
If you have liked this post, show us some love and pat us on our backs! Like us on Facebook, follow us on Twitter and Instagram and subscribe to our Youtube channel!
---