Hello folks! Meet the Mile Hoppers, Ashwini and Neetan. Based out of Bangalore, we are a couple who often love escaping into nature, for the love of it! We hop miles by taking the roads less travelled and walk on paths seldom taken. For us travelling is not just about seeing a place like a tourist, it is about feeling and experiencing it like a traveller. Experiences are what we vouch for and swear by. We have an insatiable hunger for globe-trotting and we are on a mission to quench that thirst by keeping baby steps into this world of travel by balancing family, work and our dreams, all at a time.  We have a soft corner for long drives, romantic and luxury stays, cosy hammocks and picturesque landscapes. And  our thirst to discover unseen alleys and broken trails deserves a mention too.
On Hopping Miles, we share our itineraries, our experiences, know-hows, what to and what not to do, those lil secrets and everything else that can save you a fortune! We hop to places unseen and you too are bound to hop with us. Just peep through our shoulders to see and experience the places like we do, though Hopping Miles. So what you waiting for, start hopping!
Little more about us:
Ashwini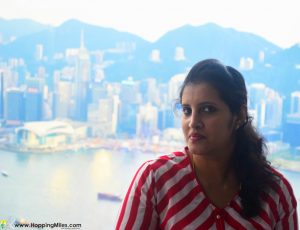 As they say in my favourite TV Series, 'F.R.I.E.N.D.S', My life too was struck in second gear until travel happened. My life was stuck first with academics, then with work, which gave less time for me to discover my inner self. Travelling is therapeutic, is what I discovered. This is proved right, every time we embark on a journey, be it a long vacation or a short drive.
Back in the days, I used to be a .Net developer for a software giant. Now, I've quit work to take care of a cute little monster who tugs along with us in every ride. Though I keep myself busy with occasional freelancing gigs, I was longing for more and that is how Hopping miles was born.
I love to photograph, I love to share stories and I love to travel and what better way to blend all these three into one, other than Hopping Miles. From the day of conception of this idea, I'm filled with delight and found a new love in blogging.
Neetan
Shy, strong headed and well-disciplined person who never breaks his policies and principles is how Neetan can be best described as. Being the ardent driver he is, he hates sitting in a car with his hands not on a steering wheel and feet not on clutch, brakes and gas! He loves to plan, execute and explore the destination to the fullest extent and believes in experiencing the love that travel has at its core. Give him a car and he's a happy kid again!
Though he has many academic and corporate accolades, he is very down to earth and never shows them off, many of his colleagues and best friends do not even have a clue about his accomplishments! He is a motivator and can convince even a stone! Neetan could be held responsible for pushing me into blogging again. And I couldn't be happier!
Now that you have survived our introduction, show us some love and pat us on our backs! Like us on Facebook, follow us on Twitter and Instagram and Subscribe to our Youtube channel!