Best whale watching in Iceland – Season, cheap tours, everything you need to know!
Surrounded on either sides by the North Atlantic Ocean and Arctic Ocean, Iceland is definitely one of the best places in the world to go whale watching. With beautiful landscapes, surreal waterfalls and amazing scenery all around, a lovely whale watching experience is like a cherry on top of the cake. Whales are enormous beings and it is always a fascinating experience to watch these majestic sea creatures up close. Iceland has many departures points for whale watching excursions, so you can plan this activity depending on your itinerary and the time you have in hand. But if you are travelling all around Iceland and not able to decide which is the right place for whale watching, what is the best season and which tours are the cheapest? We've got you covered! The below article lets you know all you'd like to know about whale watching in Iceland. Let's get on that whale wagon!
Whale watching in Iceland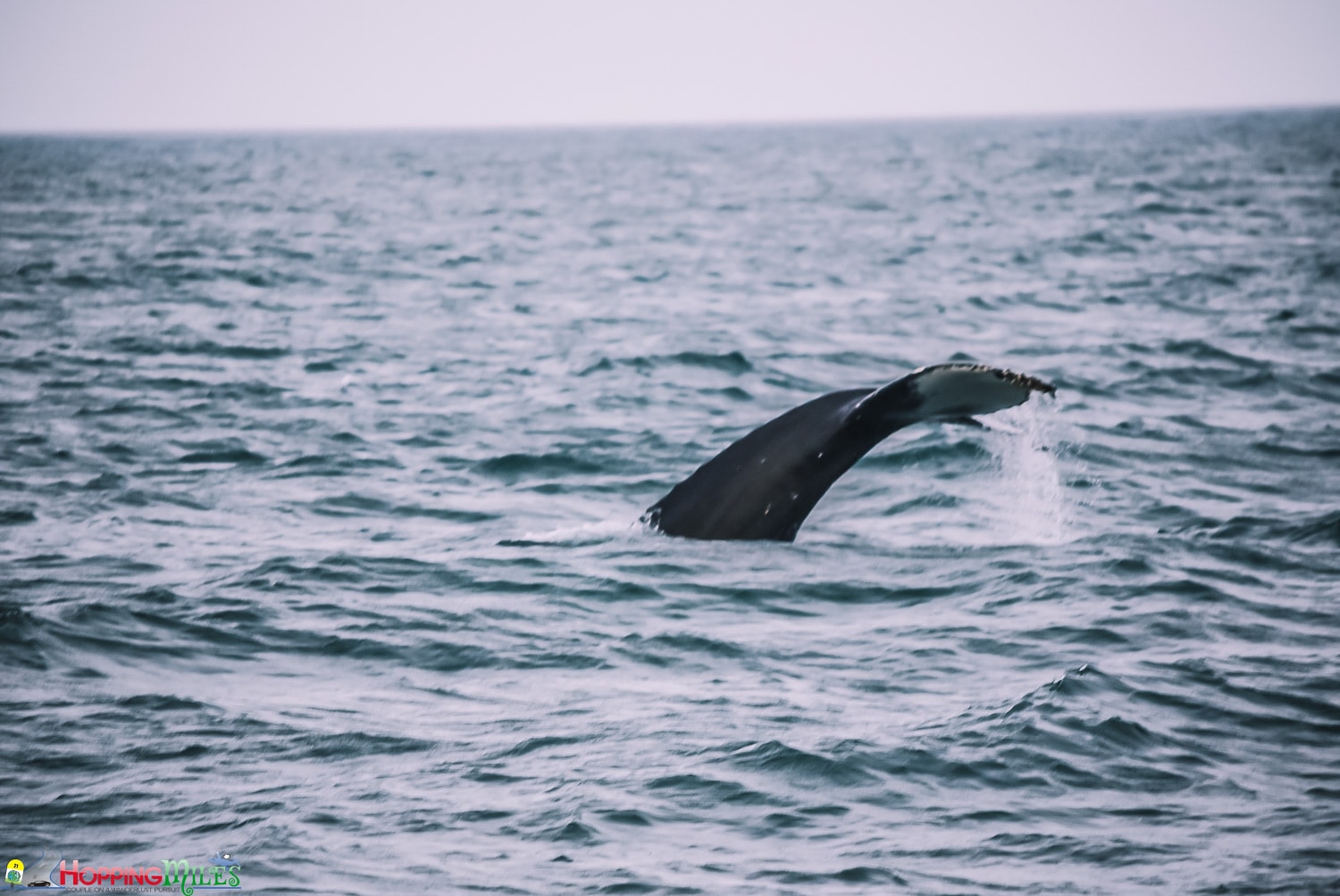 Whale watching industry in Iceland is huge. The simple reason being the fact that there are so many whales out there! Being in the Arctic, Iceland is strategically located so as to find these indigenous species in their natural habitat. Being an island, its natural for Iceland to have ports and harbours. And some of these ports are located on bays that are popular for whale watching excursions. While some tours are seasonal, others run through out the year. With a wide array of exciting activities in Iceland, whale watching trips are very popular and are in much demand as these do not require any physical activity and is also perfect for families with kids.
---
Types of whales you can see in Iceland
Hump back whales, Minke whales, Ocra or Killer whales, Blue whales, Sperm whales, Sei and Fin whales are some of the common whales you can spot in Iceland. Apart from whales, you can also see Harbour porpoises and white-beaked dolphins, seals, basking sharks and sea birds like Arctic terns, puffins, gulls, goose and gannets. Though we cannot always see all whales and birds, all around the year because they are seasonal. Like, the puffins are found in abundance from June to mid August and the killer whales or ocras are at their best from December to March.
---
Whale watching season in Iceland
Whales can be spotted in Iceland all around the year. But each kind of whale has its season and a favourite time of its own. Speaking in general, whales are at its best in Icelandic summers. The summer temperature in Iceland's shallow territorial bay is warm and serene, which attracts lots of whales to satiate their hunger. While the winter weather in Iceland is very unpredictable and can change in matter of minutes. The temperatures in land during winters will be very low which implies that the temperatures in the sea will be even lower. During Icelandic winters, the seas may be choppy leading to many tour cancellations. The winds will be strong and the atmosphere cold which will lead to sea sickness in some people.
Though, it is possible to see all types of whales all around Iceland, there are some specific places which are frequented by certain types of whales. We shall go through each region below and understand where we do we find what type of whale.
So, there is no one answer for which is the best time to see whales in Iceland. As we can see whales in Iceland all around the year, only that the species we can spot in these tours, depends on the season and the weather.
---
Best time of year for whale watching in Iceland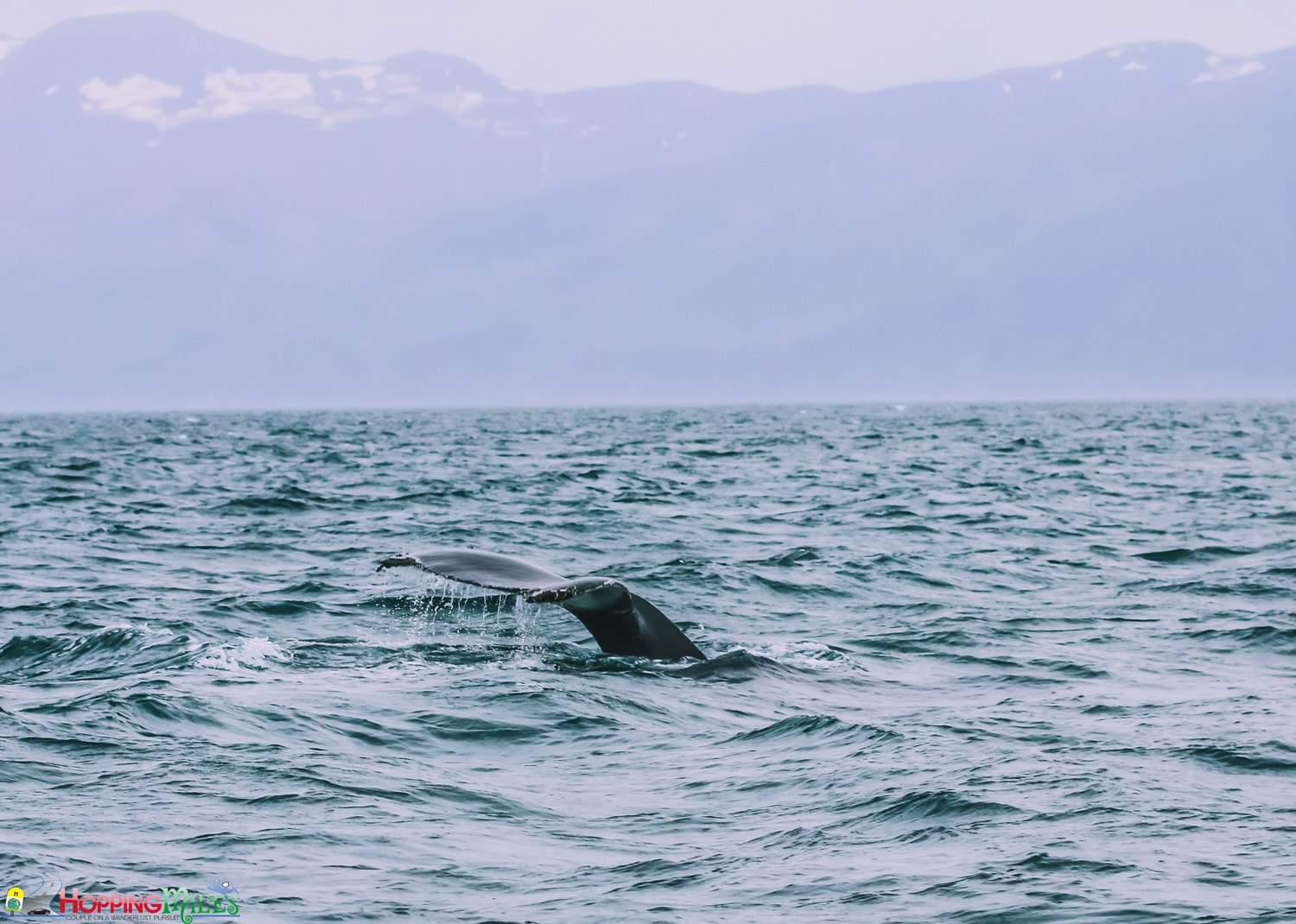 While summer months of June, July, August and September is the best time to spot Minke, humpback, blue whales and White-beaked dolphins; Ocras and Sperm whales though can be spotted in summer months, these are also found in winter from December to March and also in early summer of April and May.  The elusive Blue whales are mostly spotted around June after which they migrate further up North.
So, logically speaking, you can find whales in Iceland at any time of the year. The only factor that varies is the type of whale you can see in each season.
---
Iceland whale watching prices
Prices for whale watching in Iceland varies from 72 Euros to 90 Euros i.e.  9400 ISK to 11500 ISK depending on the operator, time on tour and the place. I have linked to some good and well-priced tours below through which you can better deals 🙂
---
Best places to go whale watching in Iceland
For convenience, I have divided the places that offer whale watching tours in Iceland into regions, so you can zero upon a single place depending on your itinerary.
Whale watching South Iceland 
Reykjavik, the capital city of Iceland, which is the usual landing place for all tourists is also known as a prominent whale watching hub in Iceland.
The reasons are many. First off, the shallow Faxaflói Bay in Reykjavik is a thriving ground for whales and dolphins. Second, the fact that the port is closer to Reykjavik town, from the old harbour situated just outside the city centre. And the major one being the fact that it is accessible to tourists who are in Iceland for a short period of time and do not have time to travel to other parts of Iceland to go whale watching.
You have large chances of seeing Minke whales, Humpback whales, and dolphin pods when you depart from Reykjavik. The chances of spotting whales in Reykjavik tour is 98%. Here are some whale watching tours from Reykjavik.
Keflavik is the airport you will land into if you are flying into Reykjavik. Keflavik airport and Reykjavik city centre are 1 hour apart. If you are in Iceland and have a short layover with a few hours to spare, then a quick whale watching tour will zest up your stopover.
The departure point is just 15 minute walk from airport. But the chance of sighting is only 80%. As far as I know, there is only one company that organises whale watching from Keflavik.
---
Whale watching West Iceland
West Iceland which comprises the Westfjords and Snaefellsnes peninsula is a rich breeding ground for whales due to the sheer availability of food in the fjords in both summer and winter. There are more chances of spotting the killer whales or the Ocras here, even during winter.
Ólafsvík and Grundarfjörður
Grundarfjörður in the Snaefellsnes peninsula is the departure port for whale watching tours. You have the best chance of spotting a whale here in the winter season. Ocras/killer whales thrive here and they are hungry in winter too 🙂 So you will have more chances of finding those here. Ólafsvík, near Grundarfjörður is also a part of Snaefellsnes peninsula has some great whale watching tours too. Check here for some tours in Grundarfjörður and Ólafsvík.
Holmavik in Westfjords is also a good option for whale watching if you are in and around West-fjords during your Iceland holiday. Fjords are rich in herring fish and whales love herring! Check the trips departing from Holmavik here.
---
Whale watching Northern Iceland
North Iceland has a lot of options for whale watching. You can plan your itinerary in such a way that you can go on at least one trip during your time in Iceland. I shall list all the places in North Iceland where you can indulge in some whale treat to eyes.
Fondly known as the 'Europe's Whale watching capital', with a success rate of spotting whales being 98%-99%, totally living up to its name. Husavik, undoubtedly is one of the best places in Iceland to spot whales.
Skjalfandi Bay in Husavik has been home to Blue whales, Minke, Humpback, Fin, Sei, Ocra and Sperm whale. Dolphins and seasonal birds are frequent visitors too. There are many companies that arrange whale watching tours in Husavik. Some even offer eco-friendly and carbon neutral tours. Here are some of those. Secure your spot soon!
Eyjafjörður bay in Dalvik is rich in Zooplankton and krill on which whales feed thus making it one of the good whale watching spot in North Iceland. Check trips from Dalvik here.
Akureyri, the second largest city in Iceland is a convenient option for people who are travelling around Iceland Ring Road and have no plans to stray away from the Ring Road. These folks can easily book a whale watching tour in Akureyri. Check some of Akureyri whale watching excursions here.
15 mins away from Akureyri is Hjalteyri which is closer to the Eyjafjörður bay. All the three Dalvik, Akureyri and Hjalteyri take you to Eyjafjörður bay for whale watching. So, what is the difference between these three? Let me explain.
Akureyri is on the ring road, so it's the matter of convenience. Hjalteyri is 15 mins away from Akureyri but the whale watching duration is only two hours. Don't get misled by the duration of tour, almost every tour from Hjalteyri has been successful in spotting whales, giving it an edge over Akureyri. Dalvik on the other hand, is located further North, around 40 minutes away from Akureyri.
Check prices for tours from Hjalteyri here.
---
Whale watching Akureyri vs Husavik
This is one of the frequently asked questions and let me lay out some details for you that'll help you decide on this. If you are in Iceland for a short period of time and travelling only around Ring Road, then Akureyri is your best chance of spotting a whale.
But, if you have a few hours to spare, take drive one hour up North to Husavik to experience the best whale watching experience in Iceland. Drive from Akureyri to Husavik takes approximately one hour. While Akureyri tours operate from Eyjafjörður bay, Husavik operators explore the Skjalfandi Bay. The latter is known to house many species of whales, thus offering you not only the variety but also a sure shot chance of spotting at least a few whales.
---
FAQs:
What if the tour gets cancelled in case of bad weather?
Most tour operators will offer refund or a tour reschedule in that case.
Say I go on a tour and we spot no whales, will I get my money back?
Sometimes, yes. Most tour operators will offer refund or reschedule in that case.
Should I book my tour in advance?
Definitely Yes. Do not under estimate the number of tourists in Iceland and many tours are pre-booked months ahead.
What do I wear on a whale watching tour?
Have answered that question in detail below.
Is whale watching safe for families?
Absolutely! Its one of the best things you can do as a family, while in Iceland. If you are travelling with little kids, then please do take care to dress them warm.
Where and which whale watching tour did you go on?
We went to Husavik to go whale watching. We were on a eco-friendly Carbon neutral footprint tour. Book that here.
---
What to wear whale watching in Iceland?
Iceland as such has a cold weather, and the temperatures dip further as we go further into the seas. Wearing layers of clothing is very important in Iceland. Make sure you are dressed appropriately to keep yourself warm and to enjoy the excursion. Many whale watching operators provide sturdy and warm overalls which will ensure that you don't feel cold due sea chills while on excursion. Here are some of my recommendations for your whale watching tour.
---
Our Whale watching experience video:
Whale watching and northern lights holidays in Iceland
If you are travelling to Iceland any time after August, then you have a good chance of watching Northern Lights too. How sweet it'd be if you can combine whale watching with Northern Lights excursion, right? Check out this tour if you are keen about this.
---
I guess I have answered all your questions and doubts about whale watching in Iceland. Let me know in the comment box below if you have any questions to ask. Thanks for reading this post, and below are some more helpful posts about Iceland. Enjoy!
75 + list of places to see in Iceland
Everything you need to know about driving in Iceland
Will my devices charge in Iceland?
---
If you liked this post, show us some love and pat us on our backs! Like us on Facebook, follow us on Twitter and Instagram and subscribe to our Youtube channel!
---
Pin it for later: