SMART tips to buy perfect Gloves for Iceland Winter + Summer
So, you have booked your tickets to Iceland and wondering which gloves to add to your packing list. Great! You have come to the right place. Because in the article below, I explain which are the best gloves for Iceland winter and summer. If you are a photographer like me and planning to buy the perfect gloves which will keep you warm yet allow you to click amazing pictures of Iceland landscape, then, there is a separate section for you in this post! Don't miss it 🙂
Why am I writing this post?
What urged me to write this post was the fact that none of the articles and blog posts I read addressed this issue and I struggled quite a bit with my glove selection while I was road tripping Iceland. I shall explain in detail, where I struggled and how I could have avoided it and could have enjoyed my trip to the last bit!
My silly Glove selection mistake!
Though we were in Iceland in August – September, at the fag end of summer, we were lucky to spot Aurora Borealis! I wasn't prepared for this and my basic woollen gloves couldn't save me from freezing. I always wanted to rush back to the car to stay in the comfort of the heater.
What made it worse was the fact that I was photographing Aurora and my gloves weren't touch screen sensitive. So, I had to remove my gloves and then change the settings. This worsened my situation and I finally gave up clicking photos after I got a few shots and just enjoyed watching the aurora.
Looking at the big picture, was it a blessing in disguise? Maybe!
But for someone who photographs for a living, this trivial mistake could cost a lot! If you are a photographer visiting Iceland, then check out the next few sections for sure!
Why consider buying gloves for Iceland?
Gloves are an important asset in one's wardrobe and is definitely a must in the list of things to pack for Iceland. Its no fun to stay cold on an expensive holiday (Don't forget, Iceland is costly!). Hence investing on some warm clothing accessories are essential for any successful trip. Also, buying the right gear to wear in Iceland ensures a safe and happy trip to your dream destination.
Whether you travel in summer or winter, you will need gloves while in Iceland. So, don't cut corners while shopping for your trip to Iceland. The products I have mentioned in this article are linked to Amazon, from where you can buy those easily. If you are running short of time and your flight is just a couple of days away, then register for a free 30 day trial of Amazon Prime where you are entitled for unlimited 2 day delivery for no minimum order amount! Awesome, Right? Get it here.
So, let's get to the point and discuss about gloves you need to pack for your Iceland holiday! I've split this article by season – summer and winter. And I also have a section dedicated to help photographers choose the perfect gloves for their photography sojourn in Iceland. Enjoy!
Best gloves to wear in Iceland
Iceland is located near the arctic, so expect the temperatures to be around moderate to low. Also, the temperatures in Iceland depend on the climate, which in turn depends on the time of the year. While summer and fall months of mid May to mid September stay in the range of min 2 °C to a max of 14 °C, temperatures in winter months of October to April are around -2 °C min to 3 °C max.
Given the above temperature range, it would definitely warrant the use of gloves in Iceland, all around the year. After all, warm hands are a key to warm body – which ensures that we can have an enjoyable and stress free holiday.
---
Gloves for Iceland summer
As I mentioned above, Icelandic summers hover around min 2 °C to a max of 14 °C. If you basically are from a city which is cold, your body might have been used to moderate to low temperatures and a basic pair of gloves will suffice.
But if you are from a tropical country, like where I live in – the average temperatures are somewhere around 22°C to 37 °C, all around the year. In this case, even a 5 – 10°C temperature change will make us freeze, as our bodies are not accustomed to cold weather. This would necessitate of a pair of good woollen gloves to keep us warm and sane!
That said, we must not forget that Iceland is a waterfalls galore. We can visit the waterfalls – up close, without any barriers and sometimes even walk behind the waterfalls. In such situations, the gloves tend to get wet and wet gloves aren't so happening to wear! Right? A perfect solution for this problem would be a pair of waterproof gloves. Wear those when you visit the waterfalls to avoid your gloves from getting soaked.
So, for summer in Iceland, a basic pair of gloves and a waterproof gloves will suffice. No fancy gear is needed and these should do the job well. Here, I have listed my favourite picks from Amazon which you can add to your cart right away!
Woollen gloves for your summer Iceland trip:
Achiou Winter Warm Touchscreen Gloves: These gloves are a perfect for Iceland summers because, they are not bulky yet will provide the basic and necessary insulation needed. And the best part about this inner fleece lined gloves is its touch screen capabilities. You need not remove your gloves every time you need to operate your phone. Go get one asap!
Fox River Ragg Wool Glove: If you are like me and are too sensitive to cold, then you'd want a more sturdier glove. This glove is made of pure wool and gives you optimum protection and insulation from the cold air outside. There are a lot of gloves made of faux wool or acrylic material, these do not provide any protection. So check the material before you buy and make sure you buy pure woollen gloves. Check some of those here.
Waterproof gloves to avoid getting wet:
Mountain Made Outdoor Gloves for Men & Women: This pair of glove is water resistant and fits perfectly onto the hands. And the icing on the cake is the touch screen facility. If you are planning to venture behind the waterfalls or going on glacial walk tours, then do consider getting one of these.
---
Best gloves for Iceland winter
Winter in Iceland is an icy affair which might be frequented with snow storms and blizzards. While these cannot be predicted months before, its always a wise idea to have an open mind when you plan a winter visit to Iceland. If you are lucky, you might have all clear days or a mix of good and bad weather during your stay.
And the best part about visiting Iceland in winter is to watch the lady aurora dance in all her glory. But, the temperatures in night time drop down substantially in Iceland. Better be well prepared for your Aurora sojourn with proper winter gear. And needless to say, gloves make an inseparable part of this gear!
Tip: If you are travelling to Iceland in Winter, then do not forget to add gloves in your carry on bag, so that you can wear those as soon as you land in Keflavik airport.
If you aren't a photographer and not much keen on photographing stars and aurora at night, you still need a good pair of gloves to totally ace your holiday. Here are some winter glove recommendations for you.
Touch screen and Water proof: You can either buy the one I suggested in the previous section or go for a more sturdier one like this. This one is perfect for hiking in winter – be it Ice cave tour or a glacial walk. It also comes with a zipper pocket and air venting hole.
Dachstein 100% Austrian Boiled Wool Alpine Gloves: If you are looking for really good protection on winter days, then this gloves are perfect for those cold, chilly nights. Made by a small family establishment in Austrian Alps, these gloves are made from pure boiled sheep wool. These work perfectly well even if your gloves are 30% soaked in water. Perfect for icy and snowy days, isn't it?
Mittens: Mittens are an excellent option if gloves don't give you enough warmth. Mittens keep your fingers together hence help in radiating uniform warmth. These are some good mittens for your trip to Iceland.
---
Glove recommendations for Photographers visiting Iceland
Standing on the cold snow at wee hours, and photographing at sub-zero temperatures ain't an easy task. But when it comes to night photography, be it capturing the milky way or the aurora, there is no way but to brave these conditions. Thus, photographers needs to be equipped with solid clothing and sturdy gloves to keep themselves warm.
This'll allow the photographer to make the most of the opportunity – to witness a naturally occurring phenomenon and capture those moments at the same time. Being present in that location and to be able to capture it/film it is important, rather than worrying about freezing hands. Correct?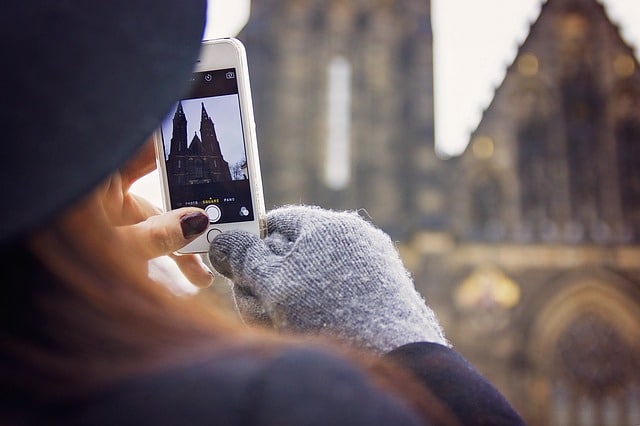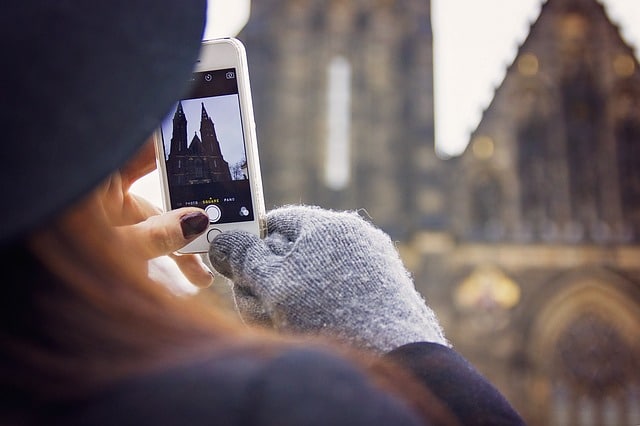 Let me suggest you some worthy gloves will not only be pocket friendly but also keep you warm in cold Icelandic locales. Also don't forget to check the hacks section below for some useful tips.
Ski gloves: These are cold proof ski gloves with insulation cotton which can handle upto -40°F. The palm area is made of Cowhide Leather which is water resistant and wind proof. Check the price now.
Also check Seal skin gloves| Youngstown Waterproof Winter Plus Glove | Hand-knit Totoro Mittens
---
Buying gloves for Iceland hacks – How to select the perfect gloves for you!
Hack 1: Layering the gloves
Layering gloves is a simple yet effective strategy to combat cold winter nights in Iceland. This especially is helpful for photographers who need to access their camera buttons and touch screen often to change the settings.
You can wear this fleece/silk lined gloves and pair it with a waterproof and climate proof Sealskin gloves or Ski gloves.
---
Hack 2: Fingerless gloves
This strategy is similar to the above one, the only difference being that instead of liner gloves, use finger less gloves and top it with a sturdy waterproof gloves.
This will allow you to use your fingers to operate your devices efficiently and slip back to your thick gloves when you are done.
---
Hack 3 – Use hand warmers
This hack, perhaps is the most useful of them all.
Hand warmers are heat inducers which can be slipped inside your gloves. They come in two types  – small packs of eco-friendly sachets which are for one time use or re-usable electric ones which can be charged.
Use these inside your gloves or slide in your pockets when you feel you need some extra warmth. These will keep you warm and toasty even in chilling winters.
Here are a few recommended hand warmers:
Grabber Hand Warmers | HotHands Body Warmers With Adhesive 
Rechargeable Hand Warmer with inbuilt Quick Charge Power Bank | ThreeLeaf Rechargeable Hand Warmer 
---
Hack 4 – Mitten gloves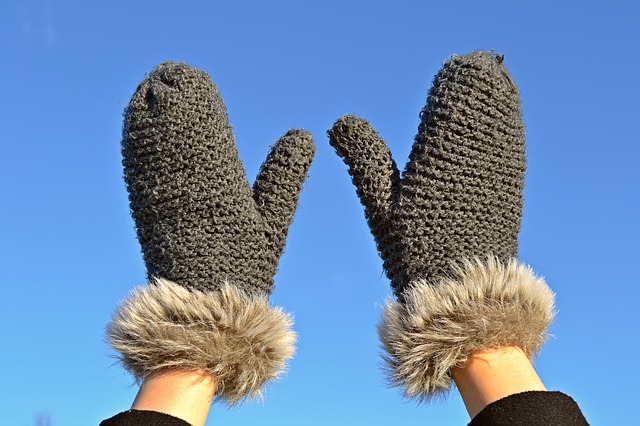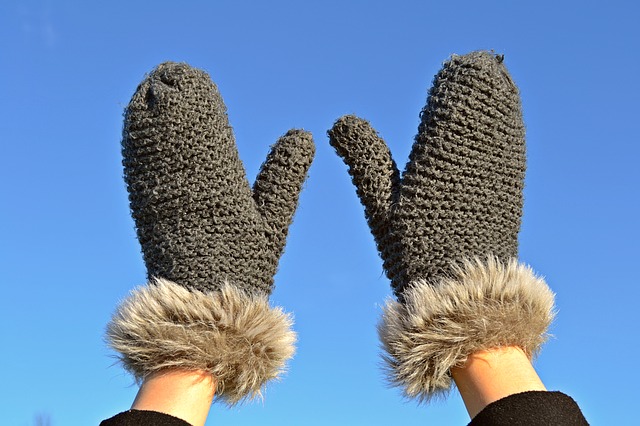 Sometimes, gloves will not make the cut given the fact that the fingers are separated when gloves are worn. This isolation divides the heat radiated by the body thus effectively reducing the distribution of warmness.
Answer to the problem – Mittens. Yes, mitten gloves help in keeping the fingers together, hence assuring that the hands are warm. Mittens are usually made of high quality wool which further adds to up the warmness quotient. If the warmth isn't sufficient, then slip in hand warmers and they will take care of the rest.
But one major drawback of this approach is the fact that we need to remove the mittens if we have to use our phone or change the camera settings. And once we remove it, frost hits and this defeats the purpose of wearing mittens in first place.
Solution to this issue is the Flip-top mittens or 2 in 1 mittens, which have a flip top that is secured through a Velcro which can be opened to free the fingers and flip it back in place when the work is over. Smart indeed! Buy some of those here.
---
Pro Tip: Pack at least 2 pairs of gloves, so that you have a backup, just in case one of those gets wet.
---
Hope this article gave you a brief overview on what gloves to pack for your Iceland trip. There are so many other helpful Iceland posts on this website. I shall list those below. Make sure you go through those and be well prepared for your upcoming Iceland trip! Have a great time in Iceland.
If you need to know or want to share some more useful tips, then feel free to comment below this post. See you in the next post! Adios!
---
Some more helpful Iceland posts for you
All you need to know about driving in Iceland
Whale watching spots and seasons in Iceland
Where to stay on Iceland Ring Road?
Will my charger work in Iceland?
Which car to choose while driving in Iceland 2×2 or 4×4?
---
If you liked this post, show us some love and pat us on our backs! Like us on Facebook, follow us on Twitter and Instagram and subscribe to our Youtube channel!
---
Pin it for later: