Road trip with kids – Things to pack and prep (for local trips and abroad)
Though not always, but sometimes we do travel impulsively and make plans on the go. But packing for a road trip isn't a hassle for us as we frequently go on long drives and quick packing has become a routine. We have been road tripping with our son since he was 5 months and it feels proud to say that he is a travel bug like us too! He has travelled to more than 10 countries as of now and many more to come. We learn new things from the challenges thrown in every trip we take and that has made us almost perfect this art of packing – by adding new things to our checklist and deleting some as the child grows. Initially I used to get blank thinking what to take on a road trip. Are you too wondering what to pack for a road trip with kids, then read on. We recently returned from a road trip and I was tempted to write this article on how we pack – some tips and tricks and how be prepared for a packing list for road trip with kids. (Scroll down for a FREE downloadable checklist)
This above picture is from our road trip in Iceland. Read more about it here. We have road tripped in Italy and Croatia too. In India, we have travelled extensively on road. We have road tripped 6000 km from Bangalore to Rajasthan and 10,000 km from Bangalore to Ladakh!
We being so upbeat about road trips, has reflected upon our son too. He's all geared up and excited about every trip we take and pesters us constantly for a trip if we haven't travelled in a while! So, it has been a good learning curve for us to travel with him, learning and adopting to situations on the go. I shall add different checklists for children of different ages, so it can be easy for you to pack what you need without going through a lot of stuff! Let's get it started!
Basic things to pack for a road trip with kids:
First, let's see some common things to pack irrespective of your child's age. These are some basic things you need for any travel. Again, I shall divide this section into – stuff to pack from home, things to buy and handy things to keep in car. This article also has details on what to bring on a long road trip and ace your road trip with children.
Pin it to your roadtrip Pinterest board:
Family road trip packing list
➡ Stuff to pack from home
These are the things you already have at home (unless you are planning to shop some new clothes :P). So it's just a matter of pulling our luggage bag and arranging these 🙂
One tip I'd like to give here is – first, decide what stuff goes into your bag and neatly arrange them on your bed. Then, segregate and arrange those into either person specific (like mother, father and baby) or categories (Pants, shirts and tops) or you can even arrange it day wise and then place those into your duffel bag/suitcase. If the trip is for 3-4 days or less, then we do not carry a bulky suitcase but opt for a sturdy  duffel bag like this one. So, let's see what goes into our road trip items bag.
How to pack for a road trip:
Clothes – Obviously, this is a no brainer! But what is confusing here is how much to carry. The formula I follow here is :

For Father -> 'Sets of clothes taken = Number of days in the trip + 1'
For Mother -> 'Sets of clothes taken = Number of days in the trip + 2'
For child -> 'Sets of clothes taken = Number of days in the trip + 3' (Takes less space plus always good to have spares in case of emergencies)
P.S: Sets here refer to – pants + shorts/kurta + undergarments

For grandparents, they pack it themselves, so I leave it to them.
Out of these, I keep one set for each of us outside so that we can wear it on the day of trip. If we plan to leave home really early in the morning, like 3 AM to 6AM, then I shower my son in the night after an early dinner, slip him in comfortable clothes for the road trip and then put him to sleep. Morning, after he wakes up, he freshens up and is good to go. (Only to sleep again in the car!)
Apart from casual clothes, I pack one set of night dress for each one of us for every three days of trip. If we are traveling on a road trip abroad, then, I change the formula of the number of clothes I pack. I use the same formula above and divide by 2 and book accommodations which have access to washing machine and then laundry the clothes in the apartment. This is to minimize the luggage taken and to fit into the baggage allowance by airlines.
We always don't do luxury trips, sometimes, we do book budget accommodations when we travel to religious places. In those cases, I pack 2-4 towels too depending on the number of days we travel.
Handkerchiefs
Newspapers – To separate used clothes from fresh ones
Small Laundry bag – to keep used undergarments which goes to laundry at home.

Toiletries – Toothbrush + small toothpaste + Face wash + Body wash + Shampoo + small tissue roll + few ear buds + emergency sewing kit + Fevikwik + small bottle of Coconut oil + small bottle of Castor oil
P.S: The reason I always carry castor oil with me on my travels is a secret that has been passed onto me from my mother. Castor oil is a very good soothing agent. Times when we or the child experience heat pangs, a few drops of castor oil massage on the navel or a nice pat on the top of head with 10-12 drops of castor oil, shows immediate results.
Make up pouch – Moisturizer + Compact powder + Kajal + Lipstick + Lip liner + Deo/Perfume + Safety pins (for safety :P) + Cotton balls + Nail cutter (Even if I forget it that's ok, because I always have a small scissors + nail cutter in dashboard of our car)
Medicines kit – I always have 2 separate kits – one for the tonics/syrups, which constitutes most of all my son's medicines and another pouch with tablets which contains common medications for cold/cough, fever, headache, body pain, dysentery and vomiting. And my syrup box too contains children medications for the above mentioned conditions. I also carry a small sachet of pain relieving cream like Moov.
I pack these in a hard case, lock and seal, food grade box like this one. My son is 5 years old now and I have been using the same box from 5 years and have taken this to many local and abroad trips, I've never had a situation where there was leakage or spillage. I bought it here.
P.S: Since we trip frequently, I have a dedicated kit for Toiletries, Make up pouch and Medicine kit. I have kept smaller versions of whatever I have mentioned in the toiletries section in that kit. All I do is check the expiry date before I leave and replace the ones that have expired or refill the empty ones. For makeup pouch, except the durables like cotton and safety pins, I take out the other stuff and use it daily. As of medicines, I keep them in the kits as it is. If there is a need to use anything, I take it, use it and keep it back. While getting ready for a trip, I recheck the expiry dates and the quantity and note down the stuff I need to buy from the chemist.
Water – Local trips – Big 20 liter can, 2 big bottles for refilling and small one for the champ.
Water – for trips abroad – I carry empty water bottles, so we can fill up water as we go.
Homemade snacks – Tripping with a five year old means that we need to be ready with tasty snacks for frequent hunger pangs of the little one. If it is a short local trip within our state, then we carry some fruits, bread and his favourite biscuits. If it is a long trip, either abroad or a longish trip here covering various states, then we often carry some handy homemade snacks – especially a few chapatis cooked with ghee. This will stay fresh for 3 days and will be a quick fix for my son Rinith's untimely hunger pangs.
Tip: I always carry a small empty snack box with me when I go on road trips. This will ensure that I can pack some food in case my son doesn't have mood to eat food when we stop for a restaurant break.
Btw, are you following us on Facebook yet? I put up travel tips like this one below, every Tuesday. So don't miss those. Like our Facebook page now! Link is here.
Gadgets – Don't forget to carry essential gadgets like a nice camera and Go Pro to save the memories which will last forever. Apart from that – phone chargers, laptops, children's' tab, their doodle board etc are some other accessories to be taken on a road trip. Maybe I should write an entire post on this. Noted, will do it soon 🙂
➡ Fun things to bring on a road trip
Here are some of my recommendations from Amazon for things that keep children busy on a road trip:
➡ Stuff to buy from outside before setting out on a road trip:
While doing the primary and basic trip packing with stuff already at home, make a list of things you need for a road trip which are missing in our kit and note them down. After I make a comprehensive list, I go for a short drive, stopping at necessary shops, buying required things. And usually, my last stop will be the fuel station. More about this in the next section. Once I source these products, voila, 90% of my road trip packing is complete! Here's what I usually get:
Snacks at supermarket or a bakery – for us and the kid – some biscuits, salt crackers, bread, jam, my son's favourite milkshake and some dry fruits.
Fruits – Few apples and oranges.
Medicines – As I mentioned earlier, I check expiry dates of the medicines in my kit and list out the ones that need replacement.
➡ What to bring on a long car ride – Stuff to keep in your car to make it road trip ready:
Just before I get back home, I shall refuel the car to the brim and get the nitrogen levels in tires checked. I also verify that necessary documents like RC papers/car documents, Insurance and emission papers are in place. This time around, the emission test had lapsed, so I got the emission test done too. A quick look to check the condition of the spare tire/stepney is also a good practice.
There are some specific things I always keep in the car dashboard which will help me not only during road trips but also on a usual day as a mom!
– Things to bring on a long car ride – Roadtrip packing list
Hand Sanitizer
Wet wipes
Nail cutter
Plastic bags for puke situations (You never know when the child will have a bad stomach day!)
A pen
A small Swiss knife ( to cut Apples/Mangoes)
Small foldable scissors
USB loaded with our favourite songs (I'm so talkative that we hardly turn it on! :D)
Tissue papers
Some dry tablet tissues which make great glass cleaners when dipped in water.
A small pouch with moisturiser and hair clips
A paper bag – to collect wrappers and garbage in general to dispose into the bin once home.
Tip: I usually have a few paper bags which we get at supermarkets in the vegetable section. These serve as eco-friendly garbage bins in car.
While these go into the dashboard, let's see what stuff we have in our boot.
Jack
Puncture kit
Spare tire/Stepney
Tool kit
Spare cloth to clean car
You can even add a Jump Starter cable to this list. In spite of my constant pestering, Neetan talks me out of buying this!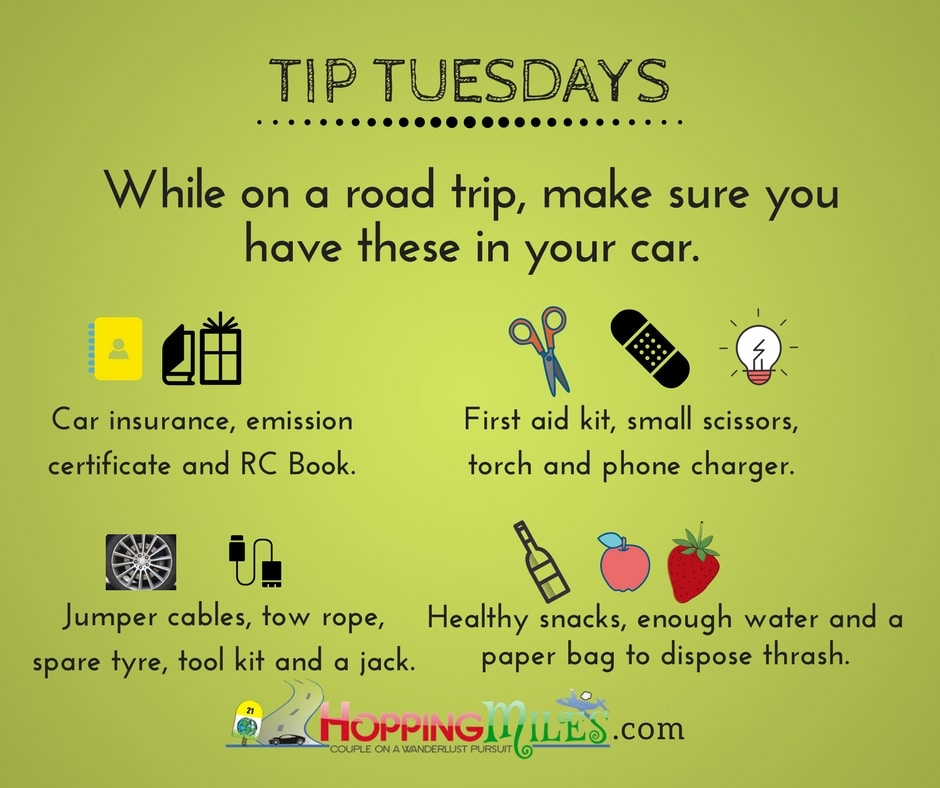 Age specific : Road trip with kids packing list
Now that we are sorted with basic things everyone needs to pack for a road trip, let's look at the specifics. I shall try to segregate and make a list of things needed to pack according to the age of the child. Once the child is over 10-12 years, their packing list almost resembles ours and doesn't require much thought. I can say this with confidence because often my sister-in-law's kids accompany us on some road trips and packing their stuff is as easy as ours! So, I shall concentrate more on babies and young children. Below you will find Road trip tips with kids for all ages. Hope you make the most of this list.
Also read: Tips for flying with kids
Road trip essentials for kids
➡ Infants – Newborns to 1 year
Travelling with newborns is quite a challenge but definitely not impossible. A little preparation prior the trip to keep things handy and we will be good to go. Let me list out some things that I used to take on my road trips when my son was an infant. I will link some products to Amazon, you may click on the product and check those on Amazon.
Wet wipes
Hand tissues
Formula milk
Bin bags or paper bags from supermarkets which comes in handy to keep soiled diapers.
Baby food – Cerelac or similar
Potty chair/baby toilet seat – I started potty training my son when he was 9-10 months old.
Spare set of clothes handy – for baby and mom
Mittens and socks
Warmers, Sweaters, coats and warm wraps.
Beanies
Napkins
Bibs
Umbrella
Teethers for babies
Medicines for colic aid, fever, Vicks baby rub, nasal drops. Just in case the baby is ill or for immediate relief in case of emergency in a long road trip.
Cotton swabs
Coconut oil or baby oil
Cotton bedding for the baby
Baby carrier bag
Water bottle
Flask – to keep hot/warm water handy.
A small cooker – I used to carry a small cooker to cook rice and dal for him once he was 10 months. This made my travel easier as a well fed baby is a happy baby.
A baby food maker – I so wish this product was around when my son was an infant. A best buddy introduced me to this product recently and I was blown away how easy it is to make fruit/vegetable purees for babies. Do check it out.
➡ Toddlers – 12 months to 36 months Checklist:
Children grow and as they do so, some things need to be added while travelling with toddlers and a few might be left out – like cerelac, teethers, mittens and so on. Here's the detailed list on possible things to take while traveling with a toddler:
Diapers – If they haven't been potty trained yet.
Wet wipes
Hand tissues
Water proof sheets – to put under their bedding in case of bed wets.
Bin bags or paper bags from supermarkets which comes in handy to keep soiled diapers.
Potty chair/ baby toilet seat
Spare set of clothes handy – for baby and mom
Socks
Warmers, Sweaters, coats and warm blankets.
Beanies
Napkins
Bibs
Umbrella
Medicines for fever, cold, Vicks baby rub and nasal drops. Just in case the baby is ill or for immediate relief in case of emergency in a long road trip.
Cotton swabs
Coconut oil or baby oil
Cotton bedding for the baby
Baby carrier bag
Water bottle/ sipper
Flask – to keep hot/warm water handy.
Car seat for the baby
Foldable Stroller
A small cooker
A baby food maker
Snacks – that can be nibbled when they get cranky or some untimely hunger pangs like chocos, biscuits, fruits, dry fruits.
In car entertainment for toddlers – Small toys or building blocks to keep them occupied.
A nice pillow and a baby blanket to put them to sleep in car.
➡ Pre-schoolers – 3-5 years
This time around, we can drop a lot of things from our packing list. By the time they are 3, the child would have grown wiser and it would be easier for parents to manage kids. They will understand our words and signs and will try reciprocate accordingly. They start to walk effortlessly without much fatigue and they would have grown stronger. They also would have adjusted to our food habits hence eliminating the necessity to cook separately for them. So let's see what to pack for a road trip with preschoolers.
More toys/games (especially newer ones so that they can be engaged for a longer duration)
Comfortable pillow and a small blanket
Warm clothing
A small empty lunch box in case they are not in a mood to eat when we stop at the restaurant
Socks
Their favourite snacks
Color pencils and color books
A children's backpack to make them feel responsible.
Hat
Water bottle
Once children cross the preschooler age, packing for them will not be much different from ours except the fact that we need to change the games and toys in which they will be engaged during the time we are on the road. I do not give a tab or a mobile phone to my son while we are road tripping as it is highly addictive and hampers his creativity and drastically reduces his attention towards the surrounding nature. He has an educational tab with limited functionality such as spelling alphabets, numbers and shapes. He gets bored out of it very easily and gets hands on it rarely. It is so much better than handing over a cell phone or a tab with lots of games and videos. It will silence them for sure but do we want our children to be silent or want them to ask more questions? Once in a while some digital indulgence is ok, but on a road trip, where we want to get away from the mundane life and want our child to experience new things, it's not fine at all. Instead, I talk to him. I tell where we are going, what he can see there and educate him about different crops, trees, and about the places en route. Sorry for some preaching there. It's just my opinion. To each their own 🙂
So, packing for a long car trips with kids isn't as difficult as we thought it would be. Right? Things to take on a road trip has now become easy. So, organize things, break them down and tick off each part as you complete. Easy, isn't it? Watch out for more posts on travelling with kids on this blog. Subscribe for updates and like on Facebook and Instagram to stay informed about our new posts 🙂
---
Family Road trip with kids checklist
If you'd like to get a printable copy or a soft copy of the parents guide above, then drop your mail id here and you will receive a FREE copy of Checklist of things to pack when travelling with kids. Even if you don't print it out, you can keep a soft copy of the PDF on your phone and just open it and tick it off as you pack. So, what are you waiting for? Get your copy of checklist now!
---
If you liked this post, show us some love and pat us on our backs! Like us on Facebook, follow us on Twitter and Instagram and subscribe to our Youtube channel!
---