My Australia Wishlist
So, recently, I was having a conversation with my friend and she couldn't stop bragging about her recent trip to Australia. I was all ears and could see the sparkle in her eyes as she spoke about her adventures down under. I always love to listen to travel stories, after all these are our inspiration isn't it? All my dream vacations built this way. It was in way back in 2012 that I stumbled upon Croatia and finally visited it in 2016. And Iceland, I clearly remember that day in 2014 when I decided that I will make Iceland happen in spite of it being notoriously expensive and 2017, goal Iceland was accomplished!
Getting back to our conversation, my friend asked what my bucket list places in Australia are and I went blank. I knew Australia was beautiful as I'm constantly awed by pictures I see on the internet. Only two places that came to my mind was Great Ocean road and the Great Barrier Reef. But I knew there's more to Australia than these places. Once home, I riffled through various pages on the internet and made my Australia wish list. Then I thought, why don't I put it on my blog and make my readers help me in curating my Australian itinerary. So, if you are reading this and want to suggest me some place I haven't listed here then please feel free to share your suggestions in the comments below.
P.S: We aren't city people.  So don't be surprised if we haven't mentioned some beautiful cities in this list. There's no doubt that cities can be interesting, but we usually spend no more than a day in cities unless we are extremely impressed. We loved Stockholm so much that we spent 4 whole days in the city and felt like we haven't explored it enough J Check out our Stockholm itinerary here.
Great Ocean Road
We are all for beautiful drives and memorable road trips, with that being the case, how can the Great Ocean Road not be in our list? There is not one but many reasons to go on this spectacular drive. Encompassing varying terrains and a bunch of spectacular attractions, Great Ocean road is every road trippers dream. Whale watching, stunning waterfalls, exotic beaches and lovely hinterlands – name it and it has it all! Portland, Port Fairy, Warrnambool, 12 Apostles coast, Apollo Bay, Angle sea, Torquay, the Otways, Princetown are some major towns and sight-seeing places that fall on en route. What interesting is that the entire stretch of road was built by returned soldiers from WW1 took 13 years to build this road in memory of the soldiers killed in the war – making this World's largest War memorial.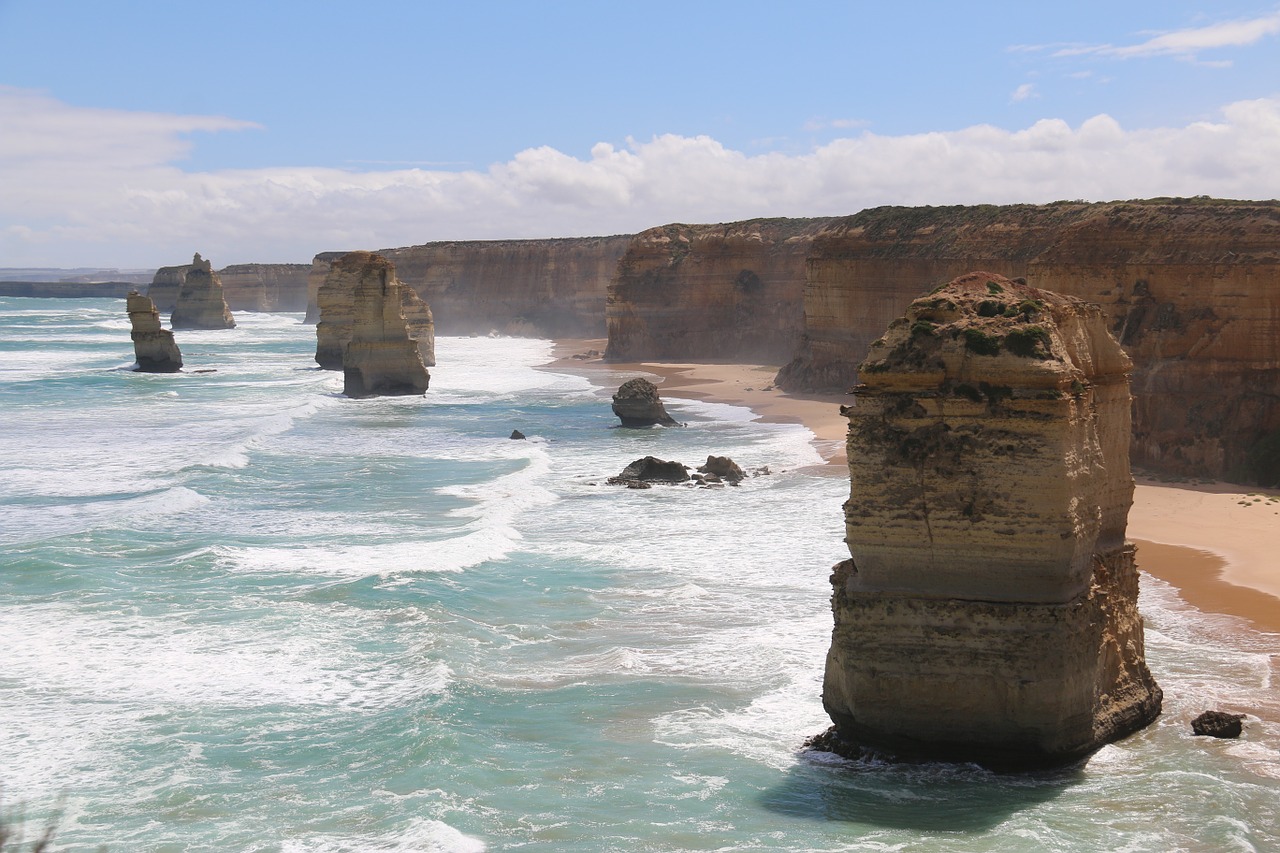 Speaking of road trips, another concept I came across in Australia and New Zealand was that we can buy a second hand car from any of the websites that sell them so that you have the freedom to explore at your own pace and save money on the rental. Before leaving the country you can sell the car back to someone else. Hmm, Interesting!
Great Barrier Reef
With over 100 islands rich in world renowned marine life, Australia's Great Barrier Reef is one of its kind. Each island is better than the other and trust me it was really difficult for me to zero on a single one. But still, I have my favourite picks – Whitsunday Islands and Airlie Beach. Can't wait to explore them!
Atherton Tablelands
How about experiencing a mini amazon rain forest in the hinterlands of Australia, exciting isn't it? This definitely persuaded me to add Atherton table lands to my list. Amazing rain forests, stunning waterfalls, exciting events, sprawling wineries and more – that's Atherton tablelands region for you!
Kangaroo Island
Crystal clear beaches, abundant wildlife, wonderful wineries and quaint accommodations – all make the Kangaroo Island special. As we always travel with our son – no wonder that the wild life here held me captive. Sea lions, Kangaroos and Koalas – I can only imagine how my son will be jumping with joy!
Read more: Road trip with kids – Things to pack and prep
Tasmania
One of my friend lives in Tasmania and I am always in awe of her pictures of the Tasmania region. The sheer wildness and ruggedness of the area kindles my excitement and there are so many places to see in Tasmania – I am especially drawn towards the adrenaline pumping adventure activities here.
Blue Mountains National Park
This 6 lakh acres of sprawling wilderness has kept me at the edge of my seat just by seeing a few pictures of it – imagine how excited I will be when I finally visit it! What's more exciting is that it is an easy day trip from Sydney.
Named after the blue haze emanating from the wild eucalyptus trees, Blue Mountain National Park has a perfect mix of adventure and natural scenery. Hiking, canoeing, mountain biking, scenic cable car rides, horseback riding are some popular things to do in the park!
Byron Bay
Surfing, whale watching, scenic light houses, hot air balloons, sky diving – gosh, am I thrilled already! Bryon bay wasn't a difficult choice to add into my wish list. With just 2 hours from Brisbane, it can be a fun day trip when in Queensland!
---
There are so many places to visit in Australia, I wonder if even a month is sufficient. But this is just a wish list not our itinerary when we do visit Australia. There's so much more research to do and add more places to this list. Have any more suggestions in mind? Let me know in the comments below!
---
---
If you liked this post, show us some love and pat us on our backs! Like us on Facebook, follow us on Twitter and Instagram and subscribe to our Youtube channel!
---