Bangalore to Ladakh Road Trip in a Fiat Punto – In 99 pictures
After we successfully completed our 'Road Trip from Bangalore to Rajasthan in our beloved Fiat Punto', Neetan was yearning for more driving sprints. He was strongly inclined to do a road trip to Ladakh from Bangalore in our Fiat Punto. But, I was overconfident that he could not do it – for two reasons. One being, I had entirely planned the Rajasthan trip, right from booking hotels to finalizing the itinerary and even finalized the routes and roads we were supposed to drive on, so I assumed that Neetan would be too busy with work to dig into all these details for his Ladakh trip. Second being that our son was just born and I thought(which proved to be a myth later) that he would certainly not leave me and go, No chance! – I thought.
One week into the departure date, I realized that Neetan was indeed leaving me and my little one back home and was all set to conquer Ladakh!! And his apprentice in this mission would be his cousin Dheeraj and Neetan's best buddy Madhuranath. I was disappointed – Oh, sorry. Actually Jealous! Though 'How can he leave me and go?' ruled the charts, the bigger question that eluded me was that 'How can he leave me and GO TO LADAKH?' How many dreams I had about this place, how many travelogues I browsed about it, how many pics I have seen of it. In fact, everyday, our drive back home from office was filled with me elaborating the travel tales I had read for the day to Neetan. And suddenly I'm told – 'Next time baby. I shall and see if all is well and take you there another time!'. I will obviously feel jealous and cheated. Isn't it??
After I was convinced and consoled that there will definitely be another drive from Bangalore to Ladakh with me and the little one, the jealous feeling toned down(but not gone completely till date!) and fear set in! I had seen enough pictures and videos of Ladakhi terrain and I had good reasons to be afraid. And Mr.H.V. Kumar came as a messiah and guided in every step with detailed itinerary and regular updates – All in good will, without expecting anything in return. He had guided us in our Rajasthan odyssey too. So when he set his foot in, I was relaxed.
---
---
So, Ladies and Gentlemen, here we present the journey of a brave Fiat Punto from Bangalore to Ladakh and back conquering almost 10,000+kms
P.S: Many pictures here are shown, as seen from the window frame or dashboard of the car. These were not edited to crop into just the scenery – to give an idea of how the beautiful landscapes envelope the drive!
Let's begin, the journey from Bangalore to Ladakh!!
Dheeraj pointing out something to Neetan. Sadly these views will be missed as this road will be seldom taken now due to the construction of the new Jammu-Srinagar road tunnel! Look how dirt has clinged onto Punto!
A magical early morning drive from Srinagar to Kargil
Oh! Please, Give me a break!! It's so beautiful! How could I be left out from this drive!! Arrgh!!
(*Neetan who is sitting beside me right now, is getting some serious rants*.
He giggles.
*Gets a knock on his head from Rinith!!*
*Papa, how could you leave me and go alone to Ladakh?*
*Knocks on head again!*
Revenge! I'm loving it!!)
After driving through Kargil, they tried to enter Zanskar Valley. They pushed till Rangdum and turned back due to rough terrain which couldn't be handled by Punto and kept it pending for next time. 
And they had a surprise waiting for them. A landslide in Kargil!!
They were struck in Kargil for 2 days. Punto was parked somewhere far amidst a long queue of vehicles. And they walked till the town where they rested and went back to get Punto when the road was cleared after 2 days.
Lamayuru – Moon like landscapes!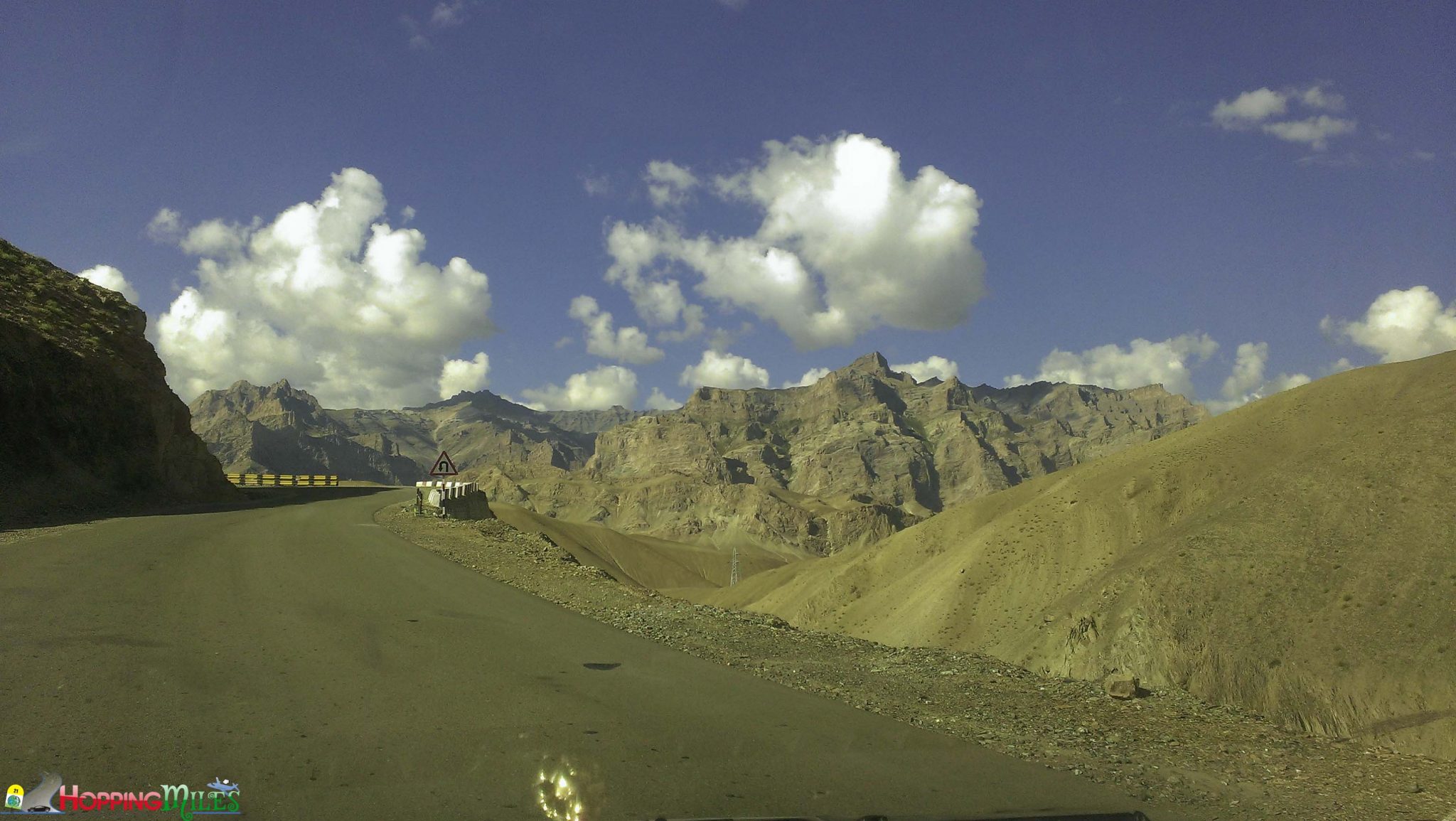 So, the boys arrive in Leh, ditch the Punto baby for a day, hire Bullets and drive to Pangong Tso! 
*You can take the boy away from the bike. But you can never take the bike away from the boy!*
Check out how Punto tackled Rothang Pass. Totally Nerve wracking!!
I shall be back with the planned Itinerary, the original itinerary they could stick to and other videos in the next post! I won't keep you waiting for long! Until then, follow us on social media in the links given below to be informed about the latest posts 🙂
PC: Madhuranath and Dheeraj. Thanks guys!
---
Have you been to Ladakh? Loved the drive? Hit us up with your views in the comment box below! 
---
If you have liked this post, show us some love and pat us on our backs! Like us on Facebook, follow us on Twitter and Instagram and subscribe to our Youtube channel!
---