Review: Kurumba Village Resort – Stay in the Lap of Nature
A sweet whistling sound woke me up from my slumber and I pinched my eyes open; the sun was slowly getting back to work. I walked straight into the balcony to find out who the whistling Romeo was. To my surprise, it wasn't any person but a humble bird whistling its way into a beautiful morning – The Malabar Whistling Thrush!! This is how mornings are welcomed in KURUMBA VILLAGE RESORT!
See the Video below to hear the whistling song of The Malabar Whistling Thrush 🙂
Nestled in between two mountains – Pakasuran and Singaara, KURUMBA VILLAGE RESORT impressed me even before I stepped into the property. A short detour from the main road lead us into a path surrounded by lush forest which dwindled down into the resort. We had a traditional welcome with garlands and a kumkum tilak.
A refreshing welcome drink sure did hurl away our travel fatigue. The check in process was quick and we were already relaxing in comfort of the couch in our living room.
Cottages:
Tastefully decorated interiors, a cosy bed, spacious bathroom and a balcony that opens up into a forest! What else is needed on a luxury holiday amidst nature?
Of all the things in the cottage, interiors need a special mention here. Almost everything I saw in the room was eco-friendly. The table lamps, wall lights, fruit basket, remote holder tray and even the indoor slippers were made of coir!! I was told that these were woven by tribals of Cherthala in Kerala. The coffee mugs were sourced from Auroville in Pondicherry and are completely handmade with real imprints of palm leaves on them. Another note-worthy feature of the rooms in KURUMBA VILLAGE RESORT is that every room has a library of its own! Had I known this earlier – it would have saved me the hassle of bringing my own book all the way from Bangalore!
https://www.instagram.com/p/BQwfdxghOYQ/?taken-by=hopping_miles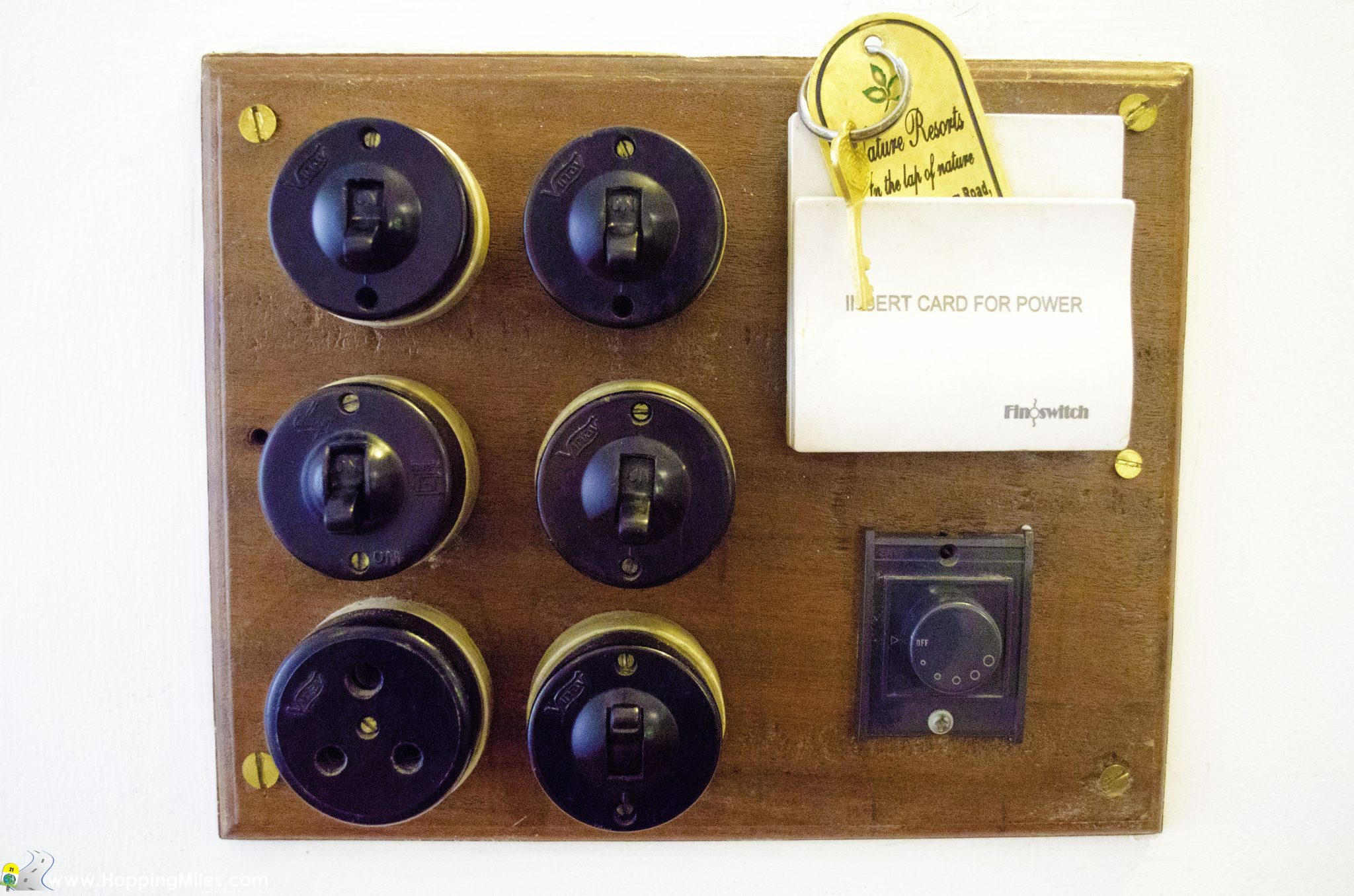 The Balcony was my favourite corner in the entire cottage. The constant chirping of birds gave me company while I sipped my Green Tea made in Nilgiris. A naughty monkey peeped to check if the balcony doors are open to barge into the room while I read my lines from the book, sitting on a bamboo chair, neatly tucked in one corner. The rustling sound of trees when breeze visited them was a joy to listen. This is what we ultimately want when we are on a holiday. Isn't it? Just sitting by, doing nothing, listening to the sounds of Nature and marveling at her inventions!
Restaurant:
Good food is another thing that makes or breaks your holiday. And at Kurumba Village Resort, there is no dearth for yummy, delicious, mouth-watering food! Right from the breakfast until the dinner, every single dish we had was delectable and appetizing! A huge spread of dishes varying from freshly baked breads, cut fruits directly from the farms, enticing vegetarian options, luscious non veg dishes, savoury desserts and lots more!
Food is not the only thing that astonish us in Kurumba Village Resort, there is one more thing that steals the show – The Views! Restaurant at Kurumba Village Resort is the definitely one of best places we have dined in. The views from the restaurant is one of a sort. The restaurant sits in the foothills of Pakasuran mountain and the open air setting of the restaurant ensures that we dine up-close with nature.
Facing the majestic mountain, we can watch various species birds flyby while sipping a mock tail and it's blissful. While munching on some spicy 'Sesame Gobi', I heard the gurgling sound water of the nearby waterfalls and found that it flows into the Kurumba Village Resort's property. The restaurant experience at Kurumba Village Resort is inimitable and breath-taking.
Tip: Make sure to grab a corner table in the restaurant while at Kurumba Village Resort.
Check out this video to get an idea of the view from Restaurant in Kurumba Village Resort!
https://www.instagram.com/p/BQsatI7B3gZ/?taken-by=hopping_miles
Chai Kada:
While Restaurant at Kurumba Village Resort has a lovely charm, the 'Chai Kada' or the 'Tea Shop' has its own appeal. Setup like a traditional 'Highway side Tea shop' surrounded with greenery and wooden benches to rest. We can hear the chatter of birds and the whistle of my Romeo (No, it's not Neetan! It's of Malabar Whistling Thrush) while we sip on some delicious Tea/coffee for which the milk is sourced from the cattle of one of the staff working at Kurumba Village Resort. Very thoughtful of management at Kurumba Village Resort to support their staff in every possible way.
The tea/coffee is served in the local tea shop style in small, thick glasses neatly arranged in a metal tea cups holder! The hot Paneer Bhajjis and Dal Vadas go perfectly with the hot tea and the chilly wind.
In Room Barbeque: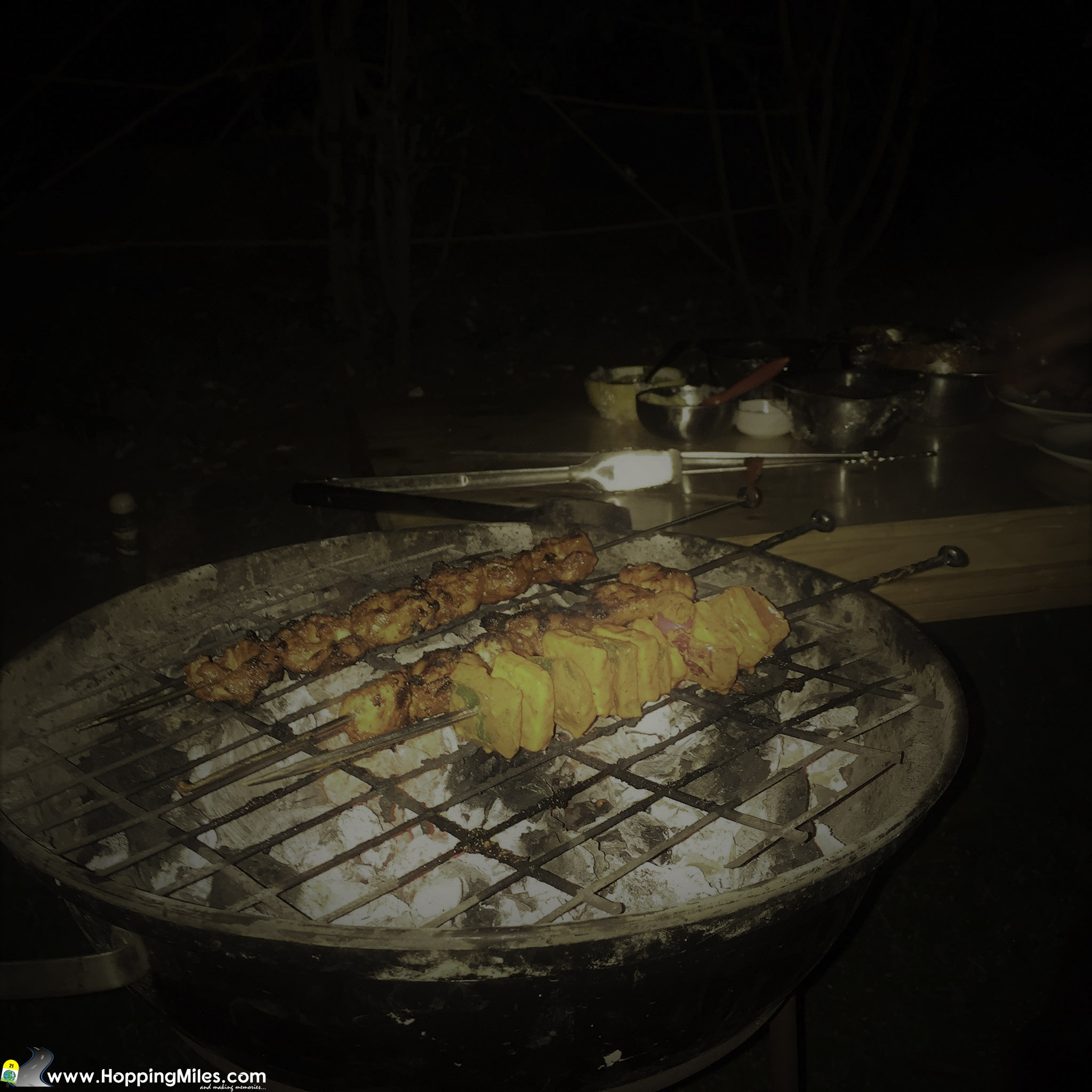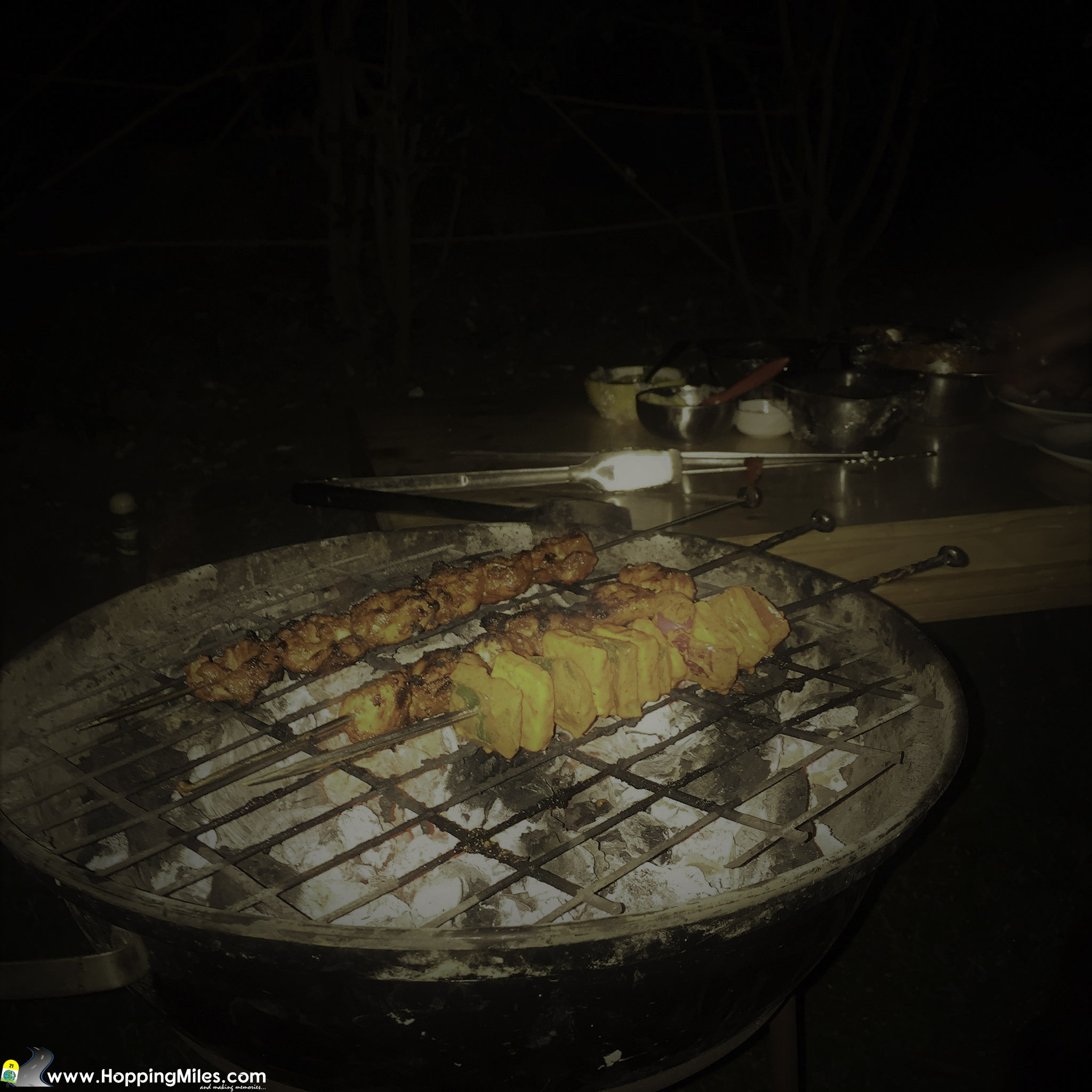 How about having a live barbecue in your balcony? Sounds great isn't it? That's exactly what you get upon request at Kurumba Village Resort. We had requested for it during our stay at Kurumba Village Resort and we enjoyed it to the core!
The barbecue wok was fired up hot and we were served some really juicy Barbecued Paneer, Mushrooms, Chicken and Fish! Yummm!
Cave Dining:
When I first heard of the  Cave dining concept, I was really curious about the ambiance and the type of food served. Why so? That's because, the dishes in the menu were to be prepared in tribal style with mud pots and no oil and minimal water! Now, that's something I was looking forward to taste and I'm glad to tell that the food completely lived up to my expectations!!
The cave was entirely lit up with candles and no artificial light. Our own 'Private Candlelight Dinner in a Cave'! How unique! Don't believe me? Look at the pictures below!
Treetop Dining:
Our visit to Kurumba coincided with our 6th Wedding Anniversary and we decided to celebrate the special day with a romantic dining experience with the Treetop Dining at Kurumba Village Resort.
Honestly speaking, that dinner was beyond doubt one of the best dining experiences we have had!
When I got down from the buggy, I just stood there in awe, staring at the dreamy décor setup by folks at Kurumba Village Resort. The path was lit by small lamps which guided us into the main dining space. Balloons of pastel shades adorning the dinner area were swaying gently to the breeze. A surprise cake awaited us. We were overwhelmed. And this was only a teaser of the things we were about to experience!
A small corner behind the tree was the Chef's space and he doled out some amazing dishes for our dinner that day. The menu theme for the Tree top dining was 'Spices'. The main ingredient for every dish prepared for our special dinner were the spices picked up from the backyard at Kurumba Village Resort.
The dishes were so well thought and tactfully prepared that we could feel the fresh spices in the dishes but they did not dominate the entire dish – in fact the mindful use of spices enhanced the taste of other ingredients in the dish! Another notable thing was – of 8 -10 types of dishes served, none of them had a similar taste! Every dish was a signature dish!
Activities:
There are loads of activities to keep one engaged at Kurumba Village Resort. Before coming to Kurumba Village Resort I had a different itinerary in mind. Once I explored the resort and got to know about the exhaustive list of activities in Kurumba Village Resort – all my plans were thrown into the wind and we decided to stay in Kurumba Village Resort for our entire duration of stay and just relax in the lap of nature!
We went for trekking in the morning, Spice Plantation tour in the evening. The next day I attended the paper bag making and paper bouquet making classes. The bird watching tour was informative and I wondered how I had never seen so many kinds of birds before!
There are many rope based activities and a zip line in Kurumba Village Resort. When I visited the activity area, I saw that the guests were having a fab time with the adventure activities!
Activities for kids:
My little one enjoyed the property so much that he tells me every other day to take him back to Kurumba Village Resort!
He had umpteen indoor activities to keep him engaged all through the day! He attended the 'Tree Hugging' activity and I so glad he did. In this activity, the kid was blindfolded and taken to one particular tree and told to hug the tree and talk with it for a couple of minutes. Later he was brought away from the tree, the blindfold was removed and was asked to identify the tree by feeling it. Bang! The four year old recognized it in one go! I was so happy to see the child connect with nature!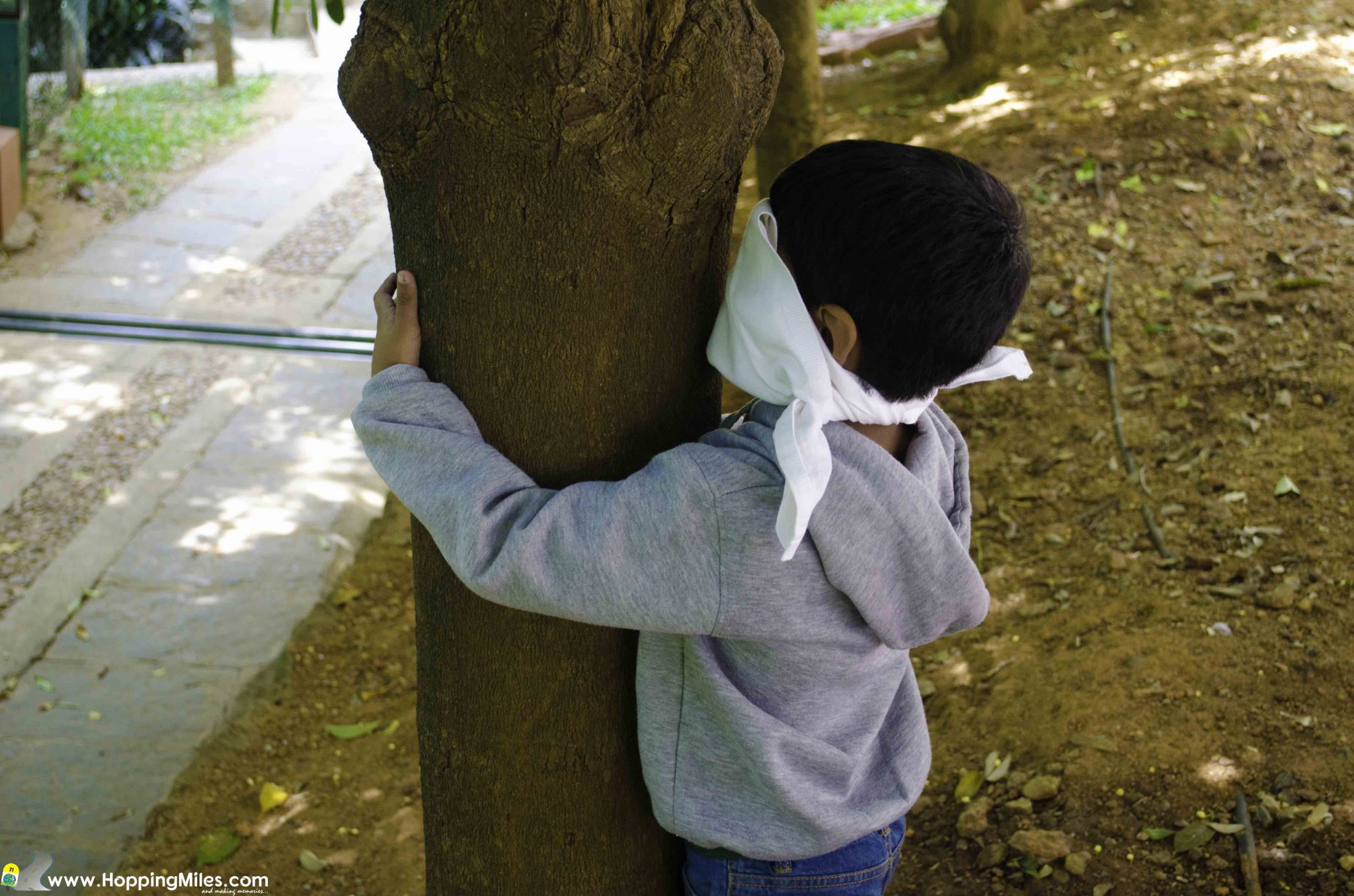 He also made his own 'Green Journal' with the leaves, twigs and straws fallen in the garden!
His favorite pastime was watching monkeys jumping from one branch to another!
Happy Child = Happy Mother
Isn't it?? 🙂
Wishineering :
This unique concept where you make a special wish and the people at Kurumba Village Resort will try to make it true! It might be anything! You fancy it and they will strive to make it true!
Though we had never requested for any special wish, we were surprised with a 'Romantic Candlelight Bath' on our anniversary day! Nice one that! 🙂
Swimming pool:
I give up! Words fall short to describe the view from the swimming pool at Kurumba Village Resort! I'm sure you would agree too!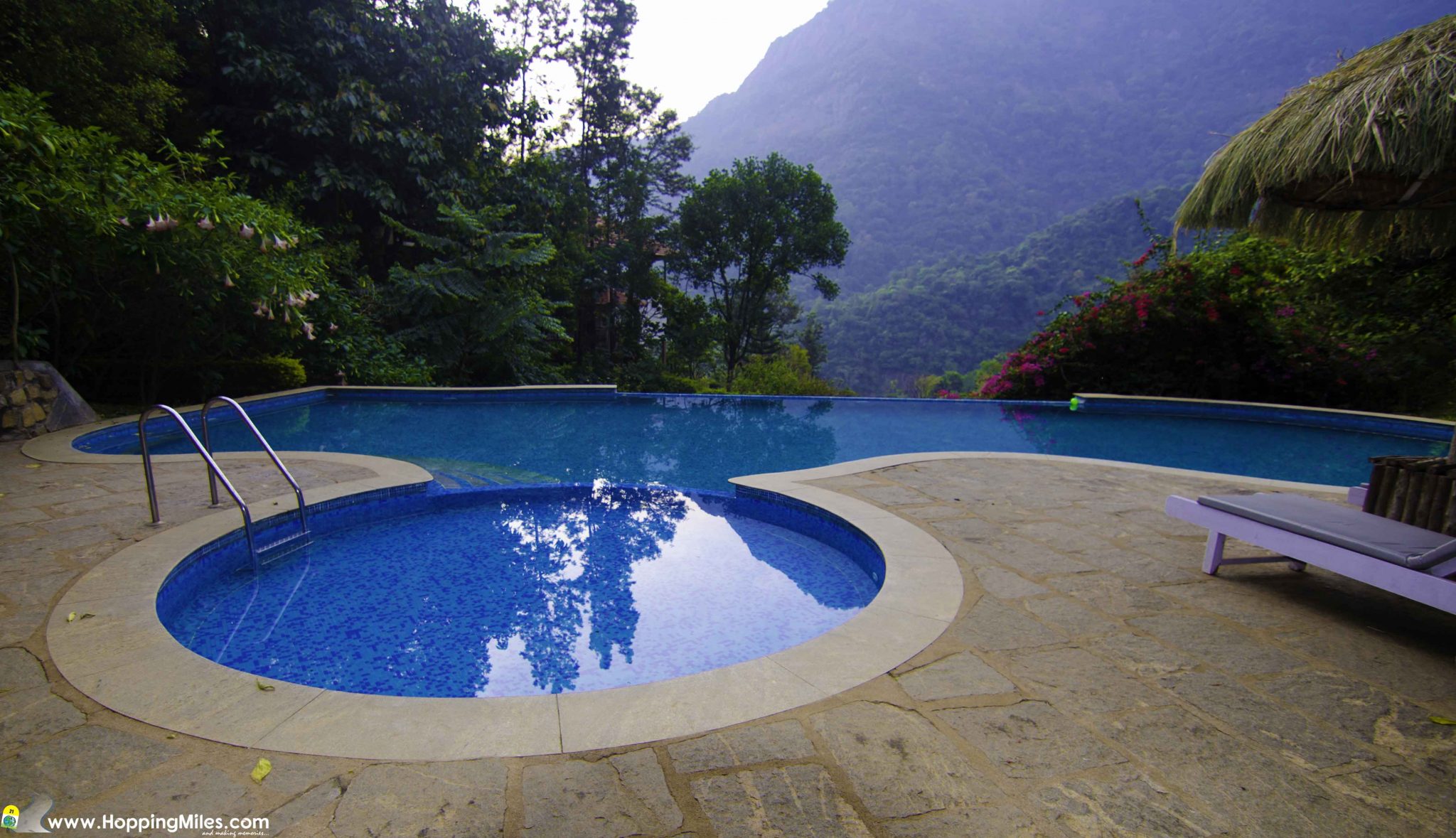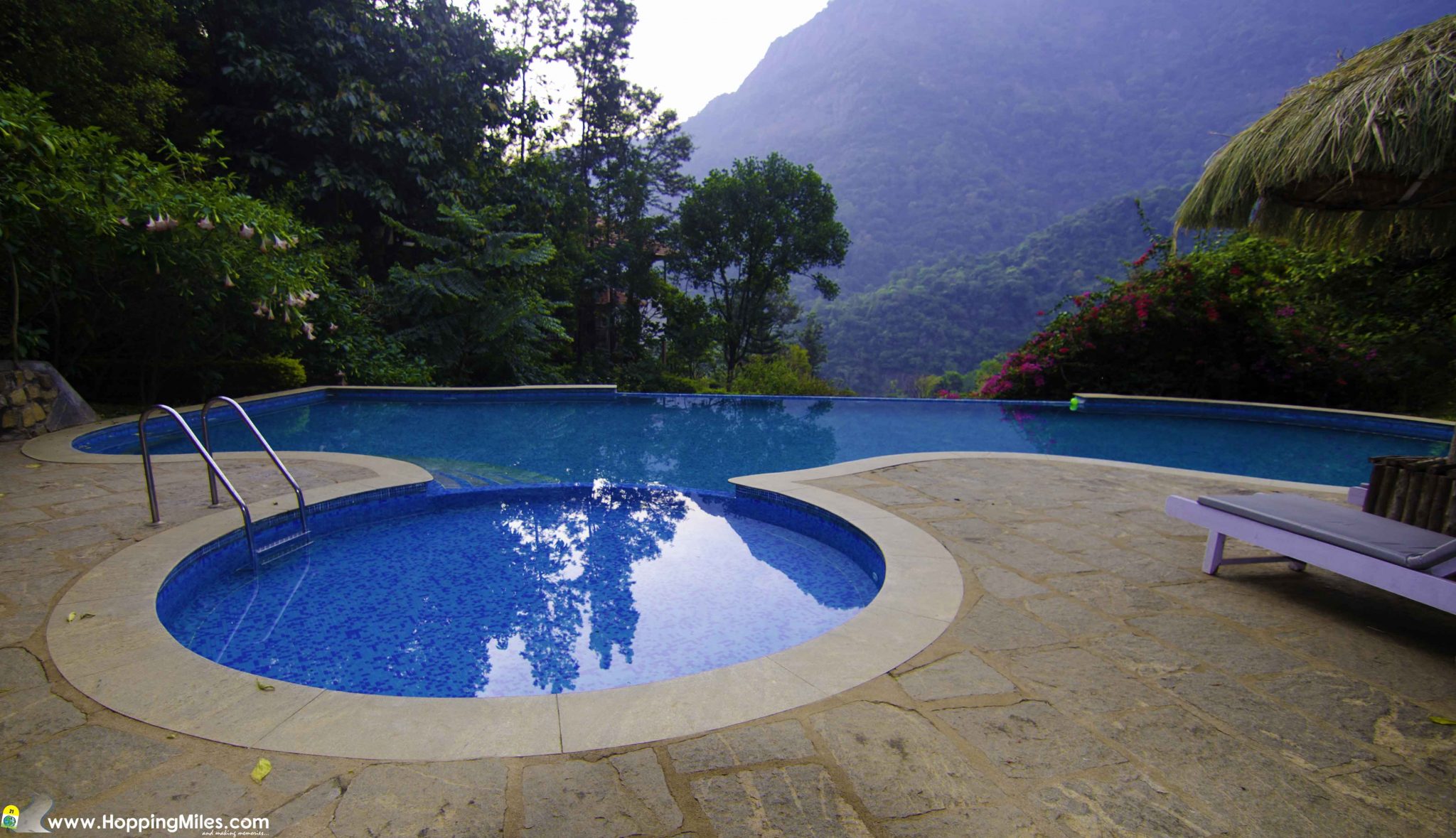 Spa:
A Spa is one place where we relax our thoughts as well as our muscles. Well trained Spa staff from a reputed Ayurvedic college from Mysore will make sure of that! And the views from the Spa is as relaxing as the treatment itself!
Staff:
The staff at Kurumba Village Resort are courteous and greet everyone with their signature line 'Vanakkam'! They were ever smiling and obliging to every request we made. At the restaurant, in the reception, the housekeeping staff – everyone made our stay at Kurumba Village Resort a comfortable one!
CSR:
Having made a small settlement in Nature's Lap, Management of Kurumba Village Resort decided to give it back to the society they stay in. As part of their CSR initiative, they take a good care of their staff and have recruited 90% of their staff from Coonoor and a nearby local village which includes the tribals too!
Connectivity:
The phone connectivity is limited to BSNL network and I was so happy that Neetan would stay away from his office calls for a couple of days! Wifi too is limited to Reception area – this is a boon in disguise as we can stay a bit away from all the social media hustle!
The manager told that they are improving on the connectivity part and maybe in some time all the networks might start working in Kurumba Village Resort and WiFi too will be provided to all rooms in future!
Parting Words:
Kurumba Village Resort is one such place where humans, flora and fauna live in harmony. The crackle of leaves, the babble of birds, whisper of wind, the raw smell of soil, the sweet scent of spices, pop of colourful flowers hiding behind green foliage, the atmosphere amidst peaks – this and much more – creates that magnetic effect which pulls us back to Kurumba Village Resort. A place truly in the 'Lap of Nature'!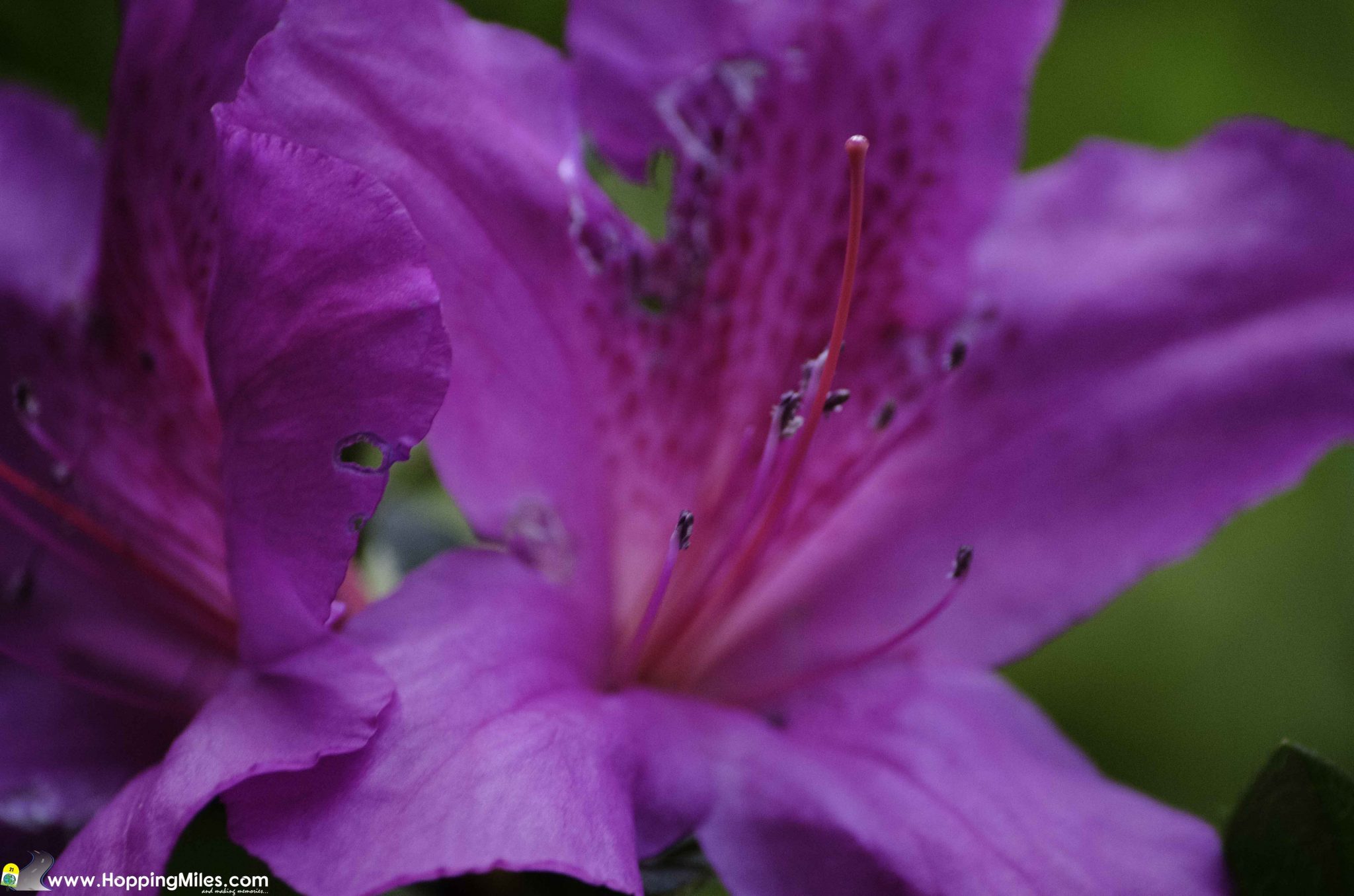 Address:
Kurumba Village Resort,
Hillgrove post, Kurumbadi – 643 102, Nilgiris, Tamilnadu, India.
t : +91-423-2103002 / 03 / 04
---
If you have liked this post, show us some love and pat us on our backs! Like us on Facebook, follow us on Twitter and Instagram and subscribe to our Youtube channel!
---
---
We were guests to the kind people at The Kurumba Village Resort. Opinions as always are our own.