Bangalore to Gandikota – Travel Guide
A visit to Gandikota was high on my bucket list, but somehow the plan never got executed for a long time. On one of the long weekend, Neetan and I impulsively set off to Gandikota from the comfort of our nests in Bangalore. We started early in the morning as we had planned to explore Belum Caves too. Though the plan was a little ambitious to cover both the places on a day trip, Neetan was sure he could pull it off! We left home by 4 AM and saw the sun rise from behind the mountains, way past Nandi hills.
Bangalore to Gandikota
NH 44 as usual was a breeze. There were a string of hotels which have sprung up in NH 44, but, 6 AM was too early to have breakfast. We zoomed past Karnataka and once we reached Andhra Pradesh, there are hardly any good restaurants to stop by. Having traveled this route many times, we knew the food situation on this highway beforehand. We were well prepared with our breakfast and lunch box from home.
We reached Gandikota around 9.30 AM and parked the car just outside the fort. The place wasn't buzzing with tourists, there were just a couple of cars which gave company to our Punto. Spotted a few shops selling cool drinks and snacks. The entrance to the fort was being cemented, so we walked on the sandy trail to get into the fort. A zigzag path on a slightly steep incline with giant fort walls on either sides took us into the village which was once ruled by Kapa Raja who first built this fort in 1123 AD.
History of Gandikota Fort
Kapa Raja built the Gandikota fort in 1123 AD which was first a sand fort that was renovated by Pemmasani Kumara Thimma Naidu in 1350 AD. Later, string of Pemmasani kings ruled Gandikota until it was conquered by Hyder Ali in 19th century and it was handed over to the British later on.
Well, that was for the ancient history. As for the modern times, Vikram and Akila are the hustlers and have tried creating some history in Gandikota. Their great achievement will pass on through generations and will be etched in the history books for years to come. Wondering what I am taking about? See the pictures below!
Inside the Gandikota Fort:
Once we enter the fort, a tall watch tower welcomes us. A Government school with 2 rooms and a sheeted roof with no students inside, stood next to the watch tower. We walk past the watch tower which they call 'Charminar' to find a partially intact stone structure whose board read 'Jail'. In some distance, in an oblique angle, a temple loomed. The Madhavaraya Swamy Temple was in rubbles and there was no Pooja done here nor did people seem to care about its existence.
This was just the beginning. All the things we saw later were more or less in the same state. We walked ahead and took a right turn near the huge mosque – Jamia Masjid which faced the step well in which goats grazed in harmony. A large granary and Ranganatha Swamy temple were in their last stages too.
Gandikota Canyon:
Far ahead, the red boulders confirmed us that we were on the right path to reach the canyon. As we neared the canyon, our hearts skipped a beat. I had seen nothing like this before in India. I couldn't help but gaze at the Gandikota canyon as far as my eyes could see. A deep gorge with River Penna running across the canyon in a semi-circle fashion complimented the choppy granite cliffs. The black skies were ready to roar and this amalgamation of hues made our visit a special one.
We sat there for a good one hour – it was just the wind and us! Maybe another 2-3 small groups came and departed during that time. We walked back to our car and saw these small shacks selling snacks and people seemed to live in the small houses next to it. We left for Belum Caves and drove on the road with sunflower plantations on both sides of the roads and rain gods were generous enough to grant us some drizzle for making the drive memorable!
---
---
Best time to visit Gandikota:
Best time to visit Gandikota will be from June to January. During the summer months of February – April, the temperatures will be too high to handle and you might end up getting exhausted. Also, the level of water in the Gandikota canyon will be less and it will be visually less appealing. Some green in the water and in the foliage is always nice to see.
Gandikota gorge viewpoint video:
Gandikota daytrip or not?
A day trip from Bangalore to Gandikota can be easily doable. If you aren't comfortable with a really long drive, then you can choose to do this a two day trip. Look below for places to stay and nearby places to see near Gandikota.
Gandikota Stay:
There are no good lodging options in Gandikota except APTDC Tourism Hotel – Haritha Hotel. The food and stay is basic and is located very near to the Gandikota fort walls. Even this route, the accommodation options are less except for a few basic hotel stays in Kadiri and Kadapa.
Haritha hotel online booking: http://www.aptdc.gov.in/accommodations.html
How to reach Gandikota?
| | | |
| --- | --- | --- |
| Bangalore to Gandikota | 285 km | 5.30 hrs |
| Hyderabad to Gandikota | 362 km | 7 hrs |
Route to be taken from Bangalore to Gandikota:
Take NH44 and look out for Kodur Junction after Bagepalli. Take a right here to reach Gorantla – Kadiri – Jammalamadugu and then Gandikota. The google co-ordinates for the Gandikota location will be 14.817119, 78.282621
Gandikota Map:
Places to visit near Gandikota:
Kurnool Fort
Mantralaya
Yaganti temple
Oravakallu Rock Garden
Gandikota to Belum Caves:
The route given below takes you to Belum caves from Gandikota. I messed it up by not switching on to Google Maps and ended up taking the longer route through Tadipatri which took us around 2 hours. But the route through Jammalamadugu takes about an hour and half. We enquired a few people and they said the roads in that route were good too.
Some Practical Tips:
If you are travelling with a kid, please pack food and snacks from home. There are no decent places to get a nice lunch especially for children.
On our way back, we had to come till Anantpur to find a good hotel for the rumbling stomachs.
Carry sunscreen lotion with you as the sun is really sharp.
The entire place in an open space and there are no places that shade the visitors. An umbrella wouldn't hurt.
There are no guards or any sort of security here. So, be watchful and do NOT venture to far off places.
Please do not litter the nature. Just because there is no one to monitor, it is not a good idea to spoil the natural setting with man made trash. DON'T BE LIKE THIS MORON who left a juice can here. They should have left their brain instead, it is at least decomposable!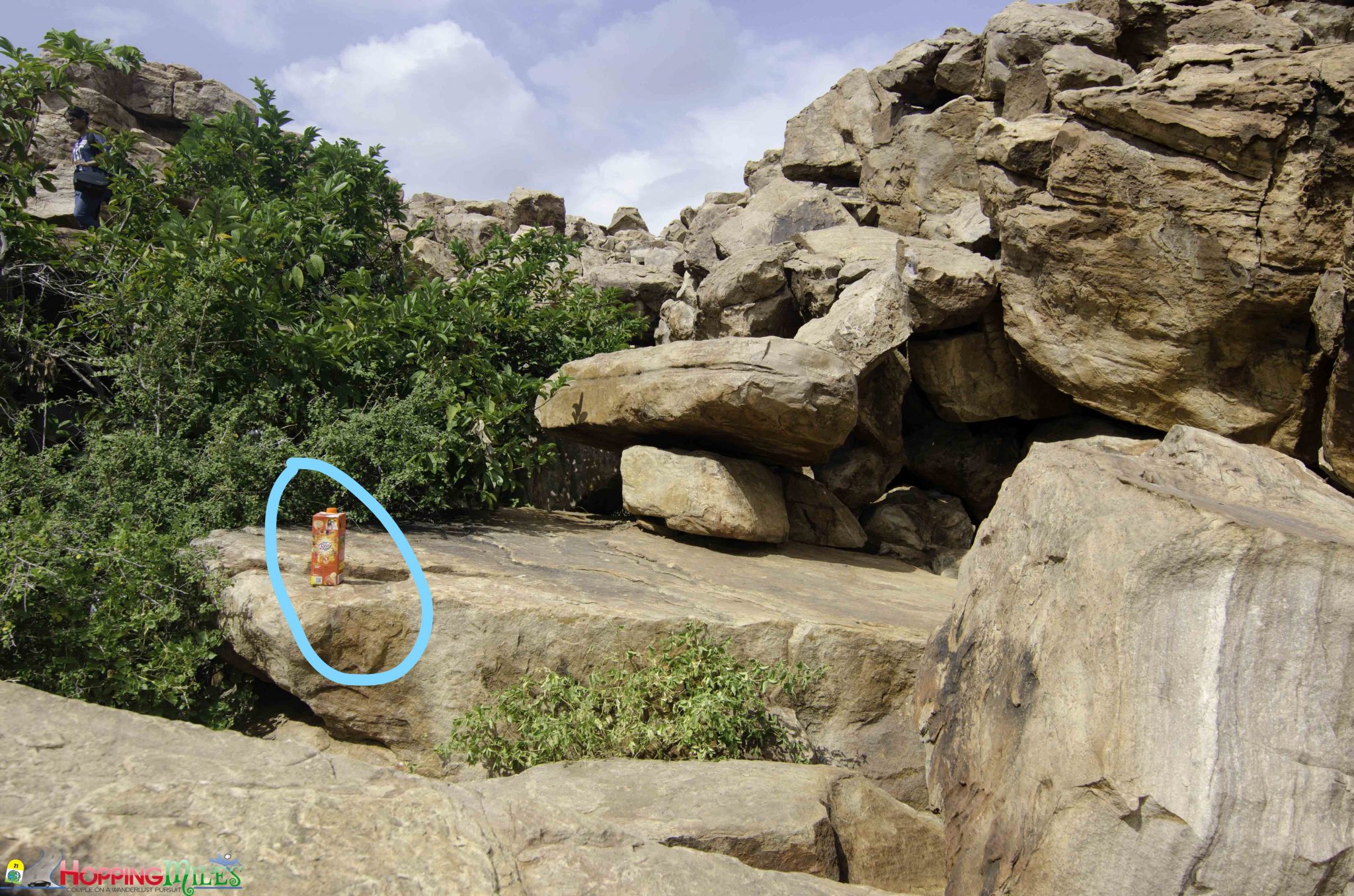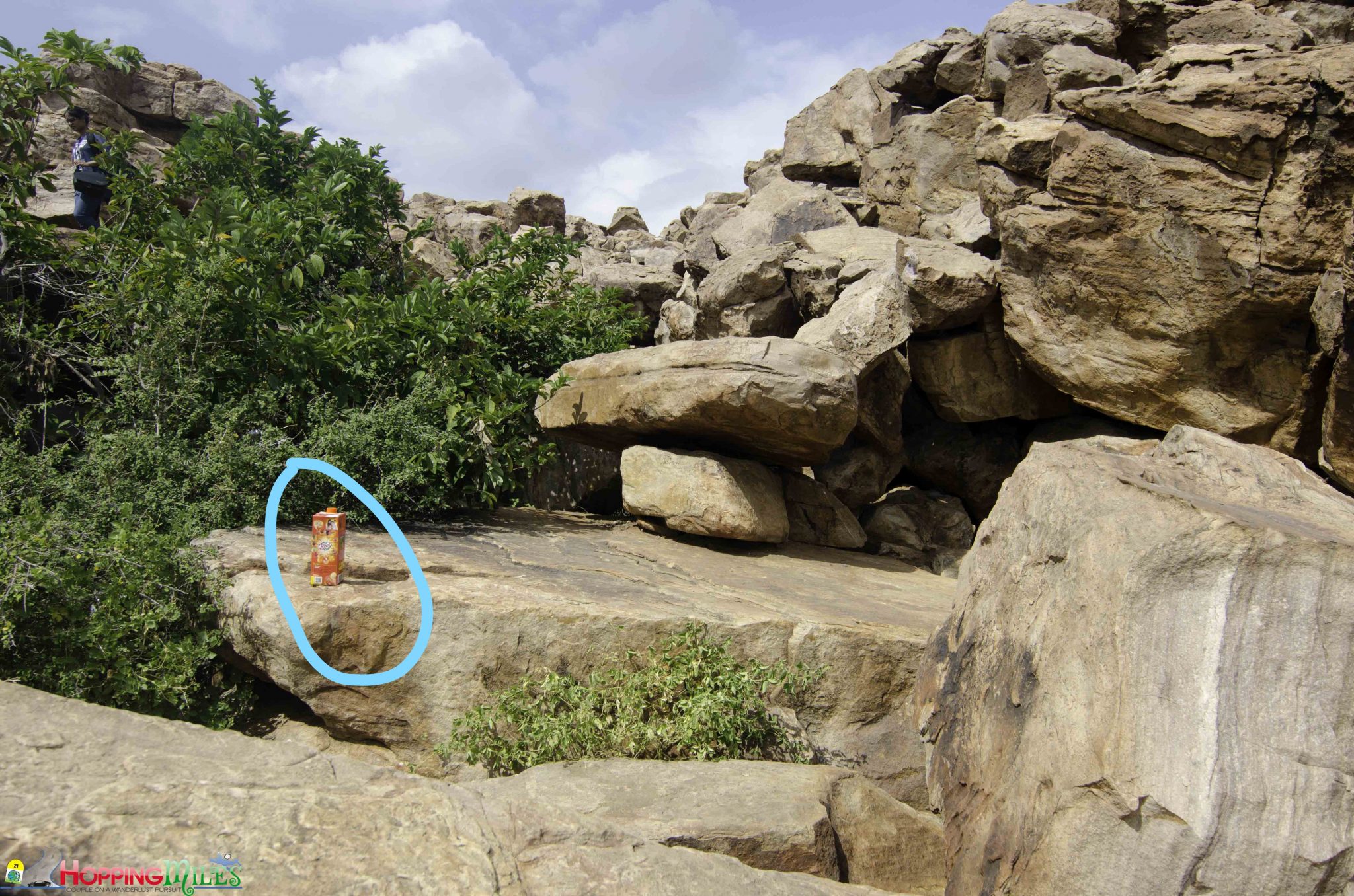 ---
Have you been to Gandikota? Loved the drive? Hit us up with your views in the comment box below! 
---
If you have liked this post, show us some love and pat us on our backs! Like us on Facebook, follow us on Twitter and Instagram and subscribe to our Youtube channel!
---