Driving in Iceland: The ONLY guide you will ever need! (Mistakes, tips and secrets)
No two people are the same, likewise, no two countries are the same! Just like every other country, Iceland too has its own driving rules and restrictions. Whether you have already decided to drive in Iceland or on the fence to do a self-drive trip around the country, or are still wondering whether to go ahead with it or not, then you have come to the right place. In this article, I shall lay out in detail all the information you need to know about driving in Iceland. When I say, everything – I mean it! The Do's and Don'ts, the advantages and disadvantages, the knick-knacks and small tips that make a huge difference!
First let's get the basics sorted and then go deep into little questions that shall arise in the due course of reading this guide.
If you are running out of time, then Pin it for later 🙂
---
 Why self-drive in Iceland?
A good question to start with, I'd say. Iceland is a country filled with natural wonders which are well preserved and unspoilt. Nature in Iceland hasn't been exploited but has rather been used in conjunction with naturally occurring resources to fulfill human needs – thus creating a perfect harmony between the man and Mother Earth. The aim of the government and locals in Iceland is not to mess with the landscape and allow it to flourish and thrive. Hence there are no trains in Iceland as the entire country is connected by roads and trains would be redundant and an added burden to the environment.
With trains ruled out as the public transport, the remaining option is either by road or by internal flight. As a tourist, I understand why you don't want to take that internal flight – after all we are here to see as many places we can, right? While Iceland looks divine from above, it houses much more appealing and breath-taking landscapes inland. So, taking the roadways is the way to go!
Now that the decision is made to travel via roads, you have a few options here too.
a. Public transport
Though public transport exists in Iceland, is very sparse. Public buses in Iceland are called as Strætó. The routes on which buses ply aren't many and have fixed timings. Take a look at this website for more details on routes, timings and fare.
b. Hire a private driver
While it is not difficult to find a driver who can show you around Iceland in a private tour, please remember that Iceland is expensive. And this is going to cost a lot. When I say a lot, I mean it. Trust me!
c. Go on group day tours
This option is a better one if you are in Iceland for a short period of time and don't want to rent a car for a couple of days. You may also go on day tours if you want to try exciting activities in Iceland like these or on special tours like these that take you to highlands if you aren't renting a 4×4.
Some recommended tours for layovers:
Recommendations for activities in Iceland:
Exciting tours that take you deep into highlands:
d. Rent a car and drive yourself
If you have chosen this option, then – Congrats, you have just made the best decision of your life. Driving in this magical country had my heart tugged and made me fall in love with Iceland, all over again. Trust me, sometime during the drive you will promise yourself to return again to explore more of this amazing country, just like I did!
Driving in Iceland during good weather conditions isn't a difficult affair at all! If you have driven in some parts of Asia or at least have been there, then you'd probably figure out why I say that driving in here is easy. The roads in Iceland are well paved with good signs, always helping the driver to keep calm and head in the right direction, in a safe way. Rules here are strict and people abide by them, hence a high level of decorum and road manners are followed. Often tourists who violate the rules are slapped hefty fines, thus discouraging others who are inching to attempt the same feat.
In the hindsight, if you are in Iceland for at least a few days, then, self drive will save you a substantial amount of money. With so many reasons in its favour, there's no doubt that this is the best option of all the above and that is my recommendation too!
---
Also read: Where we stayed in Iceland (accommodation tips)
---
 Renting the car in Iceland
What makes self drive option easier in Iceland is the fact that, there are many car rental companies with well-maintained cars which suit the Icelandic landscape. Car rental options in Iceland are aplenty and I'm sure it'll leave you confused. And just like us if you're wondering which car company to choose from while booking a self drive car, then don't worry we have you covered. This is the website we generally use while we book our car rentals in Europe. This website compares the prices and facilities offered by car rental suppliers and gives the detailed breakup of the prices and facilities offered by them. As a consumer, this will make our decision easier to book the rental car that suits our requirement the best!
 Here are a few tips on booking rental car in Iceland:
Book the car as soon as possible. Just like every other touristy thing, rental cars in Iceland too can get expensive as the travel date approaches.
It is fairly easy to book your rental car online. Just be equipped with your credit card, travel dates and an itinerary and you are good to go.
Another important thing that matters a lot while renting a car in Iceland is the car insurance. I shall talk in detail about car rental insurance in Iceland in another post but for now just remember, go with all the possible options so that you well insured for any unfortunate incidents, God forbid, we'd be able to cope up with it efficiently.
Apart from insurance and other important thing to consider while booking a rental car in Iceland is, to decide whether you need to go for a 2wd or 4wd vehicle. I have written a very detailed post about which car to choose while booking a rental car in Iceland. Go have a look at this page. (opens in a new tab)
When it comes to deciding whether to rent an automatic car or a manual car, the decision is entirely up to you depending on your comfort level. Iceland does not compulsorily need an automatic car because majority of the roads are fairly straightforward and definitely not all curvy and hilly except a few places. So, if you are comfortable driving a manual shift car, then it would do just fine. But, if your budget permits, then you can surely go for an automatic one.
Tip: Free cancellation service from a few car rental suppliers will also come in handy if we change our travel plans sometime in the near future.
---
 Driving in Iceland – Which license?
To hire a rental car in Iceland one does not necessarily need an International driving license, provided these conditions are fulfilled:
The license must be valid and not expired
The license must be in English
Must contain the license holders photograph
Must have a license number
If these conditions are fulfilled, then you need not go for an International Driving Licence and the licence provided by the authority in your country holds good. As a rule of thumb, licenses issued in US, Canada and European Economic Area(EEA) are accepted.
We showed our Indian driving license while at the rental car office and that sufficed. We were not asked for an International Driving License like we were asked when we rented a car for our self drive trip in Italy.
---
 What side of the road does Iceland drive on?
Iceland driving side – Just like most European countries, people in Iceland drive on the right side of the road. The driver's seat is on the left, so one needs to overtake from the left side.
Until 1968, Icelanders drove on the left side of the road just like the British and Irish, but as more imported cars from Europe had the drivers seat on the left, Iceland too shifted their driving side from the left to the right side.
---
Driving Iceland Ring Road
Ring road or the Route 1, as it is called in Iceland, is the national road that runs throughout the rim of the country and connects major sightseeing spots in Iceland. Ring Road is about Is about 828 miles long which theoretically can be covered in 12-13 hours if driven non stop. But this is hardly the case. The scenes along the Ring Road are so beautiful and the places of attractions are numerous, so there's no reason why one would drive by without stopping to relishing the magic of nature. Majority of the roads along the Ring Road are well paved except a few stretches in North and East Iceland. These unpaved, gravel roads are easily manageable by a 2×2 vehicle.
While majority of places to see in Iceland lie on the Ring Road or just few kilometres from the Ring Road, there are beautiful Martian landscapes or moonscapes hidden deep inside the Icelandic Highlands.
And driving in Icelandic Highlands compulsorily require a 4 x 4 vehicle, as the roads are bumpy, muddy and rugged. Now you wonder, do these kind of roads exist in Iceland? Well, yes and this brings us to our next topic – the types of roads in Iceland.
---
Types of roads in Iceland
Roads in Iceland are broadly divided into two categories – the primary roads and the F roads. Roads all along the Ring Road are categorised as Primary roads and are well paved.  98% of the Ring Road is well maintained and are two-lane roads with occasional single lane bridges. These roads connect important places of attractions in Iceland, major towns and the countryside villages.
Apart from primary roads, there are secondary roads in Iceland too. These secondary roads connect many countryside villages and small towns in Iceland. These roads might or might not be paved. Some of the secondary roads we drove on in North Iceland were gravel roads for hundreds of kms together. Though these are gravel roads, a 2wd vehicle can manage it well without any hassle.
As we go deep inside Iceland, the majority of places are uninhabited and thus the road connectivity is minimal. The roads in Icelandic highlands are not paved and are called as the F roads. Though the F roads are unpaved, it is clearly marked, and one is not encouraged to go off the path, as this can be dangerous. Sometimes the F roads undergo glacial flooding and the marked roads can be filled with water and this requires a 4wd vehicle to cross streams to reach the other side of the road. Extreme caution must be exercised while driving these roads and hence it is safer to drive with a guide or a person who knows the landscape better.
---
 Weather in Iceland
Now, you might think how is weather in Iceland related to driving in Iceland. Well, weather plays an important role and deciding what kind of car you rent, where all you can drive, and how you drive in Iceland. Mid May until September end constitutes the summer and fall season in Iceland and early October to late April is the winter time in Iceland.
While it is fairly easy to drive in summer in Iceland, it requires special skills to drive during winter in Iceland. In the summer there might be occasional rainfall but the roads are fairly dry and devoid of snow or ice except in a few places in East or North Iceland, if you are travelling in the month of May when the ice melts into the rivers.
Sometimes, the melting ice in summer causes glacial floods which might lead to closure of some of the important roads. Stay updated about the road conditions in Iceland through this website, which will give you details of any road closures and also the way to bypass the affected area.
Iceland winters are quiet harsh and can get terrible at times. But, this doesn't mean that one cannot do Icelandic travel in winter. Frozen waterfalls, fresh snow on the majestic mountains and much more, make Iceland a Winter Wonderland. Snowstorm and blizzards are a common thing in Iceland during winter. Refer to next section for more on driving in winter in Iceland.
Even during summer and fall, the winds might get crazy, often to the extent that vehicles have been blown away from the path. Let this not scare you as these are rare. But the wind in Iceland can get very strong at times, so be ready with the right kind of clothing, safety equipment and other necessary precautions.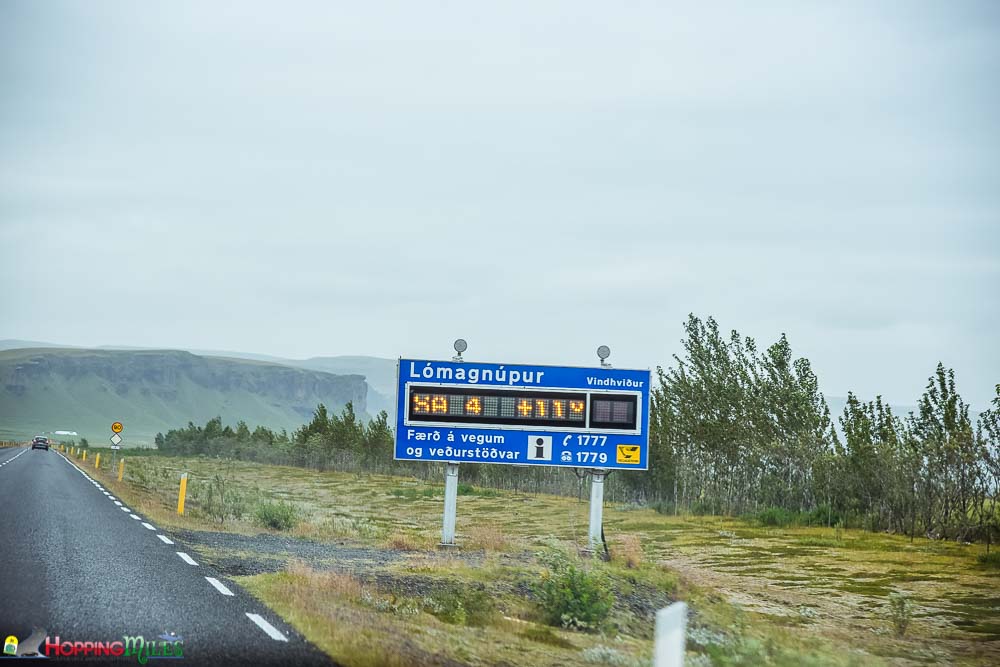 Check this website for realtime weather updates in Iceland.
---
 Driving in Iceland in winter
Though driving in Icelandic winters, is not as difficult as it is perceived(obviously, its foolish to take your car out amidst storms), extreme caution is advised. And the reason for my previous statement has much to do with the unpredictable Iceland weather which can change very rapidly in short period of time. You may see sunshine this moment and the next minute there might be hailstorms or snow fall.
While many seasoned drivers don't find difficult to use a 2wd car in winter, 4wd is definitely recommended for winters in Iceland. Make sure that winter tires are fitted to your car which a must requirement. Safety precautions must be taken care of and be well prepared to expect the unexpected. Sorry for the cliché, but expect the unexpected definitely holds good for Iceland.
Some things to keep in mind while driving in winter in Iceland:
Check your tires properly and make sure that you have a spare tire which is also a perfect winter tire.
Make sure you have all the insurance cover because you never know what might happen. Even the slightest damage to the car might cost hundreds of Euros.
In case you feel your car is sliding, then don't apply the brakes. This will worsen the situation and my skid even more.
If you get stuck in the snow storm, drive slowly and follow the yellow sticks at the side of the road and if you ever feel that you cannot drive, then stop the car in a safe place and do not get out of the car until things calm down.
Call 112 for help if you need some.
Mountain roads or X roads are closed in winter, but if you still want to get to Iceland Highlands, then you might do so by going on guided tours with an expert driver. Find some tours here.
Mistake: under estimating the Iceland landscape and over estimating your driving skills is a bad idea. Read this.
---
 Road signs in Iceland – Iceland driving rules
It is wise to know the driving rules and the road signs of the country where driving in. So, educating yourself on some important road signs while driving in Iceland is always a good idea. Here are some basic road signs that we can see in Iceland.
While going through the entire list may seem overwhelmed, here are some important road signs you must know while in Iceland.  This screenshot is from a PDF provided by road.is, which is the official travel website by Iceland government.
---
 Gasoline or diesel – credit card
Well, how can we forget the fuel information while discussing about road trip, cars and driving. While there are many gas stations in and around South Iceland, as we go up towards North and remote Westfjords, the number of gas stations are limited and are present in a few towns only. So, it is always wiser to plan your route and fill up the gasoline/petrol or diesel way before reaching the low fuel alarm.
N1, Olís, and Orkan are some of the known service providers who have fuel stations set up all around Iceland. Some car rentals may provide you with a discount card which entitles you a certain percentage of discount on the fuel with a discount card, and sometimes free cup of coffee too!
Price of gasoline or petrol is slightly higher than that of diesel, so you might want to think about the fuel efficiency of the car you are renting and the type of car you are renting, so that you can budget the expenditure on fuel in Iceland. Here is the website that gives you a real time report of the prices of fuel in Iceland.
Few important tips here:
The first one would obviously be, to be conscious and fill up the tank whenever possible before heading to remote places in Iceland.
The next one and also the obvious but very important one would be to fill the right type of fluid inside the fuel tank. Back home you might be having a petrol car but you would have rented a diesel car here in Iceland, so make sure you don't mess it up and fill the wrong type of fuel.
As a rule of thumb, the nozzle for Diesel is marked in black and for petrol, it might be in different colours depending on different stations.
Also the diameter of the petrol tank in the car is a little smaller for the diesel nozzle to go in. But, the other way around i.e. The diameter of the fuel inlet in diesel cars are wider which can fit both the diesel and petrol nozzles so make sure that you are filling the right type of fuel.
To make it easier, sometimes your key bunch of the rental car will also have the type of fuel marked on it.
After loading the fuel in the gas station you can either choose to pay via credit card yourself through the self-help kiosks or choose to walk inside the gas station and pay to the attendant there.
If the gas station is unmanned, then you might need a credit card which has a chip and requires a pin to complete the transaction. Otherwise you might have to use your debit card for the same.
Another important thing to note here is sometimes when you choose the Option 'Fill Tank', rather than choosing a certain amount to fill, then a good sum of amount would be deducted or withheld in your card, and that might be larger than the amount of gas you filled. But, within a week or two, the difference might be refunded.
Mistake: Above situation happened to us once and we panicked only to realise the folly later. After a couple of weeks, our withheld amount was released.
 Tip: To avoid this mistake, always choose denomination while filling the fuel like 5000 ISK or 10000 ISK. This will signal exactly what amount to charge from your credit card.
---
 Watch your speed!
Now that we are talking about fuel efficiency, how can we ignore the driving speed? After all speed is directly proportional to the fuel consumed and so is your chance of getting a speeding ticket! Over speeding in Iceland is discouraged and if found guilty, the driver is slapped(though not literally) with a hefty fine. And this fine amount can sometimes be really steep, often breaking your budget. Iceland as such is expensive, and you definitely don't want an icing on the cake in the form of a speeding ticket.
So, what are the ideal speeds to drive on Iceland roads? In populated areas, one is encouraged not to cross 50 kmph, in gravel roads 80kmph and on paved roads on highways, it is maximum 90 kmph.
Speed enforcement cameras are all over Iceland to catch people who break the rules. But, the best part is – often they inform you on what speed you are driving! Sweet isn't it? There are digital displays with signs displaying your driving speed and if you are driving well within the speed limits, then you will be displayed a smiling emoji and a sad emoji if your driving speed is exceeding the limits. We always got a smiling emoji whenever we crossed a speed checking display.
We drove in remote parts of Iceland and were surprised to find speed cameras even in remote and desolate areas. So, don't ever take the speed limits lightly and definitely don't underestimate the number of speed cameras in Iceland.
---
 Speeding tickets and fines
Iceland government usually snaps a big sum of amount as fine – not to suck more out of tourists but to scare them enough to follow the designated rules. Plus, it is safe for everyone – the ones driving the car, other people on the road and the animals and birds that accidently pass by the roads. Despite strict rules and imposing harsh fines, there are people who do not stay within the speed limits and end up paying a fine. You don't want to be one such unfortunate souls, would you?
To help people on the road, numerous signs indicating the speed limits are frequently placed on the road sides. When the speed limits change, like when you are approaching a town or a populated area, roads are painted with the new speed limit to help us slow down.
Also helpful are digital display signs I mentioned in the previous section. Just a reminder that these are not speed cameras but digital displays which are placed when the imposed speed limit suddenly changes (when populated area approaches). These displays help us slow down and get adjusted to the new speed limit and drive along and maintain it.
Ok, I have been saying that fines in Iceland are high, but how steep are they? Speeding fines start from 10,000 ISK and can go up to 1,15,000 ISK i.e. 100 USD to 1000 USD. Here is a website that lists all the driving fines. It's in Icelandic, but Google Translate will do a good job!
P.S: If you feel that you crossed the speed limits while driving, then here's where you can calculate how much fine you can expect. Check your speeding ticket fine here.
---
Off road driving Iceland
Well, let me clarify – Do NOT to confuse between driving in F roads and off roading. Off roading simply means getting off the tangent and driving on plain lands which are off the paved/marked roads. F roads too have marked paths and its not encouraged to stray off path, even on F roads. While driving off road may be legal in several parts of the world, its completely illegal in Iceland and is frowned upon by locals and the government.
The reason is straight forward too. Iceland is not like any other country and is a fairly new country to be formed on the earth. Iceland consists of one of the youngest islands in the world, Surtsey and it too was formed in a similar way how Iceland was created – through volcanic lava rising from the sea. Iceland consists of over 200 volcanoes in the country and there are tens of earthquakes that happen in Iceland every day. You heard me right, every day!
Due to the volcanic nature of the soil, there is no much natural vegetation and the soil here is essentially volcanic ash. This has led to less or no vegetation in Iceland. Trees are sparse in Iceland and much greenery is due to the moss that hugs the landscape.
This moss has taken several hundreds of years to develop and these are extremely vulnerable. This sensitive vegetation may take decades to repair and regrow back to its original shape. Sometimes, the damage caused will be irreparable.
How do you feel when an outsider mows down your beautiful garden and damages it. This is the exact feeling the locals feel when someone is trying to harm the landscape in their country. Thus, a hefty fine is imposed when someone is trying to hurt the Icelandic landscape by off-roading illegally.
Off roading is also bad because, it signals others that someone has already driven on this piece of land and it tempts them to indulge in this bad practice too. So off roaders not only violate rules, but also instigate others to do so. Hence it is a bigger offence and thus a bigger fine.
It is really tempting to take that powerful 4×4 on a roll to test it beastly powers, especially when you see a flat land which is easily accessible just by the road. But, I request you to please resist your temptation, if not to avoid the fine, but justly to protect the sensitive nature. Hence it is required by law to preserve and protect the environment.
Now you might think, who will off road in despite so much warnings. Well, every year, time and again, people have been caught and fined doing so. Read this, this and this!
This incident is the recent one costing 13,000 USD in fines!!!
---
 To rent a 2wd or 4wd?
I have addressed this question in a separate post. Here it is (opens in a new tab). Also check out this infographic which tells it all.
---
 Restaurants and eating joints in Iceland
Now you think, why this girl is bringing up the topic of restaurants while we are discussing about driving? Or you might think, 'Oh, yes. I was looking for this info!' Whatever be your thoughts, I felt the need of addressing this topic here. The reason is again simple – Iceland is different.
Even though there are tourists all over the country, there are NO country wide establishments that are present to cater the tourists. Unlike many European countries I've been to, there are no shops and shacks all over the place – be it in highway or at the country side. In South Iceland, you might find a few restaurants near Geyser or near Hella. Otherwise, the only place to find something to eat is in the coffee shops or shopping stores attached to the gas stations.
Don't expect McDonalds or KFC every hundred kilometres in Iceland. In fact, there are no McDonalds in the whole of Iceland!! You can still find a few KFC outlets in South Iceland, near the capital city of Reykjavik. Also, do not expect lots restaurants or coffee shops on the highway. Especially in North Iceland and Westfjords, we can be lonely and the only vehicle for hundreds of kilometres.
We always bought our cooking supplies from the grocery stores and cooked our breakfast and afternoon lunch which we packed and ate on the go. This was such a boon as we wouldn't find a place to eat when we got hungry and were often caught in a lonely stretch of road during the lunch time.
Though you can find hotels and restaurants in big towns and cities, expect the prices to be on a higher side. Often costing 2x to 5x times the price you find back home. This again is due to the scarcity of agricultural land, which has restricted the farming to be done in green houses which in turn increases the price of vegetables and other essentials. Various pulses and vegetables must be either imported or grown in controlled environment, which would increase the cost of production or if imported, must bear the import taxes.
So come prepared to Iceland with this mindset that you might have to cook your meals for a few days or buy that 15$ cold burger in the gas station for your breakfast/lunch.
---
 Restrooms in Iceland
The above explanation holds good to restrooms in Iceland too. They are sparse and far and few in between. You can find rest rooms in gas stations, restaurants and also some near famous sightseeing places. Do NOT ever think of littering in public places or in private land. Icelanders condemn this act and if caught, the person might be fined and shamed. Read this.
Another important thing to note about using restrooms in Iceland is the fact that at some places, you might have to pay a few bucks to use it. Unless you are a customer of either a restaurant/gas station/supermarket, you will have to pay a small fee usually around 2 USD to use the rest rooms.
 Secret: If you find a restaurant near the paid restrooms, its better to buy a coffee and use the restroom for free instead of paying 2$ to just use the restroom. One such place is near Dimmuborgir in Myvatn.
---
 Car seats for children in Iceland
It is compulsory for children with height under 135cm to be seated in a safe and sturdy car seat. Make sure that the car seat isn't worn out or has run out of warranty. Children must not be seated in the front row of a car with active air bags in the passenger seat. Here are some more details about car seat rules in Iceland issued by Iceland Transport Authority.
---
 Some general tips to drive to Iceland
 

Look out for tunnels and one-way bridges
As you move up North, you will encounter many tunnels which are often built to reduce the travel time taken to detour a mountain. Instead, tunnels are bowdlerized through huge mountains, thus significantly decreasing the time taken to reach the next town.
A word of caution – Sometimes, the space in tunnels will be just enough for a single vehicle to pass through. In such tunnels, lay byes spaces are built in for a vehicle to wait until the vehicle arriving from the opposite side passes by. There are signs in the tunnels that indicate vehicle approaching from which side has an upper hand.
P.S: Some tunnels will often be dark and narrow, so be careful and watchful of the approaching vehicle.
One-way bridges: Often, at river crossings, bridges are built to connect opposite parts of the road. As these bridges were built long back, much before the tourist influx, these were single lane which allows just one vehicle to pass through at a time.
It is not difficult to spot the oncoming vehicle as these bridges are straight and has a clear view of the traffic in the opposite side. As a rule of thumb, the one who enters the bridge first gets to exit first while the vehicle in the opposite side waits for the traffic on the bridge to get cleared.
---
 Be cautious at Blind hills
If you are touring just South Iceland alone, then you need not worry about it as we didn't encounter any blind hills in our journey in South Iceland. But as we went deep into North Iceland and West fjords, blind hills were a common sight and one must be extremely careful while driving these stretches. Blind hills are small stretches of roads which are steep and where one cannot see the oncoming vehicles due to the steep nature of the terrain.
Apart from being steep, some stretches of the road are unpaved, hence making the ride a little scary. Check out this picture above and below, this will explain what a blind hill is and hints at what you can expect from a blind hill.
---
 Animals and birds on the road
Another common sight while in Iceland is to encounter birds, sheeps, horses, reindeers and cows while driving on the road. Though horses and cows sitting in the middle of the road or crossing the road are a little rare, sheeps and birds that suddenly appear from nowhere are a big challenge while on the road.
Driving speeds enforced in Iceland has, in a way, helped both – the driver and the animals and birds on the road to be safe and not to be marooned in unfortunate circumstances.
Of all the animals on the road, sheep is by far the most common thing you will find on the road. They are all over Iceland and might throw you off guard if you aren't attentive while driving. So, for the sake of your own safety, your car's safety (You don't want a huge rental car fine. Do you?) and obviously for the sheep's sake!
---
 Hold on to that car door
Just remember this all the time while you are in Iceland, you can thank me later!
Oh yes, this advice is GOLD! You'll realise why I say this when you are in Iceland. When I first heard of this, I was like, meh! But when I was in Iceland, this advice proved to be right and I'd like to pass on this advice to my beloved readers.
Weather in Iceland is fickle, and things can change very rapidly in the matter of minutes. And wind in Iceland is fierce, it matters so much to Icelandic locale that, digital displays with current temperature and wind speed are put up all over country which helps the drivers to stay warned.
On the last day of our Iceland holiday, we encountered a mild storm like situation in Grundarfjörður and we had a hard time pulling our suitcases from our rental apartment into our car. We were pushed by the wind several times and we lost balance but somehow managed to get into the car and drive away. 20 minutes later, the situation changed from howling winds to bright sunshine! That's Iceland for ya!
---
 Don't pullover in the middle of the road or in undesignated places!
Please please don't do this! Its nice to take pictures with someone sitting/running/skateboarding in the middle of the road or just with your car parked in right in the centre of a long stretch of road. But doing that is as dangerous as jumping blindly from a tall cliff. One can never expect when another vehicle will arrive in the scene thus causing potential damage to both the parties.
Scenes all around Iceland are so captivating that, you'd want to stop every five minutes. If you feel like doing so, then please find the nearest lay bye or a small clearing and then park you car there and walk back to the place you intend to spend time or take pictures.
Parking in undesignated places or randomly at the side of the road is bad as it may catch the oncoming vehicle unaware of the parked vehicle and hence creating panic situation. If you are found doing so, then you might be eligible for a police ticket.
---
 Headlights on all the time
All vehicles in Iceland are supposed to drive with headlights on at all times of day, all around the year. This rule specifically helps driving in tunnels which are often poorly lit, which is a common thing in North Iceland.
---
 Don't worry about paying tolls!
Yes, I ain't kidding you! You need not worry about paying tolls in Iceland because there is just one toll road in entire Iceland. You heard it right, just ONE toll road. Sometimes, driving abroad brings up additional expenses like fuel costs and toll payments. Like, when we did a self-drive trip in Italy, we had to set aside a specific budget for paying in tolls and it made up a decent sum which cannot be neglected.
But, you need not worry about the tolls while driving in Iceland. There is only one toll road in entire Iceland and if you wish to skip that, you can do so by driving around the mountain which will easily take a couple of hours of your time and a tens of dollars on fuel. So, the wiser decision would be to take toll road by paying a few dollars.
Fact file: The specialty of this toll road is the fact that it is built under the ocean, so for the entire stretch of 4 odd miles you will be driving 165 ft below the sea!
The Hvalfjörður Tunnel will take about 7-8 minutes to drive and will cost around 10 USD in toll payment.
P.S: The toll fare of 10 USD might be discontinued after summer of 2018 as the tunnel will complete 20 years of construction and the contract to collect the toll will thus end.
---
 Driving in Iceland in different months – March, October, September, June, December
Weather in Iceland changes every month and so does the driving conditions. The month of October marks the beginning of winter which peak through December until March. During this time, rules of driving in winter in Iceland applies.
While snow starts to melt in second half of April and beginning of May, its spring from June to beginning of August. You can spot a lot of puffin birds and bright lavender lupin fields at some places in Iceland.
Second half of August until late September is the fall season. The lupins and puffins are gone and so is the greenery which eventually diminishes under white snow. Bright green of the foliage starts to fade into dull green but don't expect to see brownish fall foliage here. Reason being that greenery is due to moss and not trees.
---
 Other basic rules
Apart from these, other basic rules apply in Iceland. Some of those are:
No driving after consuming alcohol
Seat belts all the time
No using the mobile phone while driving.
No free camping – Camp only in designated camp sites.
---
 Some general questions everyone has about self-drive in Iceland – Answered!
GPS for rental car in Iceland or not?
Absolutely not needed! Buy a local Simmin or Vodafone sim card from Airport with good data and Google Maps will do the job. We never lost our way and Google Maps always helped us to reach the place correctly without getting lost.
 Secret: Not many people know of this website created by Icelanders which is more accurate than Google Maps about Icelandic locales. Hope you have a safe journey. This is a little difficult to navigate than Google maps. So, you may use this in conjunction with Google maps to verify if your route is mapped accurately.
---
Do I need an international driver's license in Iceland?
No, if your license is in English. Refer this part of the article.
---
Do I need an SUV/4×4 in Iceland?
Already answered. Check this post.
---
Which is the cheapest car rental in Iceland?
We have always booked our rental cars in Europe through this website. It compares prices and facilities offered by different suppliers thus helping us to zero upon the one that matches your criteria.
---
Is parking free in Reykjavik?
Parking is free in Reykjavik only on Sundays and from 6 PM to 8 AM every day. While there are some parking lots with ticket machines that accept credit cards, old fashioned – coin machines still exist. So, keep in a few coins handy.
Parking system in Reykjavik is a little confusing and over whelming to be understood by tourists.
---
Did you pre-book accommodation or you booked it in a daily basis? (question asked by a reader through FB message)
My Reply: Things can get very expensive in Iceland when anything is done in last minute and so does the accommodation. We have had booked everything 6 months prior our travel date. Check where we stayed during our Iceland trip here.
---
Can you drive around Iceland in a day?
Yes, the Ring Road can be completed in 12-13 hours if driven non-stop. But you wouldn't want to do that. Would you?
---
How long does it take to drive around the whole of Iceland?
As mentioned above, if you are talking about Ring Road, it takes 12-13 hours.
---
I often feel thirsty while driving, where can I buy bottled water?
Tap water is absolutely safe to drink in Iceland. So even the tap water in gas stations are perfectly fit to drink. Sometimes, water may smell of sulphur, it doesn't mean its not safe. Its the purest water you can get in Iceland.
---
 Useful websites while driving in Iceland
These are some websites I've mentioned in this post and the important ones to remember and make note of while travelling in Iceland.
Safety while travelling:  safetravel.is
Iceland Weather updates: en.vedur.is
Iceland News: mbl.is/english and visir.is/news
Road conditions in Iceland: http://www.road.is/
Maps: https://en.ja.is/kort/?type=map
Fuel prices in Iceland: http://gsmbensin.is/gsmbensin_web.php?language=en
P.S: In case of any unfortunate circumstances, please remember the Emergency number is 112
 

Some important things to shop for while travelling to Iceland
---
Well, this was one big comprehensive driving guide about Iceland. Wasn't it? If I have left out anything or you have any questions, feel free to write in the comment box below. I would be happy to answer. See you in the next post. Until then, Ciao!
---
If you liked this post, show us some love and pat us on our backs! Like us on Facebook, follow us on Twitter and Instagram and subscribe to our Youtube channel!
---
Other Iceland articles you might want to read:
Which adapter do I buy to charge my devices in Iceland?
---