Review: Husavik Whale watching with North Sailing, Iceland
A trip to Iceland and go back home without a whale watching tour?? Just not done! We knew that we were going to North Iceland and what a better place than Husavik, Europe's Whale watching capital to go whale watching? After all the Skjálfandi Bay area is frequented by significant number of whales and hence makes it one of the best places to spot whales in Iceland. We chose to tour with North Sailing as they are pioneers in conducting Whale watching tours in Husavik and are in business from 1995.
Where in Iceland is Husavik?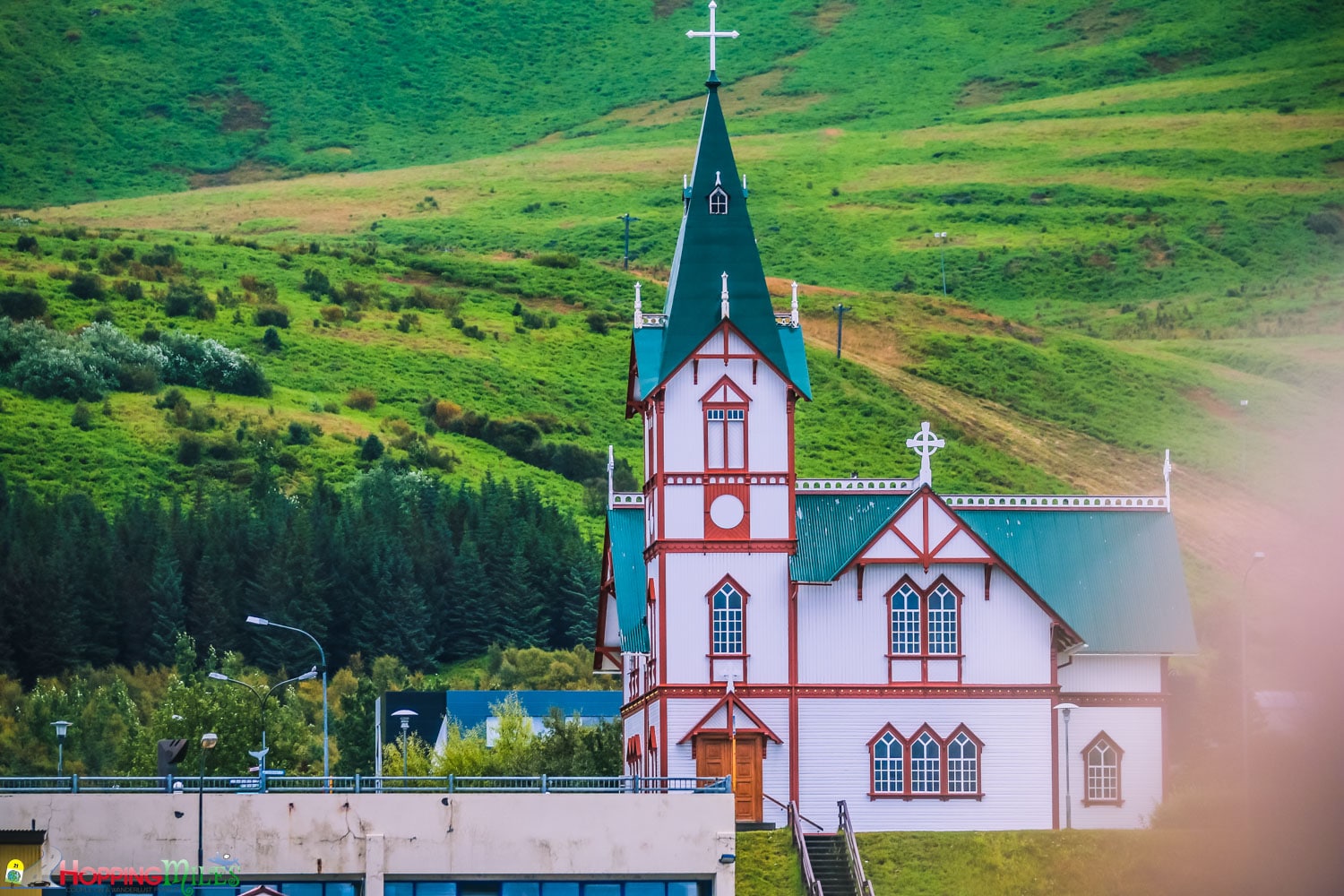 Husavik is a small sleepy town in North Iceland on the Skjálfandi Bay with a couple of thousand inhabitants. Fishing and tourism are the main sources of income for the people of Husavik. As substantial number of whales enter the bay area for feeding and breeding, whale watching is a major attraction of Husavik. Húsavík Whale Museum and The Exploration Museum are two main museums in Husavik. Apart from these, the wooden church Húsavíkurkirkja, is also one of the most visited spots in Husavik.
---
Also check where we stayed during our Iceland trip here: Where to stay in Iceland?
---
How was our experience with North Sailing?
We were booked on the 'Silent Whale watching tour' which was supposed to depart from shores at 4 PM. We were in Husavik by 2 PM. The North Sailing office is located on the main boulevard of the town and is very easy to spot. We spoke with the operator there and collected our tickets. We were told to arrive 20-30 minutes early before the departure time.
We were off to Netto for some grocery shopping and got back to the harbour to check-in to our boat. We were given extra warm suits to keep us warm in the open ocean. It was drizzling and the weather was gloomy. The boat was filled to the brim with excited folks like us who were eager to spot the cetaceans.
The speciality of our 'Silent Whale watching tour' was that the boat used in this tour, Andvari, was a silent, environmentally-friendly, electric boat. This does minimum disturbance to whales and nature and leaves no carbon footprint. That also meant that there were more chances of spotting majestic whales! The boat's engine cranked and we were off to an adventure!
Did we see any whales?
Ten minutes into the ride, we were getting accustomed to the vast ocean and marvellous mountain chains with ice caps lingering in the far distance. We were getting closer to Greenland. Artic terns were flying around, but eyes were impatient to see some cetaceans. And the crowd goes 'Oooo!' and we wonder where? There is an announcement, 'A Minke whale is seen in 10'o clock position!'
All eyes follow the 10'o clock and alas, the whale had dived into the sea by the time we saw it! All senses arose to extra alert mode. Five minutes later, I saw a fine spray of water from the surface of water in a near distance. Yes! And the Humpback whale gave a grand appearance! I jumped in joy and clicked a few shots.
After that, we spotted many whales, one after the other and at one point, we saw two whales together! 🙂 3 hours flew like a breeze and we turned back towards the town. Another Minke whale came to bid us goodbye. It was 7pm and still there was enough daylight left. It was August end when we took this tour. The sun would set by 8.30pm during those days. So, we had enough light left to get to our accommodation for the day.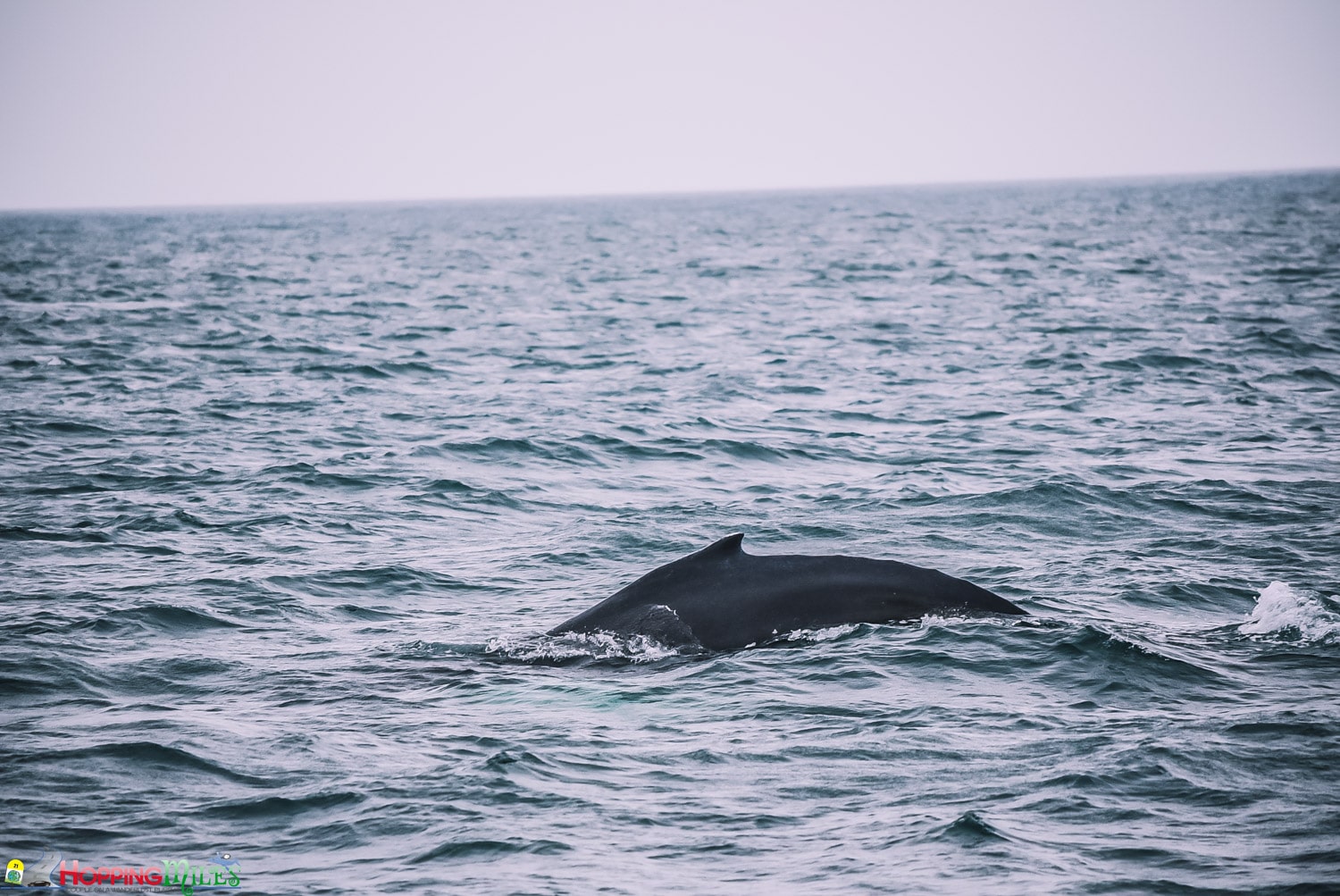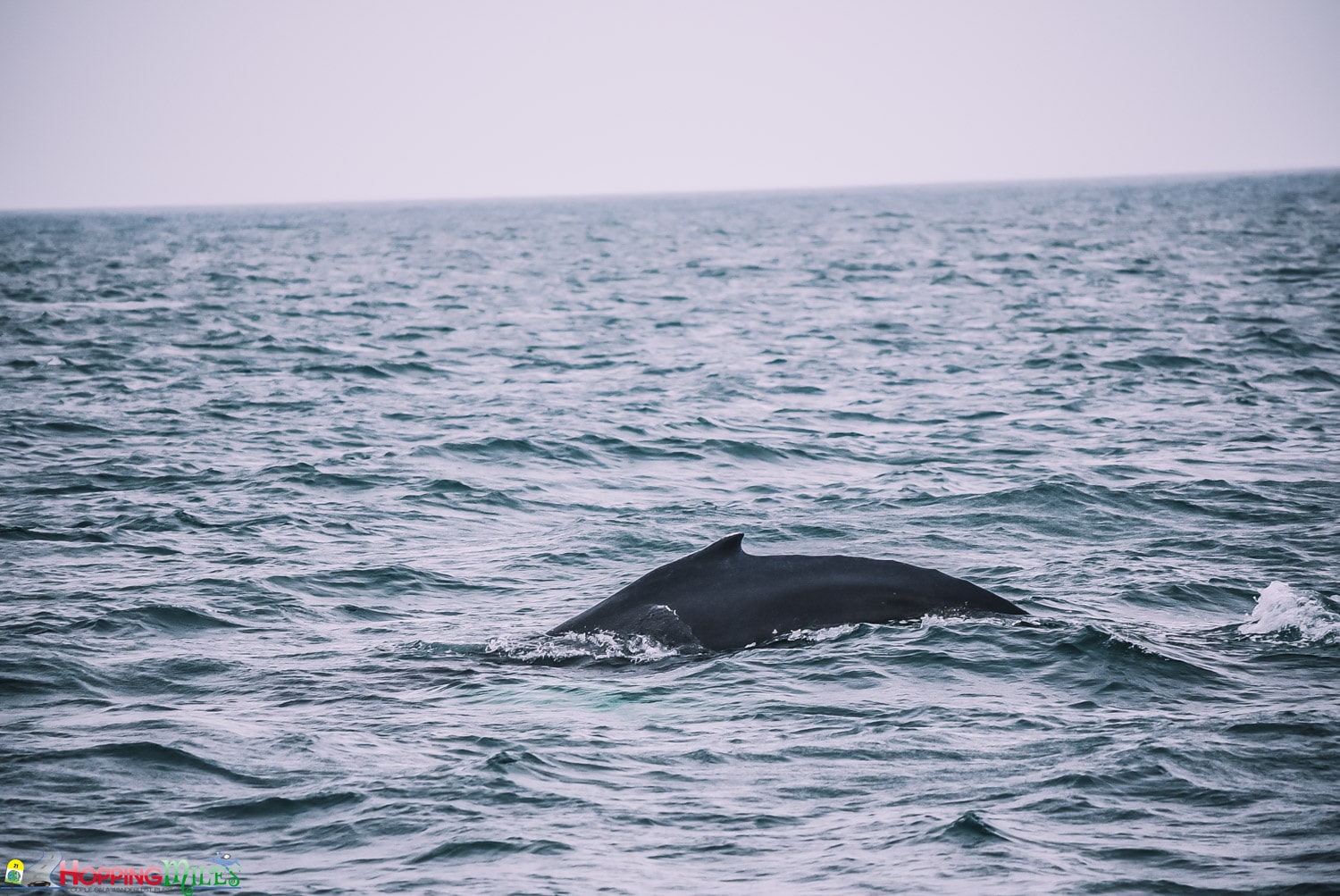 Did we get to know more about the whales?
The whale watching tour with North Sailing is more than just watching the mysterious and majestic sea creatures. It was an educational experience. Every time we see a whale, the speaker on the mike, who was the pretty Celine in our case, would go on to explain habits and characteristics about that type of whale. There were some informative study material about whales on the ship and we were given a mini tour into the world of whales 🙂 I'm so glad Husavik whale watching was in my itinerary, otherwise, I would have missed so much! This itinerary planner helped me.
What to wear for a whale watching tour?
As you will be venturing into the open ocean where winds are chilly and there is no shelter except a roof on your boat, which, you often won't use as you will be in the edge of the boat to see the whales, so it is advisable to wear warm clothing. Cover with as many layers as possible. A good beanie and gloves are a must! In spite of wearing many layers, they will fall insufficient. Here is where North Sailing folks come to rescue. They provide a thick insulating body suit which can be worn over your clothing. Without that, I guess, I would have frozen!
What is included in the excursion?
Warm clothing and rain coats if necessary and an expert guide. Some complimentary cinnamon buns and hot chocolate to warm us out after a cold day in the seas. You can ask for a second helping too! They wouldn't mind. Saying this coz I asked for one! 😀
What if tour is cancelled?
The tours will not be cancelled, it is mostly unlikely. But if nature plays foul, then tours have to be cancelled and you can visit to their office and your fee will be refunded.
What if there is no sighting?
If there are no whale sightings in a tour, which is also mostly unlikely as Husavik whale watching tours have 99% chances of sightings. But, in that unfortunate 1% chance, they will put you on another tour for free!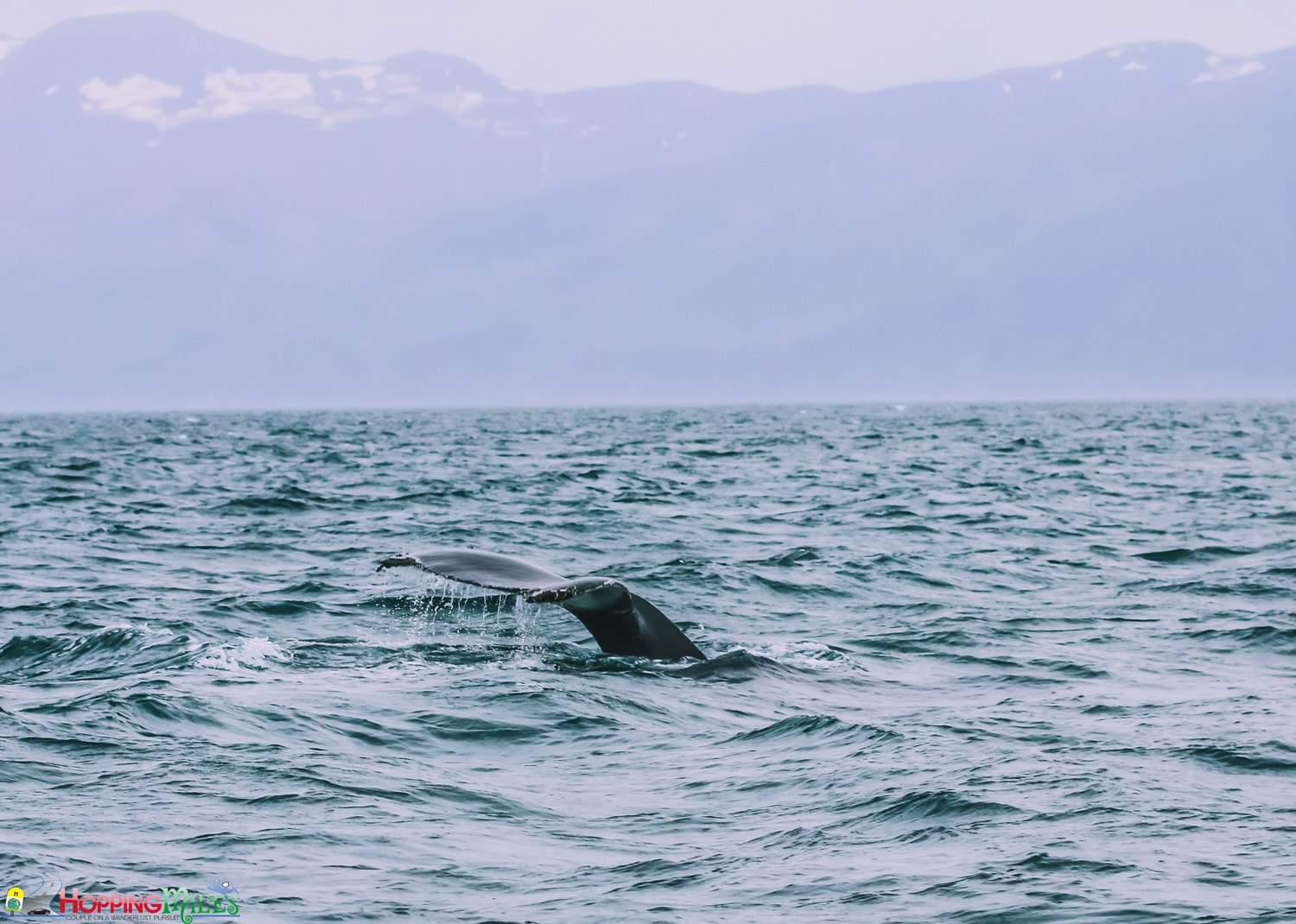 Best time/season for whale watching in Husavik?
April to October is the best time to go for a whale watching excursion in Husavik. In these months – Humpback whales, Minke whales, Dolphins and Porpoises are often spotted. We went in second half of August and we saw Minke and Hump back whales. Killer whales or Orca are most frequently been spotted in spring during April and May.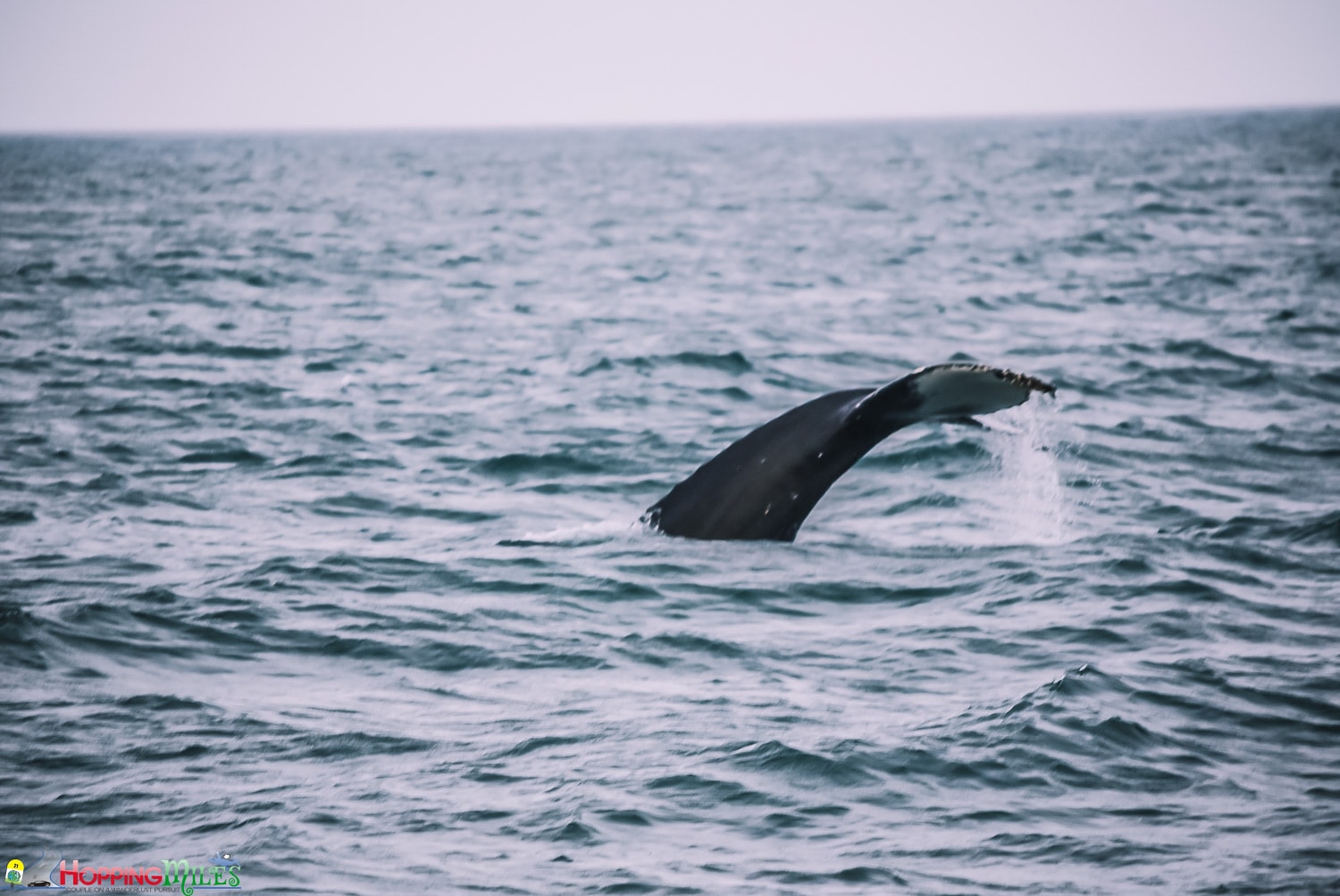 What are Husavik whale watching prices?
You can check the pricing of the various tours North Sailing conducts here: https://www.northsailing.is/tours/
Check out my video on Husavik whale watching with North Sailing on YouTube.
Have you been on whale watching tour? How was your experience like? Share with us in the comment box below!
---
If you liked this post, show us some love and pat us on our backs! Like us on Facebook, follow us on Twitter and Instagram and subscribe to our Youtube channel!
---
Read More:
90 Pictures that makes you want to go to Iceland now!
---
We were hosted by the kind people at North Sailing. Opinions as always are our own.